Garden-Veggie Focaccia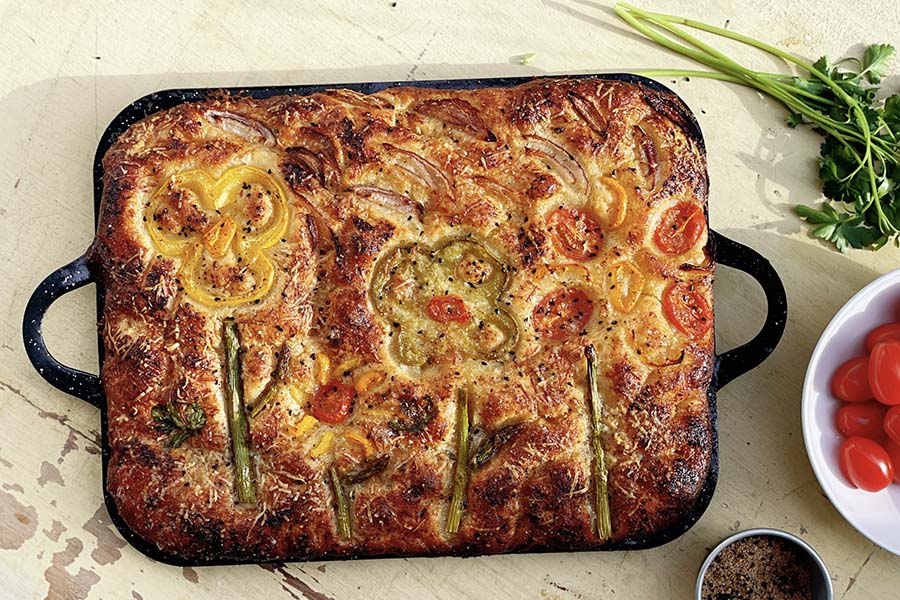 Garden-Veggie Focaccia is fun to make and a tabletop stunner. Both rewarding and forgiving, this recipe bakes up spongy on the inside with a crispy cheese crust. The secret to getting the top layer golden brown is our Nigella Caesar blend. It has all of the savory flavors of Caesar salad that go perfectly with the generous amount of olive oil and parmesan cheese in the focaccia. You can bake this in a deeper pan for sandwiches or a more shallow pan to cut out the perfect bread sticks. Have fun and use your imagination to decorate! Excited for Spring's arrival, I stuck to a flower theme using peppers, asparagus and purple onion as my mosaic pieces. Playing with your food has never been so pretty.
Ingredients
Focaccia Dough
2-1/4 teaspoons active dry yeast
2 teaspoons honey
2-1/2 cups water
5 cups (625 g) all-purpose flour
3 teaspoons Diamond Crystal Kosher Salt
1/2 teaspoon Tellicherry black pepper, ground
1/2 cup parmesan cheese, grated
6 tablespoons extra-virgin olive oil, divided, plus more for hands
4 tablespoons unsalted butter, plus more for pan
Topping
1/2 cup parmesan cheese, grated
2 tablespoons Nigella Cesar
1/4 cup sliced red onion
colorful assortment of sweet peppers
4 asparagus spears
1/2 cup cherry tomatoes, sliced in half
Handful fresh parsley sprigs
3 tablespoons olive oil
Instructions
Whisk the active dry yeast, honey, and 2-1/2 cups lukewarm water in a large bowl and let it sit in a warm spot for 5 minutes. The mixture should look slightly frothy and foamy.
Add the all-purpose flour, kosher salt, black pepper and half cup of parmesan cheese to the bowl. Mix well with a rubber spatula until a shaggy dough ball forms.
Pour four tablespoons of extra-virgin olive oil into the dough bowl. Roll the ball of dough in the oil. Ultimately the dough will rise and double in size so make sure your bowl is plenty big. If you are baking the same day, cover the bowl and allow the dough to rise at room temperature for 3-4 hours. If you are making ahead, cover and refrigerate 8-24 hours.
Generously olive oil a 13x9" baking pan for thicker focaccia, or an 18x13" rimmed baking sheet pan for a thinner focaccia perfect for cutting into breadsticks. Pour 1 tablespoon of extra-virgin olive oil into the center of the focaccia dough. Keeping the dough in the bowl and using your hands, gather up edges of dough farthest from you and lift up and over, folding the dough into the center of bowl. Do this 2 more times - the goal is to deflate the focaccia dough while you form it into a rough ball. Transfer the dough into the prepared sheet pan and let it rise, uncovered, in a dry, warm place until doubled in size, at least 1 hour more.
Check to see if the dough is ready by poking it with your finger. It should spring back slowly, leaving a small visible indentation. If it springs back quickly, the dough isn't ready. When it is, lightly oil your hands, and stretch out dough to fill out pan. Dimple the focaccia all over with your fingertips creating deep indentations in the dough. Drizzle with remaining 1 Tbsp. extra-virgin olive oil and sprinkle with Nigella Cesar.
Pre-heat the oven to 450. Arrange the cut veggies on top of the dough to create a picture or desired pattern. Bake focaccia until puffed and golden brown all over, 20–30 minutes.
Focaccia is best fresh out of the oven. Cut into squares. Keep in the refrigerator for up to five days. Reheat on a baking sheet in a 300° F oven or toaster oven.
Notes
Recipe inspired by bon appetit magazine - thank you for a fail-proof focaccia that made us brave enough to play with flavors!
© 2023 World Spice Merchants https://www.worldspice.com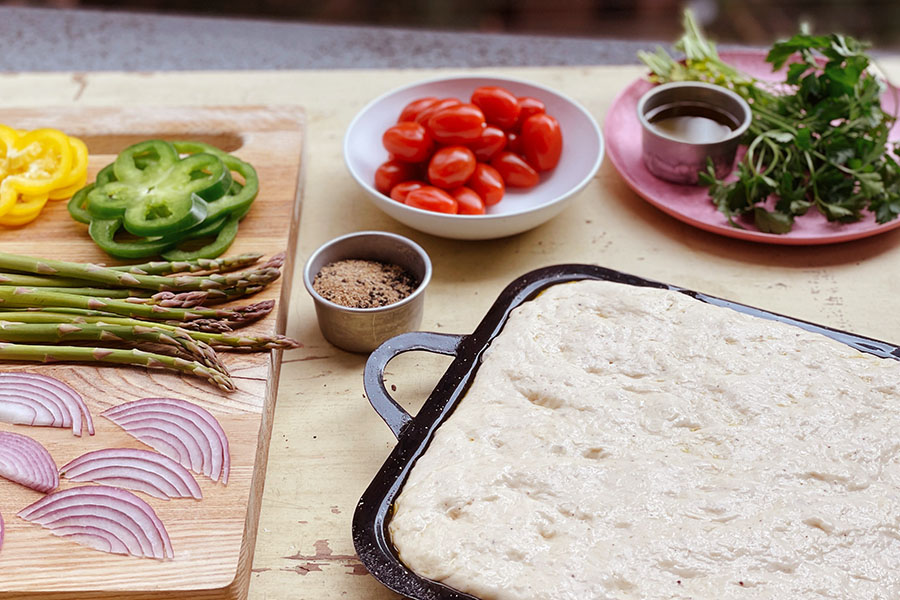 No fancy kneading techniques, pan or oven are needed to make this bread, but plan ahead to give the dough time to rise. The final one hour rest the focaccia gets in the pan before baking is crucial to success. The dough firms up and develops air bubbles inside that gives it that signature chewy texture. In the meantime, gather the veggies and prepare to decorate your masterpiece!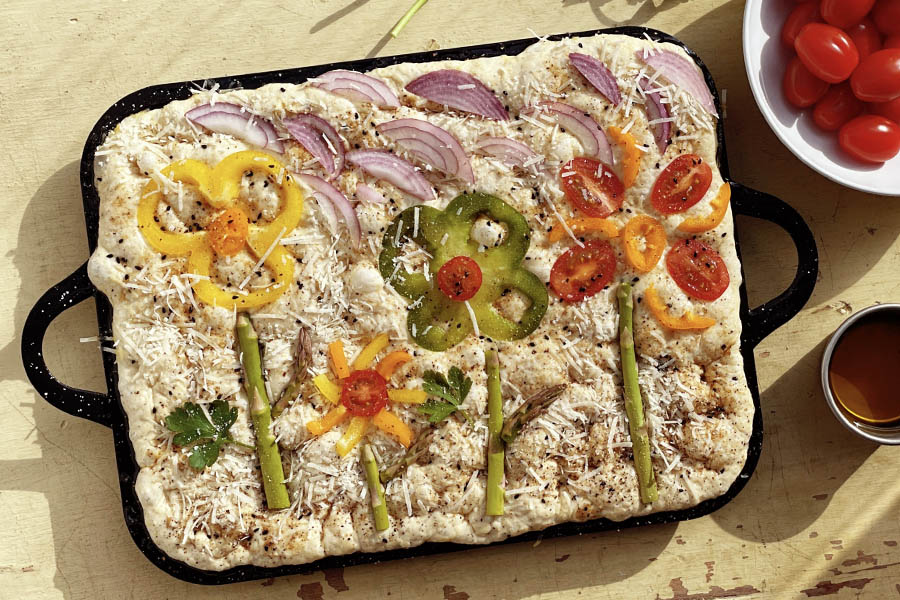 Cutting the bottoms off of sweet bell peppers make the perfect flower shape to build your garden landscape and the purple onions are a dramatic sky.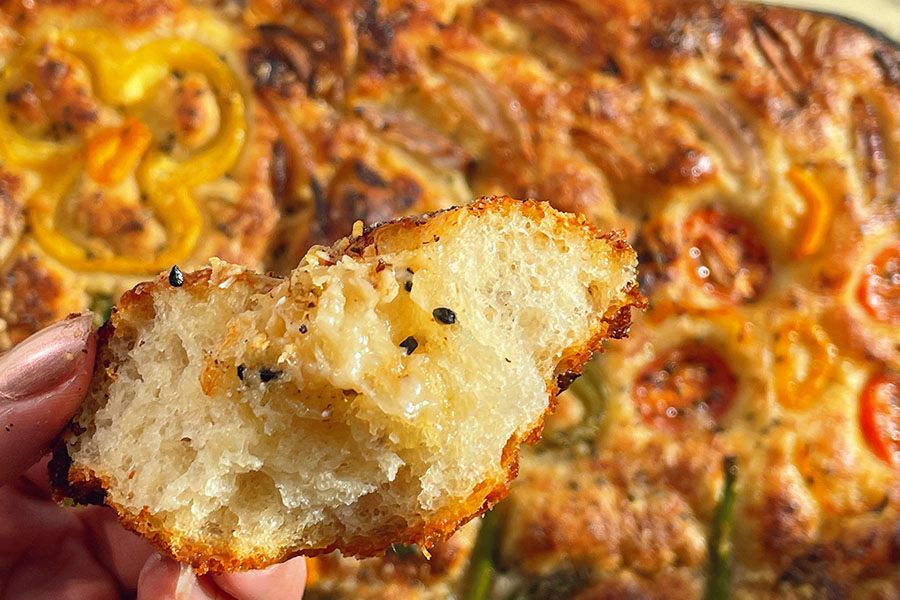 We'll be revisiting this recipe for special occasions- and even pizza night! Just cut off a square and enjoy it along with your favorite soup, salad or marinara sauce. If you want a little more garlic flavor, melt some butter and stir in some Garlic Salt and brush the top of the freshly baked focaccia.