Madras Curry Potato Salad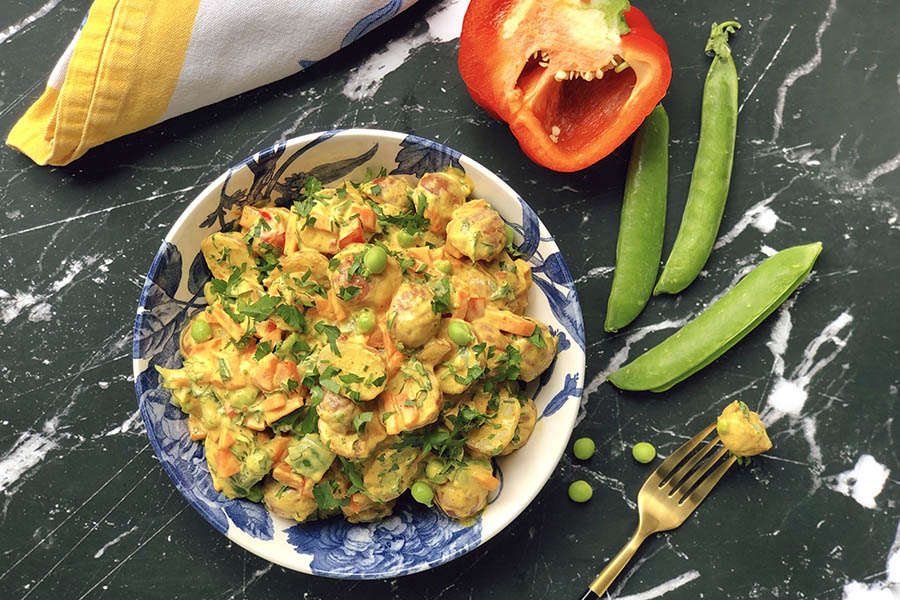 Potato salad is such a ubiquitous summer dish. This recipe really brightens things up and breathes new life into potato salad. Its beautiful yellow color comes from our popular Madras South Indian Curry. The curry gives the salad incredible flavor alongside mustard, black pepper, cumin, and turmeric. Madras is a classic curry that will taste familiar and go great with the beloved potato. Fresh peas and crunchy bell peppers give the salad great texture. We used small Yukon potatoes so no peeling and little chopping is involved. This dish comes together with ease. Our dressing is kept light using half Greek yogurt for tang, rather than just straight mayo. Try making this for a lovely twist on a picnic classic or make it the star of a lettuce wrap!
Ingredients
2 ½ pounds yellow or red small Yukon potatoes
1 tablespoon + 1 teaspoon salt
½ cup mayonnaise
½ cup Greek yogurt
¼ cup red onion, chopped finely
2 tablespoons Dijon mustard
3 teaspoons Madras curry powder
1 medium red bell pepper, chopped
1 carrot, small diced
½ lb shelling peas
½ cup parsley or cilantro, chopped
Instructions
Boil 3 quarts of water in a large saucepan, add 1 tablespoon of salt. Then add the potatoes and cook on medium low until tender (about 15- 20 minutes). Strain potatoes and let cool completely. If some of the potatoes are large cut in half or into bite sized pieces.
In a large bowl whisk together the mayonnaise, yogurt, onion, mustard, Madras curry powder, and 1 teaspoon salt in a large bowl. Add the cooled potatoes, bell pepper, carrot and peas. Gently stir until combined and fold in the parsley. Serve at room temperature or refrigerate until cold.
© 2023 World Spice Merchants https://www.worldspice.com