Mexican Street Corn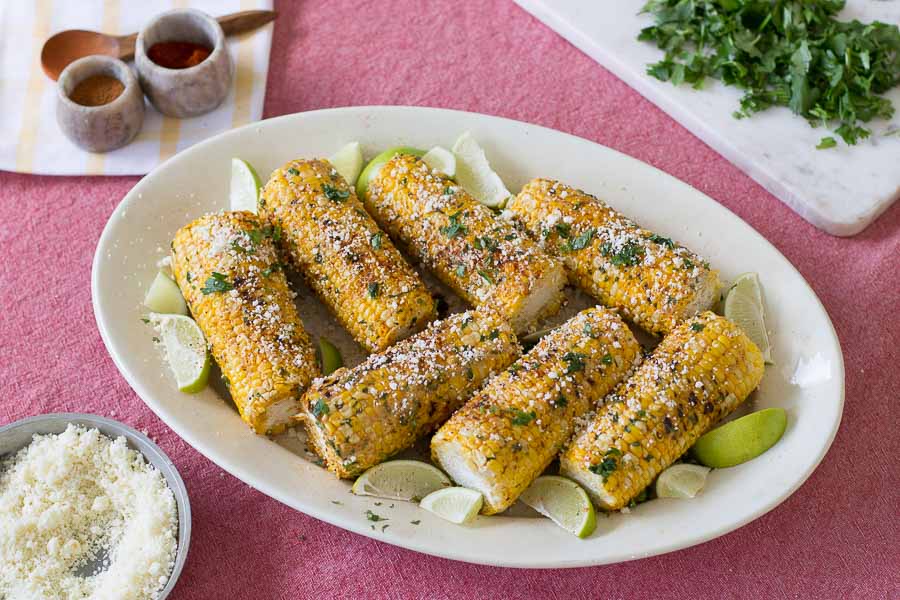 Full of flavor and a crowd pleasing party food, Mexican Street Corn has become a seasonal favorite. The rich roasted corn topped with creamy sauce is the perfect base for our Yucatan Rojo Rub. The spices are subtle and complement the corn with hints of cumin, allspice and true cinnamon. Annatto seeds add a pop of color and earthy base while fresh cilantro and lime finish the dish.
Ingredients
For the Sauce
1 cup mayonnaise
1/3 cup sour cream
1 clove garlic, minced
2 teaspoons Yucatan Rojo Rub, divided
For Garnish
1/2 cup crumbled cotija cheese
2 tablespoons cilantro, finely chopped
12 lime wedges
pinch of cayenne (optional)
Instructions
Soak the corn in the husk for half an hour and then grill over medium heat, turning every 10 minutes, until it is easily pierced with the tip of a sharp knife about 30-40 minutes. Transfer the corn to a cutting board and slice off the base with a stout knife or cleaver. Grasp the tip of the corn and pull the husks away from the cob. The husks and silk should pull away all together at once. (On a good day, if you like a little color on the corn, return it to the grill for a few minutes. Cut the corn into 6" pieces.
While the corn is cooking, prepare the sauce. In a small bowl, stir together the mayonnaise, sour cream, garlic and 1 teaspoon Yucatan Rojo Rub
Brush each piece of corn with the sauce and arrange them on a platter. Sprinkle with the cotija cheese, cilantro and remaining teaspoon of Yucatan Rojo Rub.
Serve with lime wedges to finish and an optional pinch of cayenne.
Notes
All of us at World Spice love corn so we tried this dish with different tried and true methods of corn cooking and they all work just fine! Soaked or un-soaked- in husk or out of husk and even stovetop. With summer corn and delightful spices you can't go wrong!

© 2023 World Spice Merchants https://www.worldspice.com