Pumpkin Seed Dip with Yucatan Rojo Spiced Oil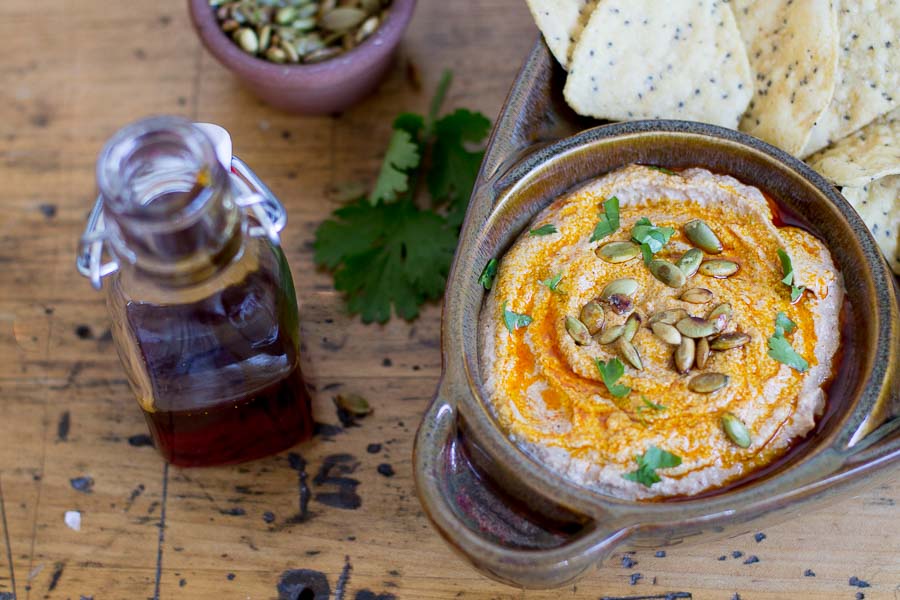 This traditional Yucatan dip, known as Sikil Pak, is made from a base of ground pumpkin seeds, or pepitas. On it's own, it has a fresh, creamy, nutty taste, lighter in flavor but similar in texture to a traditional hummus dip. But when drizzled with our Yucatan Rojo spiced oil, something magical happens. Each bite offers a contrast in flavors, with the earthy Rojo spiced oil adding a vivid contrast to the mellowness of the pepitas, elevating this Mexican party dish to a whole new level. This dip whips up in a jiffy, especially if you use pre-salted and roasted pepitas, though you can opt to toast your own. Serve it with crackers or tortilla chips, along with fresh crudites such as sliced jicama, carrots, snap peas and green pepper strips for an inventive alternative at your next barbeque or potluck. The spiced oil also makes a great topping when drizzled on fish tacos, scrambled eggs, burgers, pizza, or just about anything else you can think of.
Ingredients
Oil:
¼ cup avocado oil (or other mild vegetable oil)
1 tablespoon Yucatan Rojo Rub
Pinch cayenne pepper
Dip:
1 small white onion
8 oz. toasted, salted, shelled pepitas
5 oz. fire-roasted diced tomatoes (1/3 of a can)
1/3 cup orange juice
1/3 cup lime juice (fresh squeezed)
2 tablespoons toasted sesame seeds, ground fine in a spice blender
1/8 teaspoon cayenne pepper (or to taste)
2 tablespoons chopped fresh cilantro (for garnish)
Instructions
Pour oil into a small skillet and begin heating on medium-low. Stir in Yucatan Rojo Rub. When mixture starts to bubble, lower heat slightly and set timer for 2 minutes. When done, pour into a ramekin and set aside for 4-5 hours. Strain through a fine mesh strainer and keep oil in a covered glass container at room temperature.
Warm a 10" skillet over medium low heat with just a splash of oil, and add sliced onion. Cook for 4 minutes, till onion starts to color and soften on the bottom (you won't see a whole lot of color). Flip slices over and cook another 4 minutes. Remove onion to a plate and cool to room temperature, then roughly chop. The goal is to simply soften and lightly char the onion, not cook it completely.
Place onion, pepitas, tomatoes, orange and lime juices, ground sesame seeds and cayenne into a hi-speed blender or food processor. Blend till smooth, scraping bowl as needed. Taste and add additional salt if needed.
Dip will keep in the refrigerator for up to 1 week. When ready to serve, spoon into a serving bowl, drizzle generously with the spiced oil and scatter chopped cilantro on top.
© 2023 World Spice Merchants https://www.worldspice.com
Recipe adapted from Rick Bayless at rickbayless.com.