Michael's Boeuf A La Bourguignonne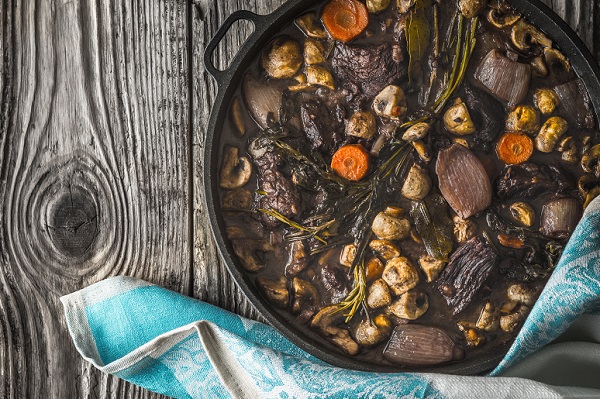 Turkey dominates the center of the Thanksgiving spread, but it doesn't have to be the only protein on the table. Boeuf a la Bourguignonne is a French peasant dish from Burgundy that uses beef simmered in wine to create a hearty and pleasing stew. A nice dish for a rainy winter day, this recipe is a favorite addition to Michael's Thanksgiving table.
Michael's Boeuf A La Bourguignonne
Ingredients
3 lb top round steak, cut into one inch cubes
1/4 cup flour
1/4 cup butter
1/4 cup olive oil
Freshly ground pepper
2 tablespoons brandy
1 bottle red Burgundy wine (pinot noir)
1/4 lb slab bacon, cut in 1/4 inch pieces
2 medium sized onions, finely chopped
4 –6 carrots, finely chopped
4 garlic cloves, finely chopped
1 bouquet garni (bay leaf, thyme, parsley, and fennel sprig) or 2 tbs Herbes de Provence, preferably with lavender
1 lb small onions (I like using cipollini onions, though pearl onions work just fine)
1 teaspoon water
1 teaspoon sugar
1 teaspoon vinegar
1 lb button mushrooms
Instructions
Pre-heat oven to 300 degrees. Liberally season the flour with salt and pepper, then dredge the beef in the flour and brown the cubes in a large pan or skillet with half of the butter and all of the olive oil. Fry them in batches until the cubes are golden brown all over. Move the browned beef to a Dutch Oven or other large, covered, oven safe casserole pan.
Once all the beef is properly browned, deglaze the pan with brandy, scraping the bottom with a wooden spoon to loosen the fond. Add the wine and allow to boil fiercely for one minute. Then pour the wine over the beef cubes. You want the wine to just cover the beef. Add a little water if you must to achieve the needed liquid.
Next, melt 1 tablespoon of butter and quickly fry the bacon, chopped onions, carrots, and garlic until just turning golden brown. Add to the casserole along with the bouquet garni (or Herbes de Provence, if using). Cover and cook in the oven for two hours. Enjoy the smell, but leave it alone.
After two hours, melt half the remaining butter and fry the small onions until they caramelize a little on each side. Once they take on a nice color, add the vinegar, water, and sugar. Cook down to a glaze, then place the onions on top of the casserole. Drizzle with any remaining glaze, and return to the oven. Cook for another hour.
At the end of the hour, quickly sauté the mushrooms in the remaining butter. Add to the casserole. Stir. Serve with a good Burgundy wine, and a couple small, boiled potatoes.
Notes
Use a decent wine to cook with, in the $15.00 range or so. The stew tastes better if you don't cheap out. Buy a $20.00 bottle to drink with dinner. Take care with each step as the quality builds upon itself. Take your time in browning the meat. Don't crowd the pan, and aim for a nice, golden color, just turning to brown. You may reduce the amount of butter by ½, if you desire. You may omit the brandy, if you don't have any, or deglaze with Ricard or even rum, if you wish). You may omit the fennel, if you wish. Also, I often use dried Herbes de Provence (with Lavender) instead of the bouquet garni. This makes for a lovely, hearty dinner, or it can be served as part of a multi course meal, as the dish practically cooks itself, leaving you plenty of time to enjoy a plate of appetizers and a salad while the stew cooks.
https://www.silkroaddiary.com/michaels-boeuf-la-bourguignonne/
World Spice Merchants https://www.worldspice.com
This recipe brought to you by World Spice Family Favorites. Thanks, Michael!