Piment d'Espelette Pan de Tomate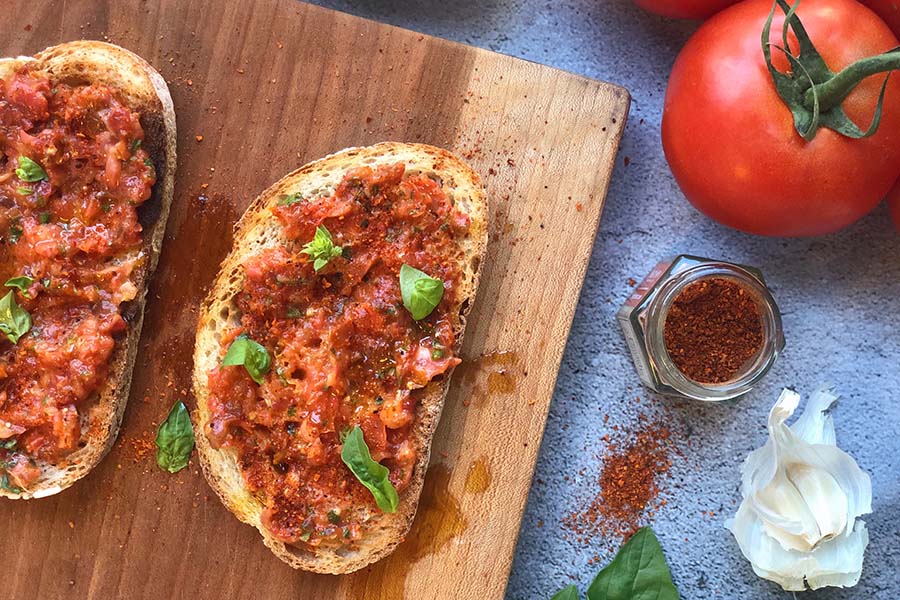 Tomato season is here! And this recipe is a wonderfully simple way to make pantry staples shine. While all spices are special, Piment d'Espelette has the terroir of Basque country. This rare chile is only grown and cultivated in the Espelette commune in France's Nive Valley. Espelette pepper is similar to a red hatch chile and is traditionally used for fish stews or as a black pepper substitute in dishes. We took sliced ciabatta and smothered the toast in grated heirloom tomatoes, garlic, and olive oil to make a perfect bite. Finish it off with a sprinkle of sel de mer and Piment d'Espelette for a pop of flavor.
Ingredients
1 ciabatta loaf, sliced
3 tablespoons extra virgin olive oil
1 pound large heirloom tomatoes
2 garlic cloves, minced
2 teaspoons fleur de sel
Garnish
Fresh basil
extra virgin olive oil
Instructions
Brush toast with olive oil and broil the bread until golden brown in toaster oven. Meanwhile, using the largest holes of a cheese grater, grate the tomatoes. Add the grated tomatoes to a bowl. Then add the garlic and salt. Stir to combine.
Liberally spread the tomato mixture on the toast and garnish with a sprinkle of Piment d'Espelette, basil, and a drizzle of olive oil.
Enjoy immediately. To make it a complete meal, enjoy it with a can of Spanish tuna in olive oil and top your toast.
© 2021 World Spice Merchants https://www.worldspice.com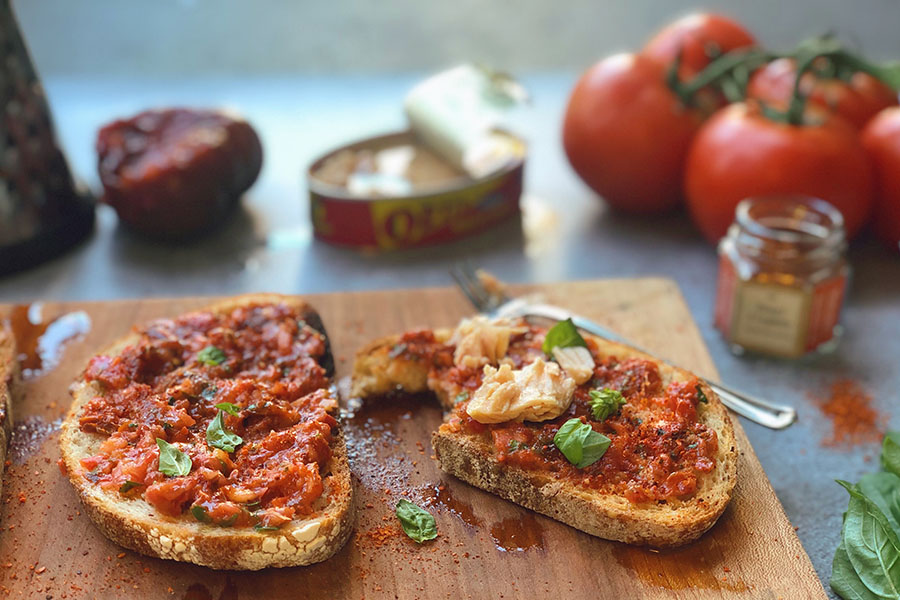 Piment d'Espelette is one of the appellation d'origine contrôlée (AOC) products which France certifies as having the true terroir of the region. This spice is as genuine as champagne from the Champagne region of France or Roquefort from Roquefort-sur-Soulzon. It doesn't get more time-honoured than this!