Sheet Pan Rose Harissa Shrimp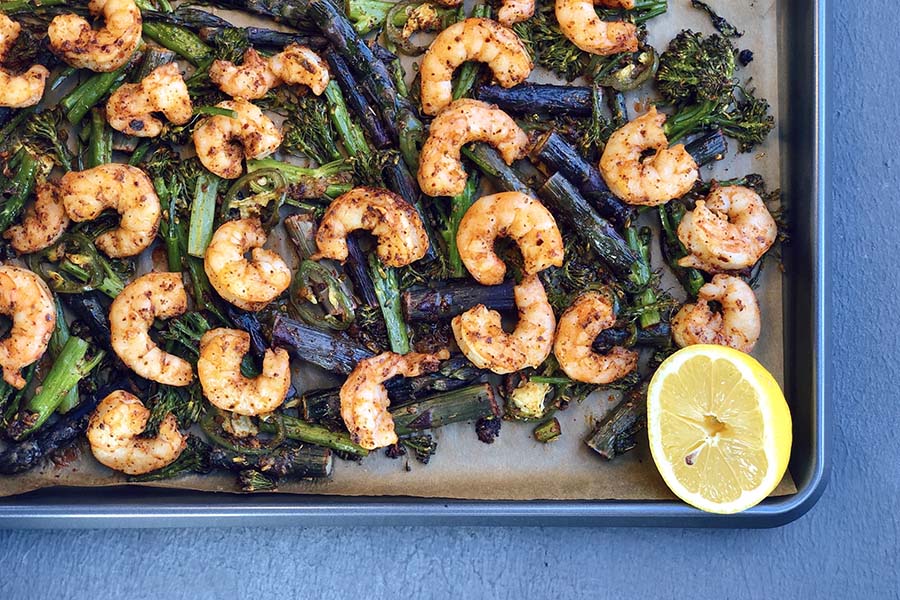 We don't always have time to make elaborate meals. When time is short, but you still want to feel good about what we're eating… go for the sheet pan. Sheet pan dinners are a favorite of ours for a quick, healthy, and flavorful meal. They typically have only a few ingredients, and only a few dishes get dirty in the process.
For an example of just how delicious these simple recipes can be, look no further than this recipe for sheet pan shrimp! Rose Harissa is the go-to flavor bomb used to season both the shrimp and vegetables. The blend is citrus forward on a robust base of paprika and toasted spices with a sweet floral note that's delicious with green vegetables like broccoli and asparagus. This dish is full of Moroccan flavors, no one will ever guess how easy it was to make.
Ingredients
1 lb large peeled and deveined shrimp
3 tablespoons olive oil
1 teaspoon of salt
1-1/2 tablespoons Rose Harissa, ground
1/2 lb broccolini, cut into bite-sized pieces
1/2 lb asparagus, cut into bite-sized pieces
1 jalapeno, thinly sliced into wheels
half a lemon
Instructions
Preheat the oven to 425 degrees. Put a sheet of parchment paper on a sheet pan.
In a medium-sized bowl, add 2 tablespoons olive oil, 1 tablespoon Rose Harissa and 1/2 teaspoon of salt. Give it a whisk, then add the vegetables, tossing until vegetables are evenly coated.
Spread the vegetables evenly on the sheet pan and roast for 6 minutes.
In the same medium-sized bowl, add 1 tablespoon of olive oil, half tablespoon of Rose Harissa and half a teaspoon of salt. Give it a little whisk, add the shrimp and toss them until evenly coated.
Remove the pan from the oven, and add the shrimp to the vegetables. Spread the shrimp evenly in between the vegetables. Return the sheet pan to the oven for an additional 7 minutes. Cook until the shrimp are no longer opaque and are cooked to an internal temperature of 145 degrees.
Garnish with freshly squeezed lemon juice.
Serve as is as a low carb meal or add to a bed of your favorite grain like quinoa or rice.
© 2023 World Spice Merchants https://www.worldspice.com