Kala Masala Shrimp Cakes
Kala Masala is an Indian spice blend, named for the dark color of its ingredients, which are often toasted before use. Sweet spices like cloves and tangy amchoor make this blend an excellent seasoning on seafood, and especially good on shellfish.
We used Kala Masala as the signature flavor in these shrimp cakes, which have sweet potato and rice as the binder and a coconut crust. That also makes them gluten free, for those keeping score. The Rooster Spice aioli, which we whipped up as a dipping sauce, takes no time at all. It's spicy and just a little bit sweet: the perfect accompaniment to these tasty appetizers.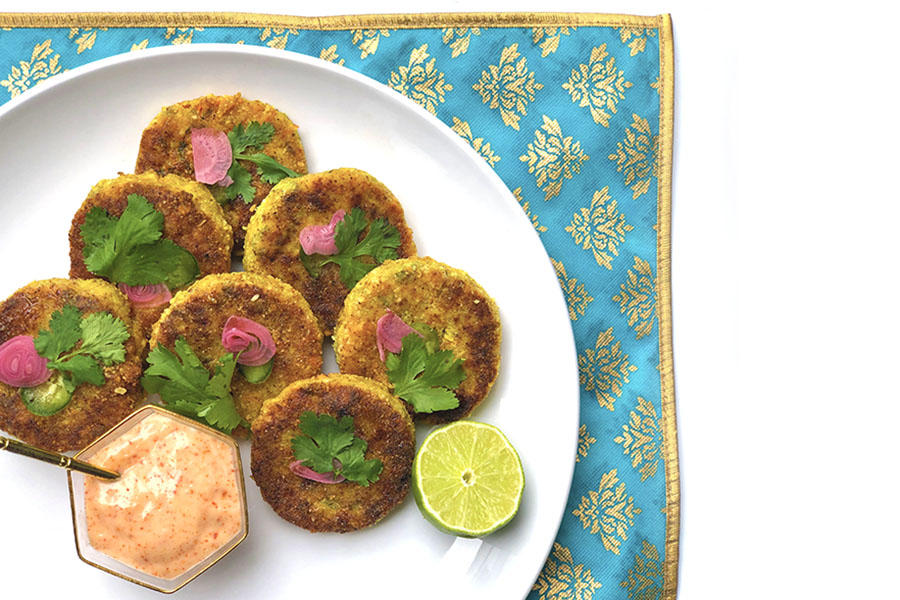 Ingredients
Cake
1 lb peeled and deveined shrimp small chopped
1 cup cooked sweet potato, mashed
1/2 cup cooked white rice
1 tablespoon lemon juice
1 jalapeno, small diced
1 tablespoon brown sugar
1/4 cup green onion, thinly sliced
1/4 cup cilantro, chopped
1 tablespoon ginger, minced
1 teaspoon garlic, minced
2 teaspoons Kala Masala, ground
2 teaspoons Kosher salt
Breading
2 eggs
1/4 cup cornstarch
1 teaspoon Kosher salt
3/4 cup fine shredded coconut
1/4 cup rice flour
3 tablespoons coconut oil
Aioli
1/3 cup mayonnaise
2 tablespoons water
Juice of half a lime
1 teaspoon Rooster Spice
Instructions
Shrimp Cakes
In a large bowl, add all of the ingredients for the shrimp cakes. Mix well until it's incorporated, then set aside.
Preheat the oven to 400 degrees.
Breading
In a small bowl add the eggs and give them a whisk.
In a second small bowl add the cornstarch.
In a third small bowl add the salt, finely shredded coconut and rice flour, mixing well.
Shape all the shrimp patties to desired size using a round mold.
Add the shrimp cakes to the corn starch until covered. Next submerge cakes in the eggs and shake off the excess egg. Last, dredge the shrimp cakes with the coconut and rice flour mixture, repeating until all the patties are covered.
In a large skillet on medium high heat, add half of the coconut oil. Carefully place the shrimp cakes in the pan and brown on one side for 3 minutes. After carefully flipping them over, add remaining coconut oil and cook them for 10 minutes.
Mean while in a small bowl add the mayonnaise, water, lime juice and Rooster Spice and whisk until incorporated.
Serve the shrimp cakes hot with a dollop of aioli and cilantro leaves.
Notes
Make these shrimp cakes larger and use them as a patty for a sandwich.
© 2021 World Spice Merchants https://www.worldspice.com