Kala Masala Almond Cookies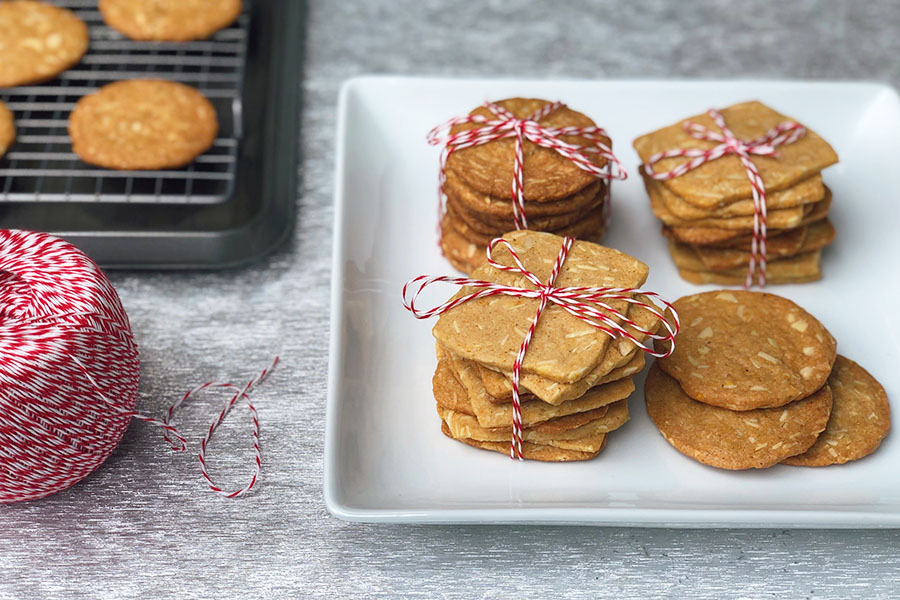 Pain d'amande is a classic French almond cookie. Thin and crispy, and not overly sweet, they make an excellent accompaniment to tea or coffee. A stack of these cookies wrapped up with string makes a quaint gift, and happens to be exactly how we first came to try them.
Since our first encounter with these cookies, we've played with different flavors and shapes. Of all our experiments, the most successful added Kala Masala to the cookie dough. Masala blends are usually quite versatile and deserve to be played with in more than savory dishes. Our Kala Masala blend has warm spices like coconut, clove, cinnamon and star anise. The almonds in the Pain d'amande are a perfect vehicle for all of these spices, giving them a gently sweet base flavor upon which they can shine.
Ingredients
2-1/4 cups flour
1/2 teaspoon baking soda
1/2 teaspoon Kosher salt
1/3 cup water
1/2 cup unsalted butter (one stick)
1/2 teaspoon Vietnamese cinnamon
2 teaspoons Kala Masala, ground
1-1/2 cups granulated sugar
1 cup sliced raw almonds
Instructions
Sift together flour, baking soda and salt in a medium-sized bowl. Set aside.
In a small sauce pan, add the water and butter. Stir until butter is completely melted.
Remove from heat and add the spices, sugar and almonds. Add to flour mixture and stir until a ball is formed.
On a large piece of plastic wrap form your dough into desired cookie shape. A round tube is the easiest. Freeze the dough 2-5 hours or until the dough is hard enough to easily slice a thin sheet of cookie.
Preheat oven to 325 degrees. After dough is frozen, remove and unwrap. Slice the cookies about 1/8 of an inch thick and bake on parchment lined sheet trays. Bake for 14 minutes or until golden brown.
Store in an airtight container.
© 2022 World Spice Merchants https://www.worldspice.com