Stout Pickled Mustard Seeds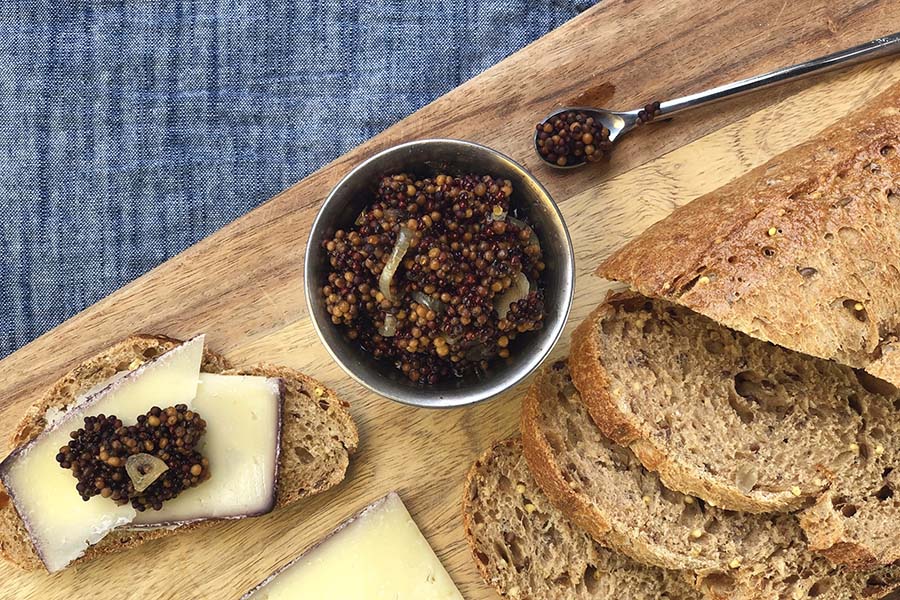 Add a crunchy pop of flavor to your next sandwich or cheese board with Stout Pickled Mustard Seeds. Yellow and brown mustard seeds make an appealing calico combination and the flavor pairing with rich creamy stout and aromatic shallots is a winner. This quick and easy treat keeps in the refrigerator for up to two months, so make ahead and keep some on hand or scale up the batch and make some for gifting.
Ingredients
¼ cup yellow mustard seeds
¼ cup brown mustard seeds
6 cups water
½ cup Guinness or other stout beer
¼ cup white vinegar
1 tablespoon white granulated sugar
1 tablespoon kosher salt
½ shallot, thinly sliced
1 large garlic clove, minced
Instructions
Lightly toast the mustard seeds in a dry, heavy bottomed saucepan over medium high heat. Shaking the pan frequently to avoid burning. It only takes about a half a minute before the mustard seeds start to pop. When they do, add the water and boil for 15 minutes. Strain and discard water. This will remove bitterness from the seeds.
Return the mustard seeds to the pan. Add the Guinness, white vinegar, sugar and salt and bring to a boil over medium high heat.
Reduce the heat down to medium-low and simmer until mustard seed liquid has reduced, about 5-8 minutes. Stir in shallot and garlic, then remove saucepan from heat.
Allow the picked mustard seeds to cool to room temperature, then transfer to a jar with a lid and refrigerate. When stored in an airtight jar and kept refrigerated, pickled mustard seeds will keep well for up to two months. Enjoy with cheese, bread and hard boiled eggs.
© 2023 World Spice Merchants https://www.worldspice.com