Tabil Plantain Chips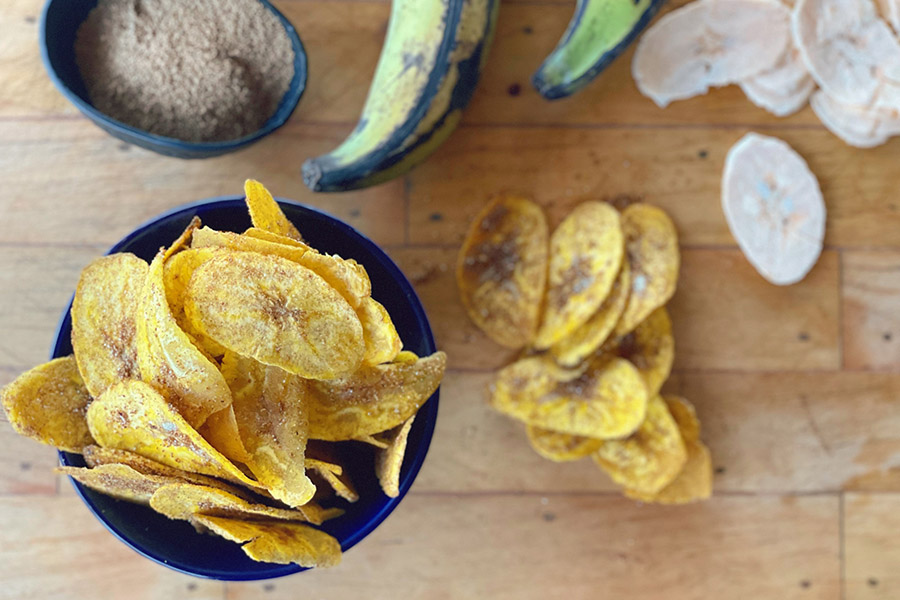 At the shop, we are frequently asked, "what spice is underrated?" The Tunisian blend Tabil, is our go-to answer. It's a simple blend consisting of caraway, garlic, chile flakes, and coriander. All of the spices get toasted to bring out their nutty, umami notes. We took green (under ripened) plantains to another level by thinly slicing, then frying them until crispy. Once done, we added a mixture of Tabil, salt and a little bit of brown sugar. This snack is addictive and full of flavor. These are delicious with a dip like hummus or as a crunchy topping on rice and beans or a salad. Have fun playing with this blend –  it's bold, savory flavor has found its way into most of our daily staples.
Ingredients
Tabil Seasoning
2 tablespoons Tabil, ground
1 tablespoon kosher salt
1 tablespoon brown sugar
Plantain Chips
3 large green plantains, about 2.5 pounds
4 cups of neutral oil (grapeseed/canola/etc.) for frying
Instructions
In a small bowl, mix together the Tabil, kosher salt and brown sugar. Set aside for sprinkling on chips.
Make a small cut into the end of the plantain for easier peeling. Using a mandoline or very sharp knife, slice the plantains at a bias (angle) to about 1/16 of an inch in thickness, creating thin long chips. The thinner the chips, the crispier and quicker they will fry.
Meanwhile, heat the oil in a medium sized saucepan at 350°. Add a few plantain chips at a time and move them using a slotted spoon or kitchen spider. Gently moving the chips will help them cook evenly and prevent them from sticking together. Once the chips start to float and get golden brown, immediately remove them from the pan, tossing them in the Tabil seasoning mixture, then place them on paper towels to absorb any excess oil. The seasoning will cling to the chips better while the chips are hot. Serve immediately and store in an airtight container for up to 3 days.
© 2022 World Spice Merchants https://www.worldspice.com