Vegan Cardamom Strawberry Creamsicles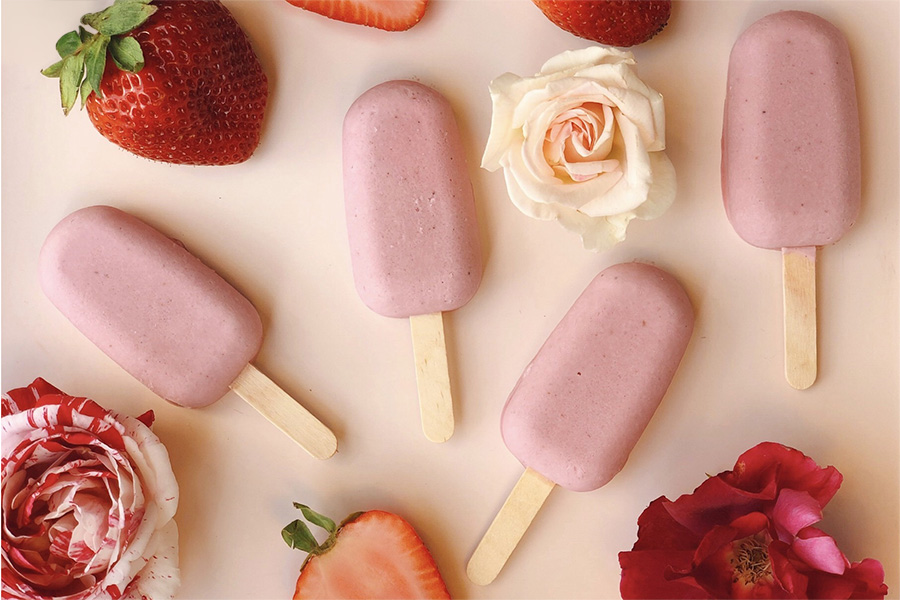 As the summer heats up, it's nice to have some cold treats on hand to keep you cool. These strawberry creamsicles are fruity and sweet, with just a hint of floral flavor. This taste of summer vacation is vegan, so they can be enjoyed by all.
Fresh strawberries do the heavy lifting in this recipe, with coconut milk and cashews teaming up to keep the cold treats creamy. Their addition makes the strawberry base almost like custard. Cardamom, commonly used in both coconut curries and fruity pastries, brings the flavors together with a delightful twist.
Ingredients
1/2 cup raw cashews
1 cup water
2 cups fresh strawberries, chopped
2 tablespoons corn syrup
1/2 cup water
1/2 cup sugar
1 teaspoon cardamom, ground
4 tablespoons coconut oil
1 tablespoon white rum
2 teaspoons rosewater
1 cup canned coconut milk
Instructions
In a small container, combine the cashews and water. Set aside and let them soak overnight.
The next day:
In a small sauce pan, add the strawberries, corn syrup, half cup of water, half cup sugar and ground cardamom. Let the strawberries simmer for 8 minutes.
Add the strawberry mixture to a high-powered blender and blend until perfectly smooth. Pour strawberries through a fine mesh strainer to strain out seeds.
Add the soaked cashews and water to the blender, as well as the strawberry mixture, coconut oil, rum, rosewater and coconut milk.
Blend for two minutes until pureed and smooth.
Evenly pour mixture into popsicle molds and freeze over night.
Notes
The corn syrup and rum prevent the popsicles from getting rock hard. Omit rum, if giving to children. Add an extra tablespoon of corn syrup to make up for the rum. 
This base would make a wonderful vegan ice cream. Spin in ice cream machine for awesome results. 
© 2023 World Spice Merchants https://www.worldspice.com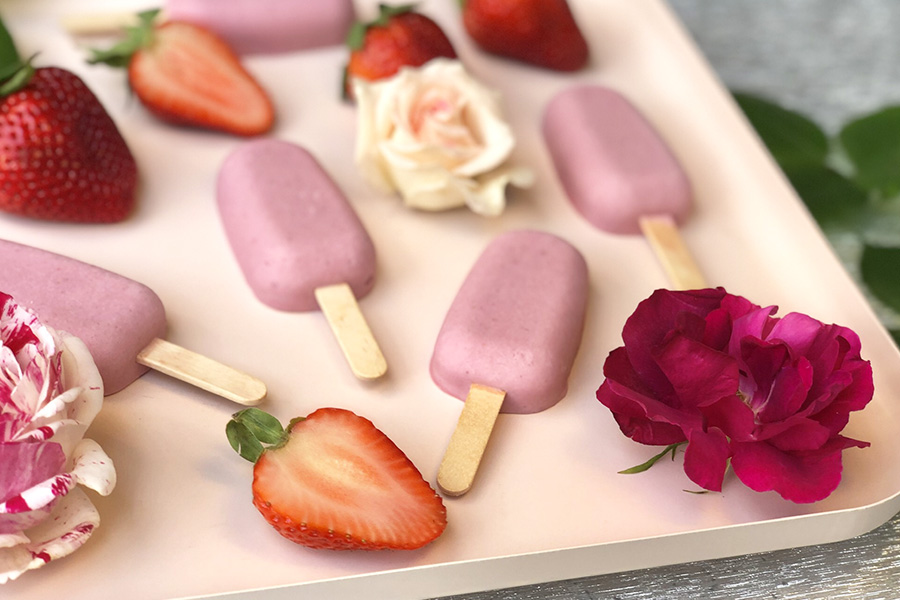 Have any leftover cardamom and strawberries? Check out these Pink Pepper Cardamom Bars!