Pink Pepper Cardamom Bars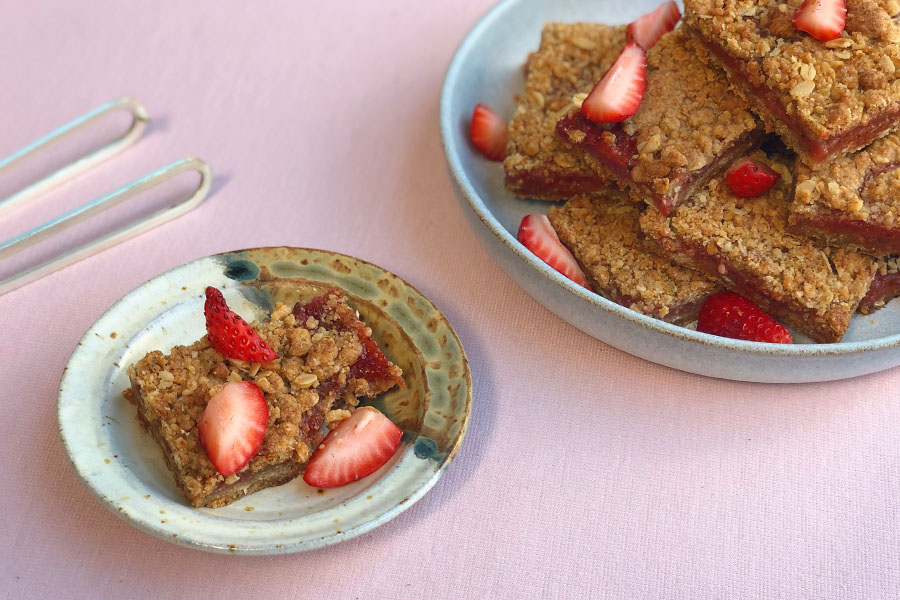 Rhubarb is a perfect flavor combination with strawberries. To jazz it up, we added spices! Piney cardamom and lime zest accent and elevate the fruit base. Crunchy walnuts add texture and to the oat crumb topping and pink peppercorns give a tingly pop of flavor. These fragrant bars are citrusy and have fruity sour layers, and the spices really bring something new to the table.

Ingredients
Crust/Topping
2-1/2 cups all purpose flour
2 teaspoons pink peppercorns, ground
1 cup rolled oats
1 cup unsalted butter, cold and cut into small pieces
1 cup walnuts
1 cup dark brown sugar, packed
1 teaspoon baking powder
Filling
2 cups rhubarb, chopped
2 cups strawberries, chopped
2 teaspoon lime zest
1/2 cup white sugar
1-1/2 tablespoons cornstarch
1 teaspoon cardamom seeds, ground
Instructions
Preheat the oven to 350° and pan spray a 9-by-13-inch rectangular pan.
Crust/Topping
Mix together the flour, ground pink peppercorns, rolled oats, walnuts, brown sugar, and baking powder in a food processor. Pulse until walnuts are ground into smaller pieces - they should be granular, but don't break it down too much. Then add the cold butter, pulsing until combined.
Press half the oat mixture into the prepared pan. Bake for 20 minutes, or until golden brown.
Filling
While the crust is baking, add the rhubarb, strawberries, lime zest, sugar, cornstarch and cardamom to a blender. Blend until smooth.
Once the crust is par-cooked, pour the filling on top of the crust and spread evenly. Crumble the remaining crust topping on top and bake for 15-20 minutes. The topping should look golden brown when done.
Let cool completely, and then cut into squares.
© 2023 World Spice Merchants https://www.worldspice.com
Rhubarb and strawberries are delightful in these bars, but you can try other fruits and berries too- like raspberries, blackberries or blueberries. The recipe is endlessly adaptable. If you're feeling decadent, top the bars with whipped cream!