Buffalo Blue Cheese Chicken Salad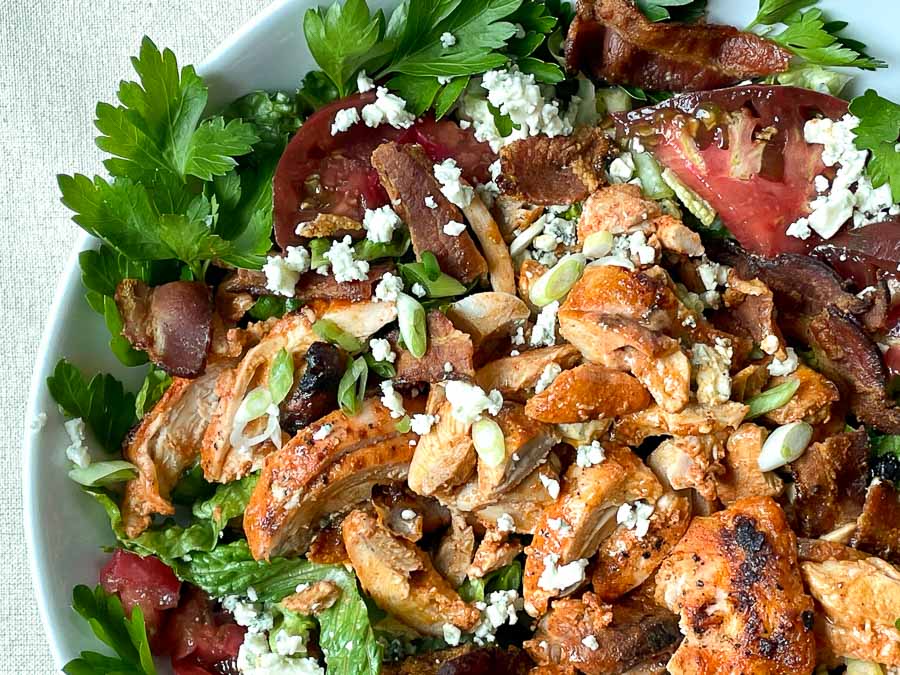 This salad has converted me into a Buffalo fan. Never one for super hot wings or over-the-top heat, I just never paid it very much attention. But you can't pigeon hole Buffalo with wings. It's everywhere! So when we decided to blend a house version of the spice, I paired it with all my favorite salad ingredients to see if I could get on board, and I am so there. The heat is complimented by the tang of apple cider vinegar and a pep of lemon crystal for a lively and versatile flavor.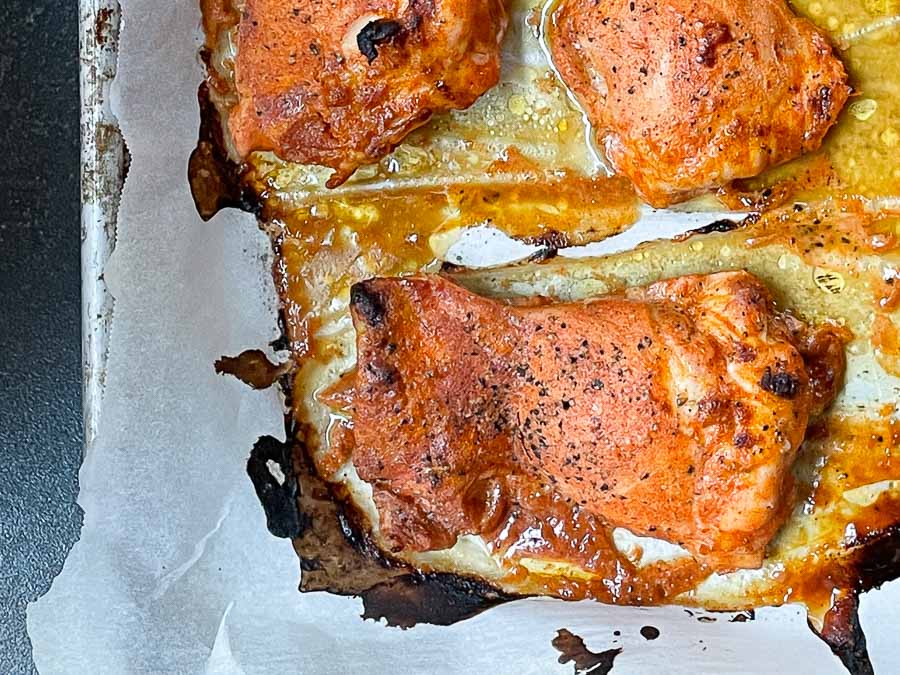 The salad starts with an easy sheet pan chicken, pulled from a quick 2 ingredient marinade of buttermilk and Buffalo Spice. Stay with the recipe proportions for a satisfying medium heat or fire it up with more Buffalo Spice. This chicken is sure to be a staple around our house this summer and will do equally well on the grill. Then toss it together with all the other goodies and you've got a salad that really satisfies.
Ingredients
2 pounds boneless skinless chicken thighs
1/2 cup buttermilk
2 tablespoons Buffalo Spice
1 head Romaine lettuce
2 tablespoons finely chopped flat leaf parsley, plus more for garnish
1 heirloom tomato, sliced
2 green onions, sliced
4 ounces blue cheese crumbles
4 strips cooked bacon, crumbled
1/2 teaspoon Provencal Salt
Instructions
Preheat the oven to 375 degrees and line a sheet pan with parchment paper.
In a large bowl, whisk together the buttermilk and Buffalo Spice. Add the chicken thighs, turning each one in the marinade to thoroughly coat all the nooks and crannies.
Arrange the marinated thighs on the sheet pan and cook for 35 minutes, until the internal temperature of the meat reached 165 degrees.
Adjust the oven to broil, and blister the chicken for a few blackened bits, about 2-3 minutes.
Remove the chicken from the pan and chop into bite sized bits, then drizzle them with the pan juices and set aside.
While the chicken is cooking, prepare the salad.
Wash, dry and rough cup the Romaine lettuce. Transfer the greens to a platter and toss with the chopped parsley.
Add the tomatoes around the edge of the platter, and arrange the Buffalo chicken in the center.
Top with green onions, bacon and blue cheese crumbles, a sprinkle of Provencal Salt and more parsley to garnish.
© 2023 World Spice Merchants https://www.worldspice.com