Sour Cream Buffalo Dip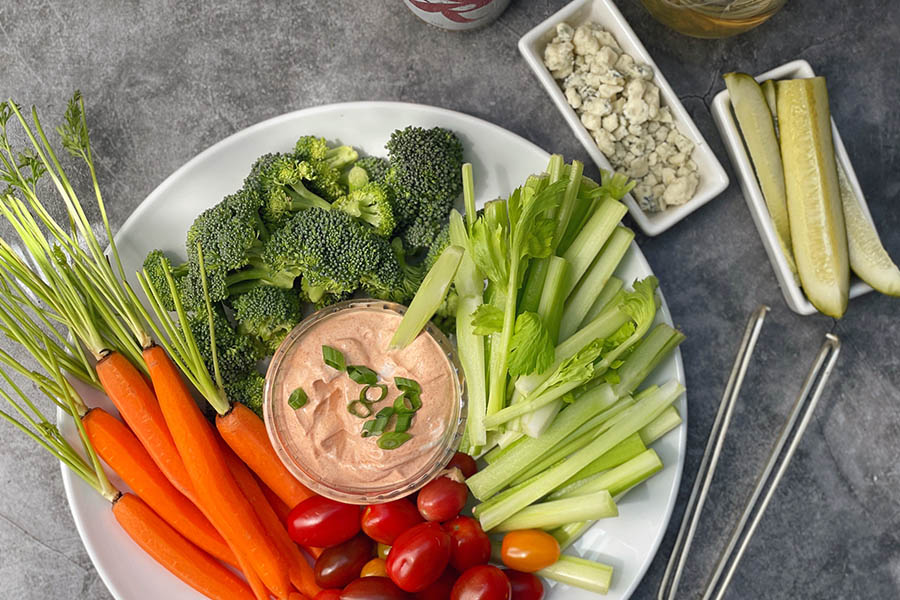 Whipping up a snack on the fly doesn't have to be stressful. Our new Buffalo Spice makes for an easy dip for crudités, and you can control the kick from the Buffalo, making it as hot or mild as you like, surround the dip with cool, crisp vegetables for the perfect bite. Using smaller carrots with tops on and grape tomatoes will save some time, and the colorful platter will be on the table before you know it. The dip recipe is only two ingredients, sour cream and our Buffalo Spice. Our house blend Buffalo Spice is a fiery mix of Indian cayenne, paprika, garlic, apple cider vinegar and lemon crystal for extra tang. This spicy dip is versatile and is perfect for dunking all of your favorite snacks like potato chips, pretzels and pickles- and you can also use it in potato or macaroni salad!
Ingredients
For the Buffalo Dip
For Dipping
Green onion, thinly sliced
baby carrots, peeled
grape tomatoes
broccoli, cut into bite sliced pieces
celery, cut into sticks
Instructions
Add the sour cream to a medium bowl. Add 2 tablespoons of Buffalo Spice and mix well. Taste the dip - if needed, adjust the seasoning. Its flavor develops nicely overnight, so it's worth it to make the dip ahead of time.
Right before serving, garnish with chopped green onions. Serve with cut vegetables or chips of choice. This dip will keep in the refrigerator for up to a week.
Notes
Love the combination of  buffalo sauce and blue cheese? Stir in a couple tablespoons of blue cheese crumbles into the dip. The sharp flavor of blue cheese mellows out the heat from the cayenne in the dip. 
© 2023 World Spice Merchants https://www.worldspice.com