Gingerbread Donuts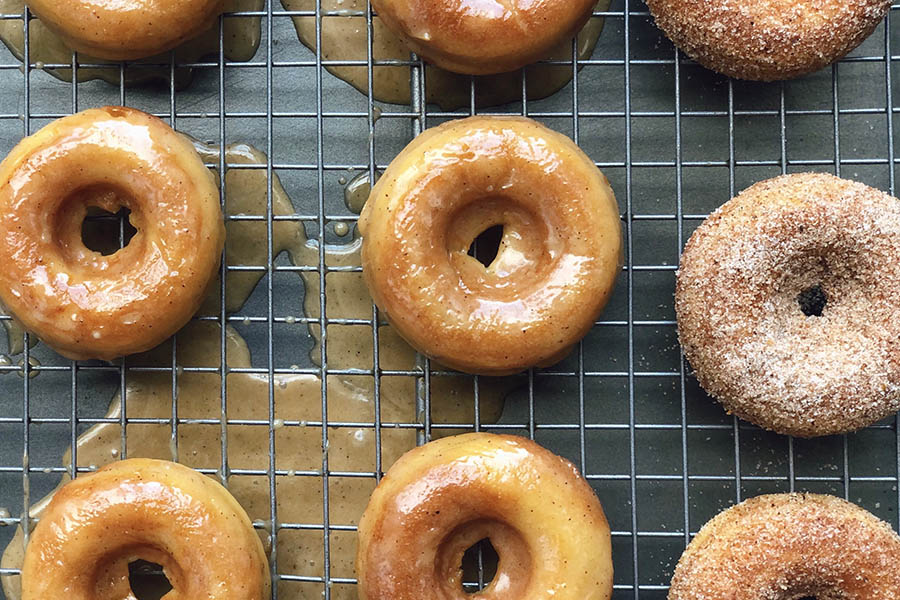 These cute mini donuts use our Gingerbread Spice to bring holiday flavors to the breakfast table. We couldn't decide between two different garnishes in our recipe testing, so we included them both. Dunk them in the sticky maple gingerbread glaze or roll them in gingerbread sugar, according to preference. Can't decide? We'd advise you to split the difference and make some of each, like we did!
For those who might be discouraged from trying doughnut recipes due to the frying involved, we're relieved to say that these were baked. After much experimenting, we decided the yeast donuts were best, and everything else came easy. Easy enough to, say, make a double batch and garnish your eggnog or hot cider for an extra special treat.
Ingredients
1 teaspoon instant dry yeast
1/2 cup milk
1 cup all-purpose flour
1/8 tsp salt
1 egg
1/2 cup sugar
4 tablespoons butter, melted and slightly cooled
1 tsp vanilla extract
Gingerbread sugar
Gingerbread Glaze
3 tablespoons maple Syrup
2 tablespoon melted butter
1 cup powdered sugar
1 teaspoon water
2 teaspoons gingerbread Spice
Instructions
Preheat oven to 425°F.
Prepare Mini Donut Pan with butter and a dusting of flour.
In a small bowl, combine yeast and warm milk. Let the mixture rest for 5 minutes.
Stir in the salt, egg and sugar until combined. Blend in melted butter and vanilla.
Let the batter rest in a warm area for an hour and a half. The batter should become bubbly.
For easy clean up, place batter in pastry bag and pipe batter evenly into prepared pan or spoon in donut batter.
Bake 10 -11 minutes or until toothpick comes out clean when inserted into center of donuts. Immediately invert donuts onto a cooling rack. While hot, using tongs or chop sticks roll donuts in gingerbread sugar or dunk them in sticky gingerbread glaze.
Makes 12 mini donuts. Eat these babies fresh. Best while warm.
Gingerbread Sugar
In a small bowl mix the sugar and spice together until blended. For best results roll the donuts in sugar while warm.
Glaze
In a small bowl add maple syrup, melted butter, powdered sugar, water and gingerbread spice. Whisk until smooth. Dunk the donuts in glaze or drizzle on top while donuts are on baking rack.
Notes
If you lack a mini donut pan, a mini muffin pan will work just fine. Everyone loves a donut hole 😀
© 2023 World Spice Merchants https://www.worldspice.com