Lemon Thyme Rhubarb Cake
Tart, sweet and dramatically red, rhubarb never tasted so good as in this rustic cake with lemon thyme.  The cake is moist and fluffy on the inside with a slight crisp on the outside edge. The sharpness of the rhubarb combined with the delicate pungency of the lemon thyme make this a most wonderful way to take advantage of an abundant rhubarb harvest.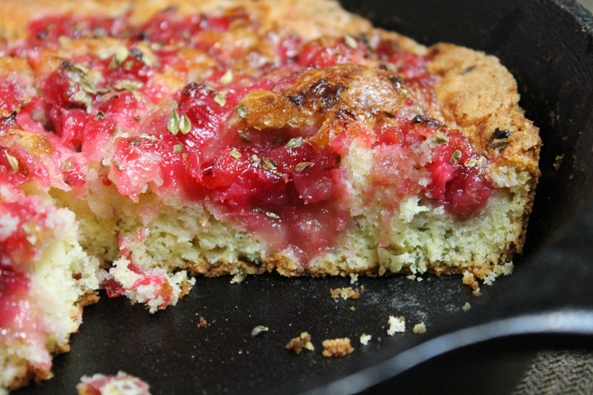 Ingredients
For the Compote
3 cups rhubarb, cut into ½ inch pieces
½ cup sugar
½ cup water
For the Cake
½ cup butter, softened, plus extra for pan
¾ cup white sugar
2 eggs
1 teaspoon baking powder
1 tablespoon lemon thyme
¼ teaspoon Italian sea salt
1 cup all-purpose flour, sifted, plus extra for dusting pan
For the Topping
Instructions
Preheat oven to 350 degrees. Butter and flour a 9-inch cake pan or cast-iron pan.
In a small saucepan, over medium heat, add rhubarb, sugar and water. Cook, stirring occasionally, until rhubarb has softened. Strain and reserve juice. Set rhubarb aside to cool while you make the rest of the cake.
Cream butter and sugar together until smooth. Add eggs, one at a time, mixing well after each addition until batter is light and fluffy. Gently mix in the baking powder, salt, lemon thyme and flour - be careful not to over mix.
Pour the batter into the prepared pan and smooth. Spoon the rhubarb compote over the top of the batter then, using a butter knife, swirl the compote through the cake batter, being careful not to scrape the bottom of the pan.
Drizzle 2 tablespoons of the reserved rhubarb compote juice over the top, sprinkle with the rest of the lemon thyme and sugar.
Bake 25 minutes or until knife inserted in center of cake comes out clean.
Serve warm or room temperature. Enjoy with more of the rhubarb compote mixed with whipped cream or Greek yogurt, served on the side.
Notes
**Also delicious just substituting fresh berries or sliced stone fruit for the rhubarb compote.**

© 2022 World Spice Merchants https://www.worldspice.com