Miso Marinated Halibut
October 18, 2016
/
Serves 4
/
/
Print
/
Whether you love black cod, salmon or halibut best, try your favorite in this wonderfully decadent dish. Our miso marinated halibut is adapted from the classic Japanese preparation popularized by chef Nobu Matsuhisa. I've enjoying this dish in seafood restaurants for years, but never tried my hand at it until now. It just seemed so fancy! But when we created our new Asian Tea Rub I knew it would be a perfect flavor match, and it is. The umami-goodness of the miso marinade plays perfectly with the smoky tea and subtle spices. Serve this dish with a simple side of rice and vegetables for an impressive and delicious meal.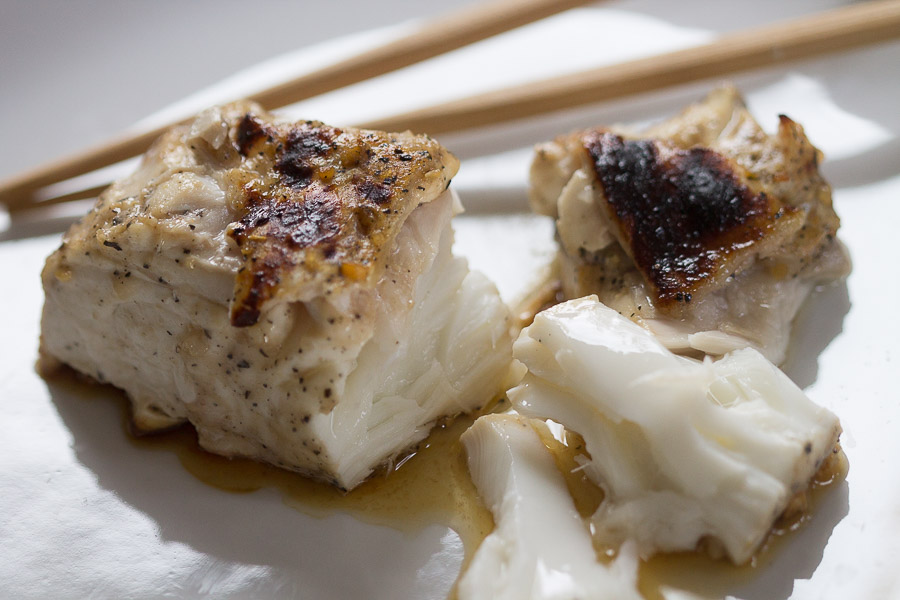 Ingredients
1/3 cup sake
1/3 cup mirin
1/4 cup white or yellow miso
1 tablespoon + 1 teaspoon Asian Tea Rub
1 tablespoon brown sugar
2 teaspoons sesame oil
4 halibut fillets, about 1/2 pound each
Instructions
In a small saucepan, combine the mirin and sake. Bring to a boil over high heat and boil briefly, 15-20 seconds.
Reduce heat to low and whisk in the miso, stirring constantly until the paste is incorporated into the liquid.
Add 1 tablespoon of the Asian Tea Rub and brown sugar, continuing to stir until the sugar is dissolved.
Remove the pan from heat and add the sesame oil. Allow the marinade to cool completely.
Rinse the halibut fillets and pat dry. Transfer the fish to a 1 gallon zip-lock bag and pour in the marinade. Seal the bag and lay it flat in a baking dish or on a tray. Refrigerate for 1-2 hours or overnight.
When you are ready to cook the fish, preheat the broiler and a lightly oiled cast iron pan. Transfer the fish to the hot pan, and sprinkle the remaining Asian Tea Rub on top. Broil 1-3 minutes until the surface of the fish begins to brown and blister.
Turn off the broiler and finish the fish in a 400 degree oven until it flakes easily and is cooked through. It will take about 10 minutes total cooking time, including the broiling phase.
Serve with rice and vegetables for a sumptuous meal.
© 2023 World Spice Merchants https://www.worldspice.com