Tea Rubbed Eggplant & Halloumi
For your next smorgasbord or mixed grill, try our Middle Eastern Tea Rub on eggplant and halloumi. The flavors are delightful and it's quick and easy to put together.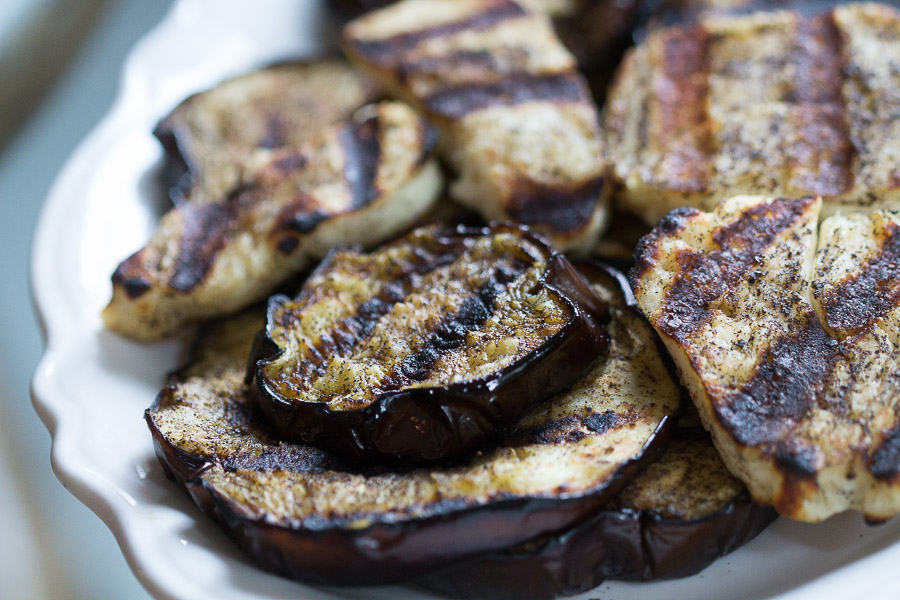 Ingredients
1 globe eggplant, cut into 1/2" slices
1 8 oz package halloumi, cut into 6 slices
4 tablespoons olive oil
1 tablespoon ground Middle Eastern Tea Rub
Instructions
Preheat a gas grill to medium-high, and oil the grate generously.
On a large sheet pan, spread out the slices of eggplant and halloumi. Brush with olive oil and dust with Middle Eastern Tea Rub. I like to use a small sifter to evenly distribute the spice. Turn the slices over and add oil and spice to the second side.
When the grill is ready, place the eggplant on the grate and cook 3-4 minutes with the lid down. Open the grill and turn the eggplant. Cook an additional 3-4 minutes on the second side, until the eggplant is tender and creamy on the inside.
Scrape the grate and add more oil, then cook the halloumi about 2-3 minutes on each side until you have good grill marks and the cheese is warm in the center.
Notes
Depending on the size of your grill, you can cook the halloumi alongside the eggplant when you flip it to the second side. Just be sure to put it in a well oiled spot because it can tend to stick.

© 2022 World Spice Merchants https://www.worldspice.com
For more, check out our full lineup of Middle Eastern Recipes.