Warm Winter Sangria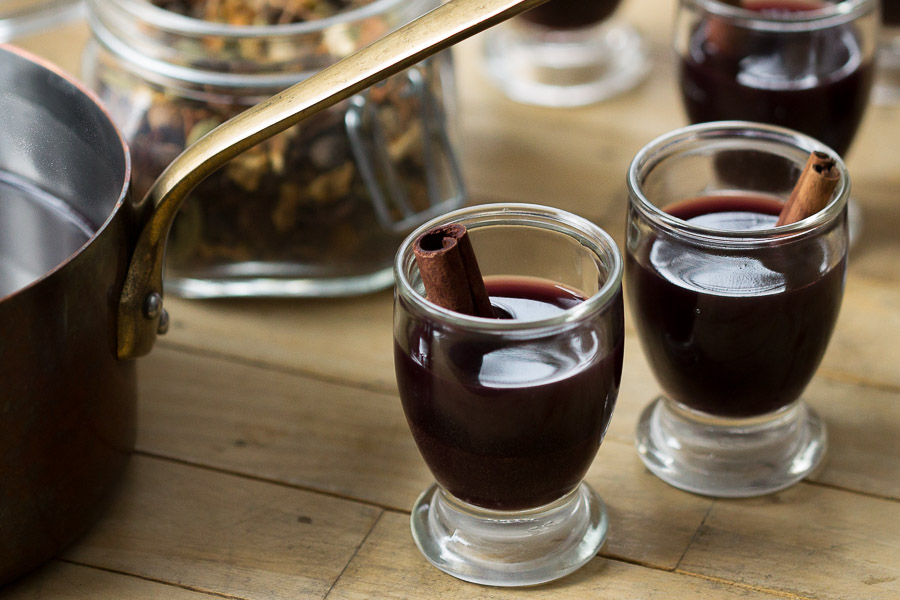 Mulled wine? Mulled cider? We say "choose both" with this Warm Winter Sangria. Mulled wine alone can be too harsh and mulled cider too sweet but put them together with a touch of honey and orange and it comes out just right.
Choose a full bodied wine whose shelf-talker boasts of black or red cherry flavors that will complement the mulling spice, but with a price that won't break the bank. Mid-shelf Pinot Noir or Cabernet are good choices, and an unfiltered and unsweetened cider is the perfect complement. We were lucky enough to have one straight out of the press and it made this Warm Winter Sangria all the more flavorful.
Mulling Spiced Wine and Cider
Ingredients
1 bottle Pinot Noir or Cabarnet, 750 ml
3-4 cups unfiltered apple cider
2 tablespoons honey
2 tablespoons Mulling Spice
1 orange, zest and juice
Cassia-cinnamon sticks, for garnish
Instructions
Combine the wine, cider, honey, mulling spices and orange juice and zest in a non-reactive saucepan.
Bring the mixture to the boiling point and immediately lower the hear. Simmer ever so gently, 10-15 minutes. Strain and serve.
Notes
The sky's the limit on creativity with this drink! Try blended ciders like cherry, blackberry or pear, or add a splash of brandy to make it extra boozy.
https://www.silkroaddiary.com/mulling-spiced-wine-and-cider/
World Spice Merchants https://www.worldspice.com