Mulling Spiced Wine and Cider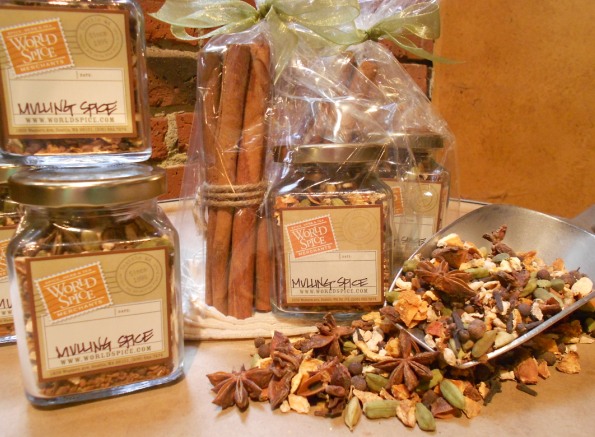 Few things say "winter" better than a steamy cup of spiced cider or mulled wine. Mulling Spice takes many forms, but ours is heavy on the cassia cinnamon and with a hint of orange peel for the power to banish those grey-day blues.
It's important to choose the right wine to mull, and through much "research" we've settled on Pinot Noir as the optimum choice. It's fairly robust, so stands up to the spices, but the less expensive varieties are not so nuanced so as to make covering their intricacies with spice criminal. Look for one whose shelf-talker boasts a larger body and hints at black or red cherry flavors that will complement the star anise in the Mulling Spice.
A good-quality, unfiltered apple cider is all that's required for heavenly spiced cider. As the apple capital of the world, Washington state farmers markets are chock full of cider choices, and we've yet to find one that disappoints. A few even pair other local fruits with apple- try apple-cranberry, apple-cherry, or apple-blackberry. Simply substitute a quart of apple cider for the wine in the recipe below and perhaps omit the sugar, depending on the variety of cider that you choose.
Mulling Spiced Wine and Cider
Ingredients
1 bottle Pinot Noir or other larger-bodied, semi-sweet red wine
1/3 cup granulated sugar
1/2 cup filtered water
2 tablespoons freshly crushed Mulling Spice
Instructions
Whisk half of the sugar in to the wine until it's dissolved.
Add the water and Mulling Spices, and bring to a simmer over medium heat.
Reduce heat to low, cover, and steep for fifteen to twenty minutes, tasting at five-minute intervals to check the intensity level of the spice flavors. The longer you steep, the more pronounced the spice!
When desired flavor is reached, remove from heat, and whisk in more sugar, a tablespoon at a time to taste. Strain, and serve.
Notes
It's also possible to combine wine and cider. Winter Sangria, anyone? Add one bottle of wine to four cups of apple cider, along with 1/4 cup of honey or brown sugar, and 1/3 cup of freshly crushed Mulling Spice. Steep for twenty minutes before straining and serving, and don't forget the cassia stick stirrers!
https://www.silkroaddiary.com/mulling-spiced-wine-and-cider/
World Spice Merchants https://www.worldspice.com