Mulled Wine Poached Pears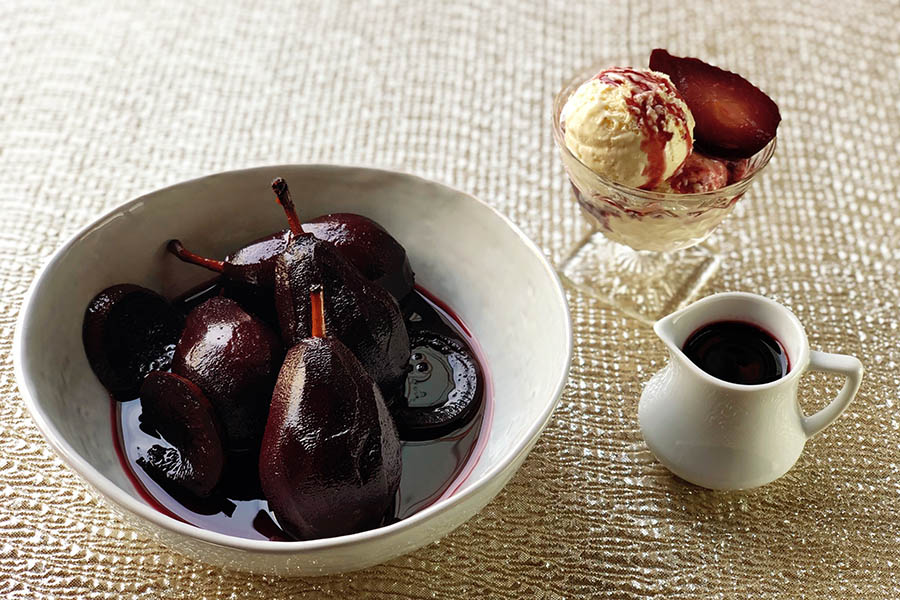 The striking color of these poached beauties comes from simmering the pears in Merlot with sugar. Letting them soak overnight and bathing them in the reduced sauce afterwards. These pear-fect morsels can be served alongside ice cream, as a dessert all on their own, or as an accessory to cheese plates.
For this version of the recipe, we used our Mulling Spice to infuse the poaching liquid. The warm aromatics of cinnamon, ginger, cloves and cardamom are an excellent accompaniment to the Merlot, and will leave your kitchen smelling lovely as an added bonus!
Ingredients
5 firm ripe Bartlett pears
1 bottle Merlot
1 cup white sugar
2 tablespoons Mulling Spice
1 orange cut in wheels
Instructions
In a 4-quart sauce pot, combine wine, sugar, Mulling Spice and orange wheels. Bring to a boil, reduce heat to low. While liquid is simmering, peel pears, leaving stem intact and being careful not to blemish the flesh of the pears. Add pears to poaching liquid, cover, and simmer on low for 25 minutes, then turn and poach for another 20 minutes to ensure even color, until pears are cooked but still firm. Remove saucepan from flame, uncover and cool with pears upright in pan. Once cool, cover and chill in refrigerator at least 24 hours, turning occasionally, for even distribution of color. Remove pears from liquid and bring them up to room temperature. Using a colander strain out the spices from poaching liquid and reduce liquid by half over a medium-high heat for 12 minutes, until liquid is thick and syrupy. Remove poaching liquid from heat and let liquid come to room temperature. Drizzle poaching liquid over pears and enjoy with your favorite brie or over vanilla bean ice-cream. Shingle these pears for a new take on an upside down cake.
© 2023 World Spice Merchants https://www.worldspice.com