Mulled Cranberry Mimosa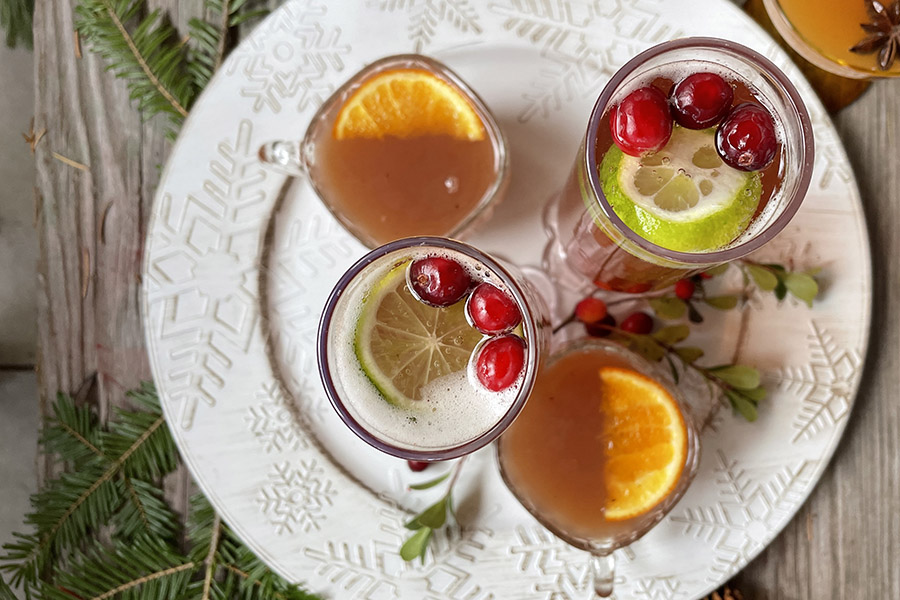 Here are a few of our favorite things, crisp bubbly champagne, fresh cranberry juice cocktail, and mulling spices. In this Mulled Cranberry Mimosa you can have them all! After taking a sip of this brunch favorite, we realized that the inspiration came from another classic cocktail, a Cosmo, and this holiday twist on a classic is festive garnished with lime and fresh cranberries that bob in the bubbly. This recipe makes a whole quart of the mulled cranberry base, enough to host a party or to keep in the fridge for the season!
Ingredients
1 quart Cranberry Juice Cocktail or Cranberry-Rasberry Juice
3 heaping tablespoons Mulling Spice, cracked
1 bottle of bubbly, champagne or prosecco
lime wheels and fresh cranberries for garnish
Instructions
For the Mulled Cranberry Juice
Combine the cranberry juice cocktail and the Mulling Spice in a medium pan. Bring to a boil, then lower heat to medium and cook 10 minutes.
Cool slightly and strain out the Mulling Spices.
Store the mulled cranberry juice in a glass jar with an airtight lid and chill completely before serving.
For the Cocktail
We served this cocktail in a tall flute, with approximately 1 ounce of the mulled cranberry juice and 5 ounces of bubbly. As with all Mimosas, you can adjust the proportion of juice and sparkling wine to suit your taste. Garnish with one lime wheel and a few fresh cranberries.
© 2023 World Spice Merchants https://www.worldspice.com