Cranberry Quince Paste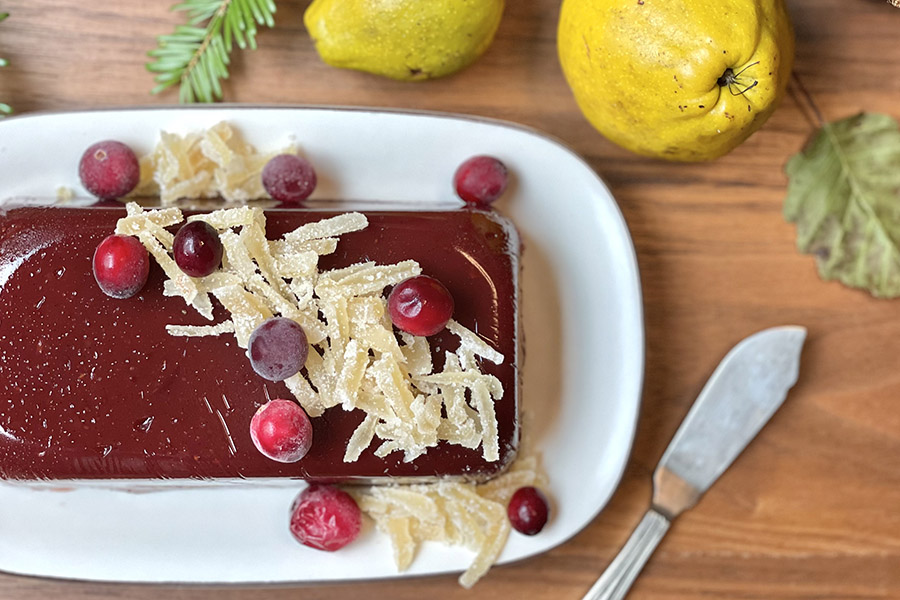 This magical combination brings quince into the spotlight and adds a new level of flavor to the cranberries on your holiday table. Quince is a fanciful fruit, with a bright aroma and a taste of ripe pear and key lime. Ripe quince can be found in Seattle backyards around the early fall. Finding them frozen at a Latin or Asian grocery store is another option too.
The key to success is reducing the quince and cranberry paste far enough that the pectin found in the quince will gel up and keep its shape when cooled. This paste will taste nostalgic to those who like the solid sauce, but far from the canned variety you had as a kid. It'll be sharp enough to cut any rich side dishes but also be warm and sweet from the cinnamon and star anise found in the Mulling Spice.
Ingredients
2 1/2 pounds quince, quartered and deseeded
10 oz whole cranberries
1 vanilla bean, scraped
2 1/2 cups sugar
1 quart water
6 tablespoons Mulling Spice, cracked
Chopped candied ginger, for garnish
Instructions
In a heavy bottomed saucepan, combine the quince, cranberries, vanilla bean, sugar, and water. Bring to a boil and reduce the heat to medium then continue cooking.
Place the Mulling Spices in a muslin bag and add to the pot.
Continue cooking until the paste is thickened and volume is reduced by 2/3. Stir frequently. When it is thickened, you should have about 3 cups remaining. This may take up to an hour or a bit more.
While the paste is cooking, line two mini loaf pans or small molds with plastic wrap.
Remove the mulling spices and transfer the paste to a high speed blender. Blend on high to smooth out the paste.
Portion the paste into the pans right away, it will thicken even more as it cools. Tap the pans hard on the counter to remove air bubbles and allow the paste to settle into the pans.
Refrigerate overnight to set.
To remove the paste, invert the pans onto a serving platter to release the molded paste.
Give them a quick pass with a kitchen torch to make them shiny, and garnish with a sprinkle of chopped candied ginger and whole cranberries.
© 2023 World Spice Merchants https://www.worldspice.com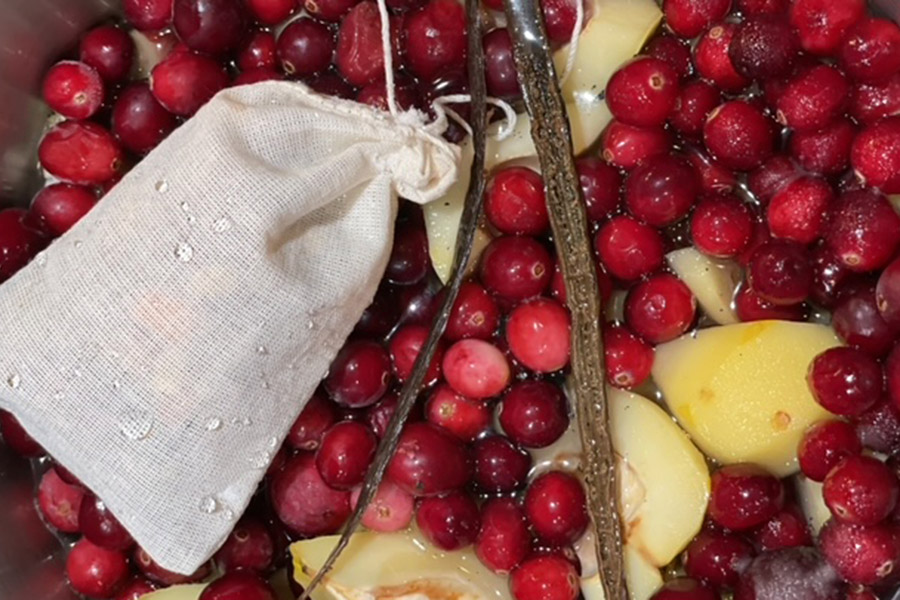 If you're unable to find quince, pear with 2 tablespoons of lemon juice will be a good substitute. As the sauce reduces it should cook down thick enough that when you scrape the bottom of the pan with a spoon the jam won't immediately fill in the space again.