Parilla Piñarita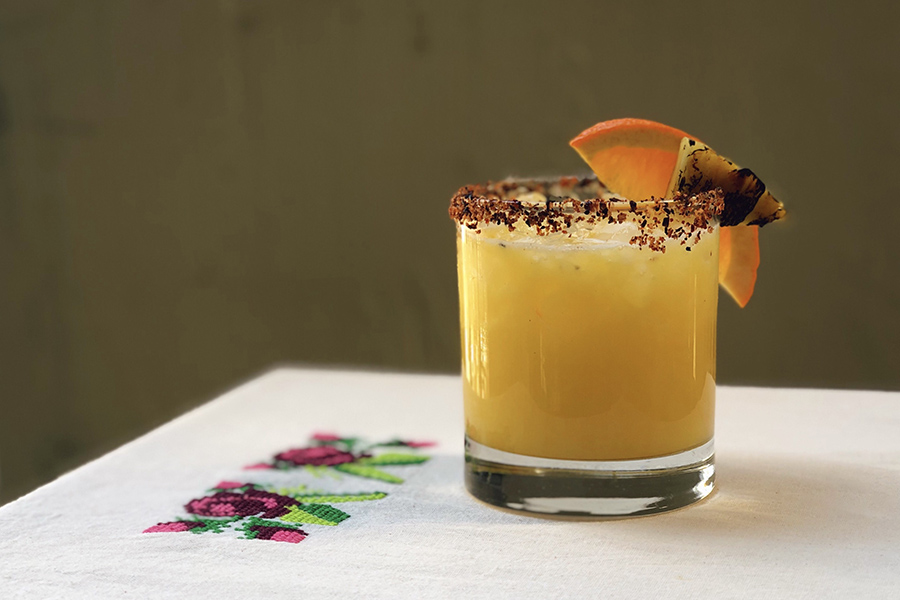 Happy Cinco de Mayo! Citrus and pineapple combine to quench your thirst in this classic cocktail. Charred pineapple adds extra flavor by fire with a smoky garnish. As if all that wasn't enough, we rimmed the glass with our new Limón-Chile seasoning. Inspired by the classic Tajin spice, this irresistible seasoning adds a powerful spark of lime and chili to each sip. Make the Parilla Pinarita your summer grilling go-to, it's easy to shake one up when you fire the grill.
Ingredients
1 1-inch pineapple round
3 tablespoons Limón-Chile
1 ounce lime juice
1/2 ounce pineapple juice
1/2 ounce orange juice
1/2 ounce agave syrup
1 ounce mezcal
1 ounce silver tequila
1 orange wheel, for garnish
Instructions
Fire up a grill to medium-high heat. Grill the pineapple, turning once, until marked on both sides, about 1-2 minutes. Cut the pineapple into 4 pieces and set aside.
On a small plate add Limón-Chile seasoning and evenly spread it around.
Run an orange wedge along the rim of the cocktail glass until wet. Turn the glass and dip it into the the small plate with the Limón-Chile seasoning. Tap the glass into the seasoning until the rim in fully covered. Set the glass aside.
In a cocktail shaker, muddle together lime juice, orange juice, pineapple juice, agave, and 3 chunks grilled pineapple. Add mezcal, tequila, and ice; shake well. Strain into seasoned glass over ice. Garnish with grilled pineapple and orange wheel.
© 2023 World Spice Merchants https://www.worldspice.com