Tostada Salads with Limón-Chile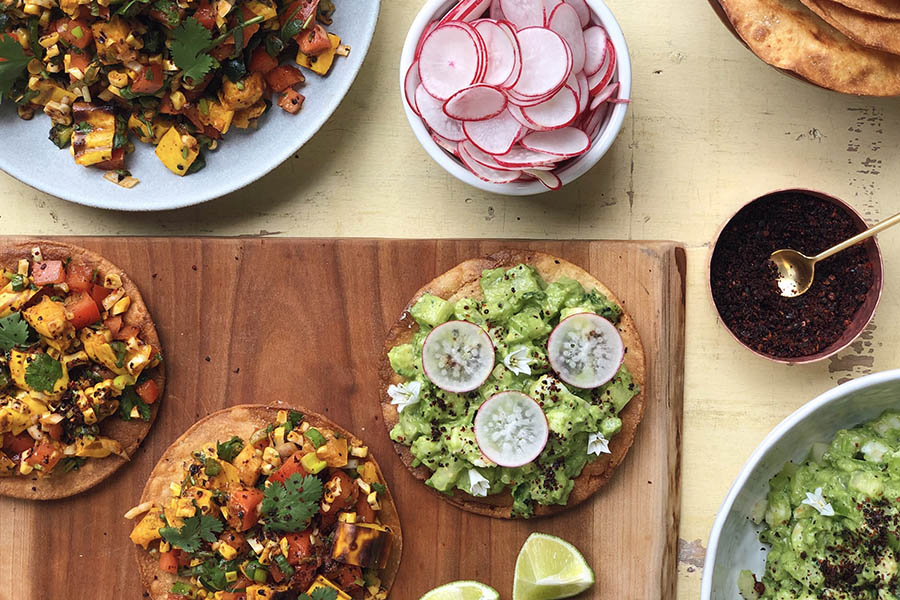 Here's a great way to eat healthy and enjoy every bite, colorful tostada salad toppers turbocharged with Limón-Chile! Tostadas are a fried corn tortilla kept flat for easy loading of ingredients and we made two different salads to top this crunchy treat. Our first one was a shrimp salad, tossed in a creamy avocado and tomatillo dressing. To make the flavors sing, we garnished generously with  Limón-Chile seasoning to add warm heat and tart 'pops' of flavor. For the second tostada, we kept it vegan with roasted Delicata squash. The cooked squash adds sweetness that contrasts with all of the textures in the raw vegetable medley. We lightly tossed the salad in olive oil and added our Limón-Chile, giving it a nice tang from the lime salt and sunny Marash chiles.
Ingredients
Tostadas
12 6-inch corn tortillas
1 cup vegetable oil
kosher salt
Shrimp Salad
12 ounces cleaned cooked shrimp, diced
3 tomatillos, husks removed
1 cup avocado
1/2 jalapeño
1 green onion
2 - 3 garlic cloves
2 tablespoons lime juice
1/2 cup cilantro
1/2 teaspoon cumin, ground
1/2 teaspoon Pacific sea salt
2 tablespoons Limon-Chile
8 radishes, thinly sliced on a mandoline
Delicata Squash Salad
2 Delicata squash, medium sized
1/4 cup olive oil
2 green onions, chiffonade
1 large heirloom tomato, diced
1 ear of corn, grilled and shucked, niblets removed from cob
1 poblano pepper, diced
1 lime, juiced
cilantro, chopped - to taste -
2 teaspoons Limon-Chile
Instructions
Tostadas
Heat the oil in an 8 inch skillet over high heat until it bubbles. To test whether the oil is ready, dip the edge of a tortilla in it and the oil it should immediately sizzle.
Placing one tortilla at a time into the oil, fry on medium heat until golden brown for about 1 minute on each side. Transfer tostada to a plate lined with paper towels to absorb any excess oil. Lightly season with salt.
Repeat process with remaining tortillas.
Shrimp Salad
Add the cooked shrimp to a medium sized bowl and set aside. Add 2 halved tomatillos, avocado, jalapeño, green onion, garlic, lime juice, cilantro and cumin into a blender. Pulse until almost smooth for about 30 seconds.
Small dice the remaining tomatillo and add it to the shrimp bowl.
Transfer the avocado mixture to the shrimp bowl and stir until combined. Season the salad with salt and 2 tablespoons of Limon-Chile. Spread the shrimp salad on a tostada and garnish with thinly sliced radishes.
Delicata Squash Salad
Preheat the oven to 425 degrees. Cut the squash length wise, remove seeds and discard. Place the squash on a sheet tray and roast for 30-40 minutes until tender and starting to caramelize. Let the squash cool completely, then dice and set aside.
In a large bowl add the olive oil, green onion, tomato, corn, poblano, lime juice, salt and cilantro and give it a quick toss. Then add the squash and Limon-Chile to taste, and mix until incorporated.
© 2023 World Spice Merchants https://www.worldspice.com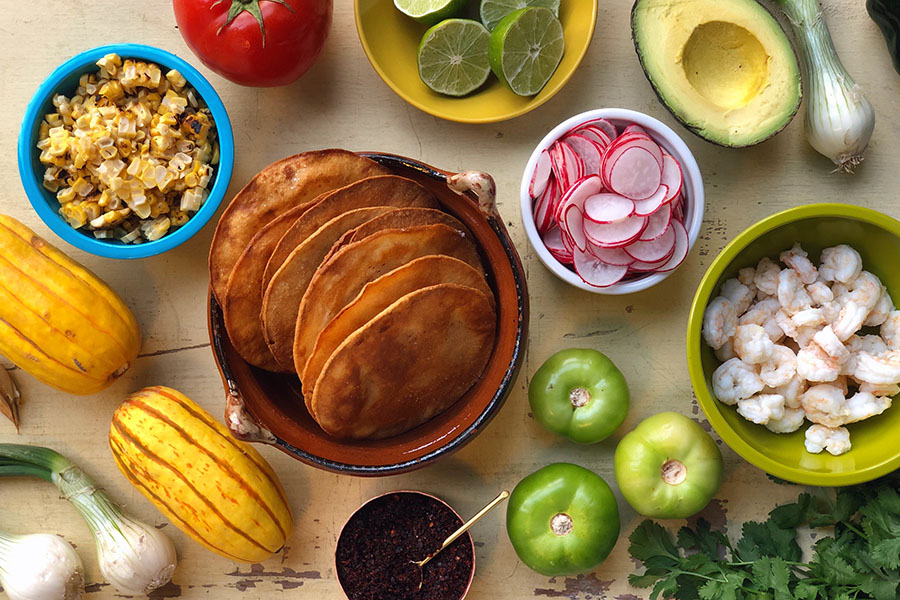 Create your own tostada bar at your next neighborhood cookout! The sky's the limit with these crunchy canvases.