Sticky Tamarind Salmon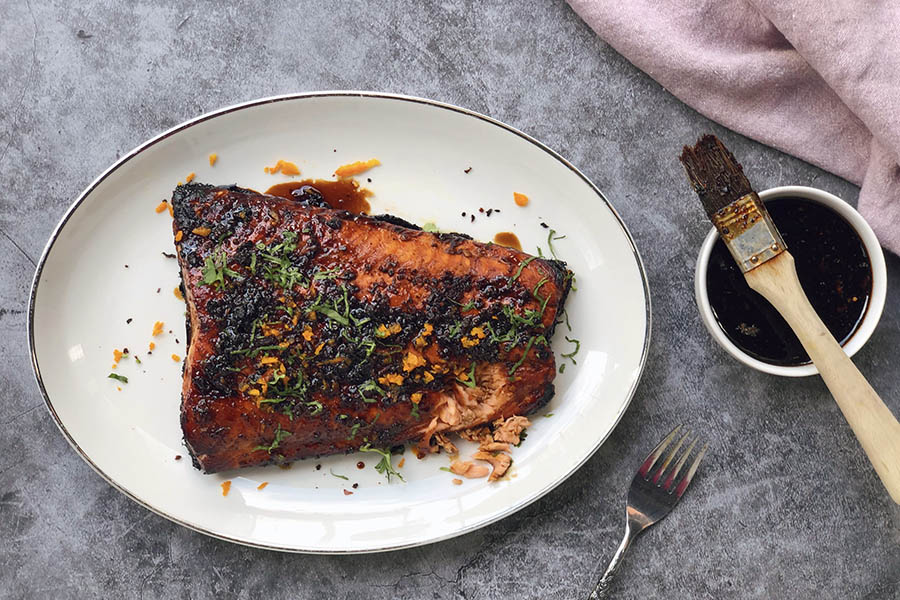 Here's a stunning, fresh new recipe for your next side of salmon. The sticky tamarind glaze is layered with flavor – toasted cumin for nuttiness and Limón-Chile for a touch of heat. This glaze comes together quickly and gets brushed on the salmon both before and after cooking. The fish is started on the stovetop and finished in the oven to create the perfect texture. Spoon a generous measure of glaze over the top to finish the salmon with cilantro and orange zest. Accompany this salmon with rice or turn it into a sweet and sour fish taco. There's a fusion of flavors on this platter that will become a favorite.
Ingredients
For the Glaze
3 tablespoons tamarind puree
1 large orange, juiced and zested, and reserve a bit of zest for garnish
2 tablespoons Limón-Chile
1 tablespoon soy sauce
2 teaspoons toasted cumin, ground
1/2 tablespoon garlic, minced
3 tablespoons agave syrup
2 tablespoons butter, unsalted
For the Salmon
1 tablespoon olive oil
1 side of Sockeye salmon, skin on
1/2 teaspoon kosher salt
1/2 cup cilantro, chopped, for garnish
2 tablespoons Limón-Chile, for garnish
Instructions
Preheat the oven to low broil.
In a small saucepan over medium heat combine the tamarind puree, orange juice and zest, 2 tablespoons Limón-Chile, soy sauce, toasted cumin, agave and butter. Stir ingredients together and simmer for 1 minute or until the sauce becomes syrupy. Remove from heat and lightly brush the top of the salmon with the glaze. Set the remaining sauce aside.
In a large, oven-safe saute pan over medium-high heat, add 1 tablespoon of olive oil. Add the salmon, skin side down to the pan and sprinkle with salt. Cook for 2 minutes.
Transfer the salmon to the oven and broil on low for 10 minutes. The cooking time will depend on the thickness of your filet and doneness preference. Look for white bands of fat emerging from between the layers of fish to indicate that it is cooked through. Transfer the salmon to a platter and spoon additional glaze over the top while warm. Garnish with fresh cilantro, additional orange zest and Limón-Chile. Serve hot, family style.
© 2022 World Spice Merchants https://www.worldspice.com