Smoked Pepper Fudge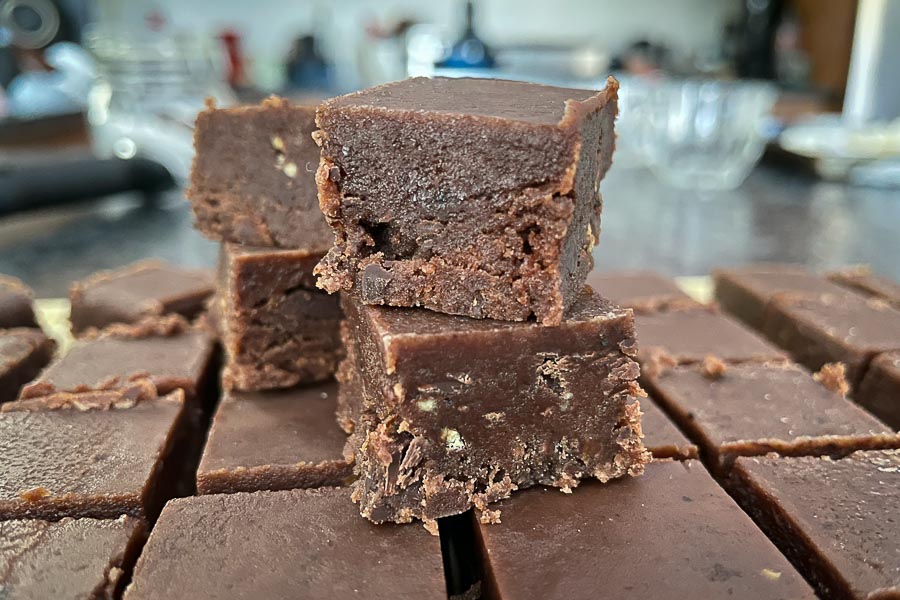 Our Smoked Tellicherry Black Pepper adds a surprising spark to this easy, no-fail fudge recipe. Each bite of intense sweetness is punctuated with a peppery zing at the finish. It's about time we started combining more pepper with chocolate! Salt gets lots of attention in chocolate pairings and pepper is also a great match. A quick crack in the mortar & pestle is all it takes to get the perfect texture on the pepper, and it leaves little zesty pops in the fudge to keep things interesting. Just in time for Valentine's Day, this batch makes enough for all the spice-loving sweethearts in your life.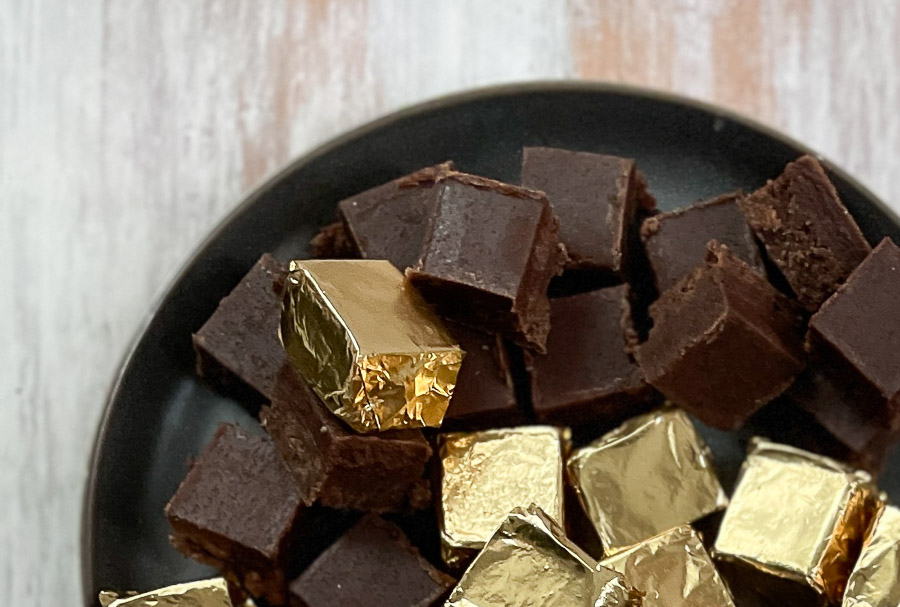 Ingredients
2 cups sugar
2/3 cup evaporated milk
12 regular sized marshmallows
1 stick unsalted butter
pinch of salt
1 cup dark chocolate chips
1 teaspoon vanilla extract
1 tablespoon Smoked Tellicherry Black Pepper
Instructions
Prepare an 8"x8" pan by lining it with foil and sprtiz with non-stick pan spray.
In a 2 quart heavy bottomed pan over medium heat, combine the sugar, evaporated milk, marshmallows, butter and salt. Bring the mixture to a boil and allow to cook, stirring frequently for about 5 minutes. The cooking time allows the sugar crystals to completely melt, making the fudge creamy and smooth.
Remove from heat and stir in the chocolate, vanilla and cracked pepper. Pour the hot mixture into the prepared pan and allow to cool to room temperature. Transfer to the refrigerator and allow to set completely, 4-6 hours more before cutting.
Remove the fudge from the refrigerator about an hour before cutting, this will make it less crumbly. Score the top in a grid pattern, and then cut firmly, pressing straight down on the knife.
Enjoy immediately, or store in a sealed container in the refrigerator up to three weeks.
© 2023 World Spice Merchants https://www.worldspice.com