Irish Rarebit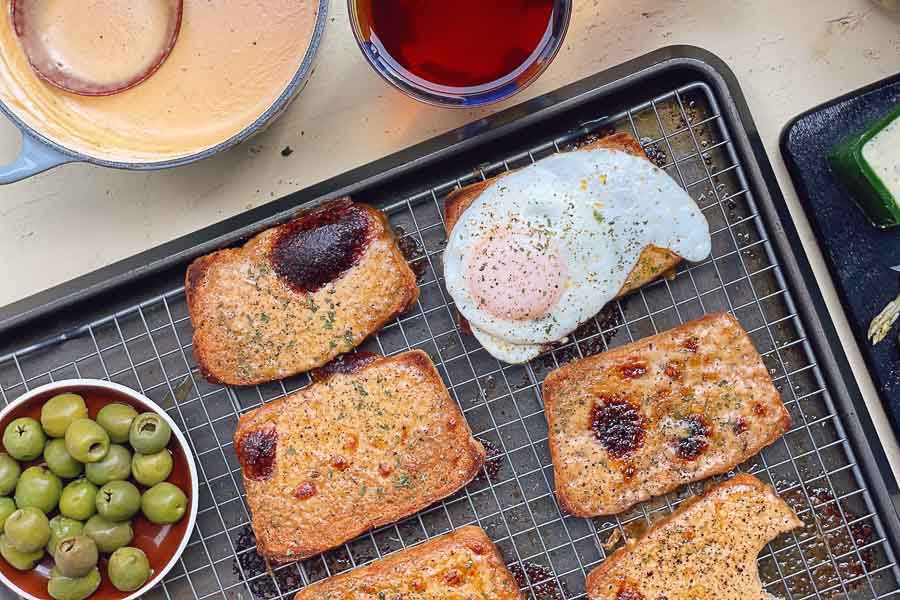 What is Rarebit anyway? Think beer and cheese fondue on toast. A perfect snack for a St. Patrick's Day buffet, this Irish twist on a classic is boldly spiced with mustard and Worcestershire powders, and of course a spot of Guinness. Rye bread gives the toast a stand-up flavor of earthy caraway and molasses.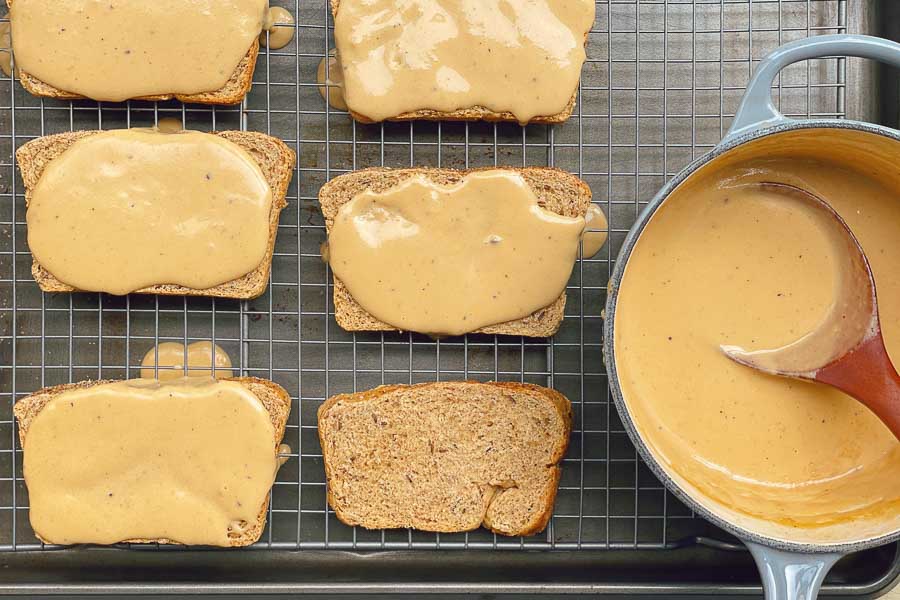 Generously ladle the beer and cheese mixture onto the toast. Truth? Some people stop there. In some kitchens rarebit is served as a cheesy sauce over toast, but we like it hot! So, toss it under the broiler for a few minutes. You won't be sorry. The cheesy goodness will seep into the toast and top of will blister under the broiler, creating  a delightful  crust.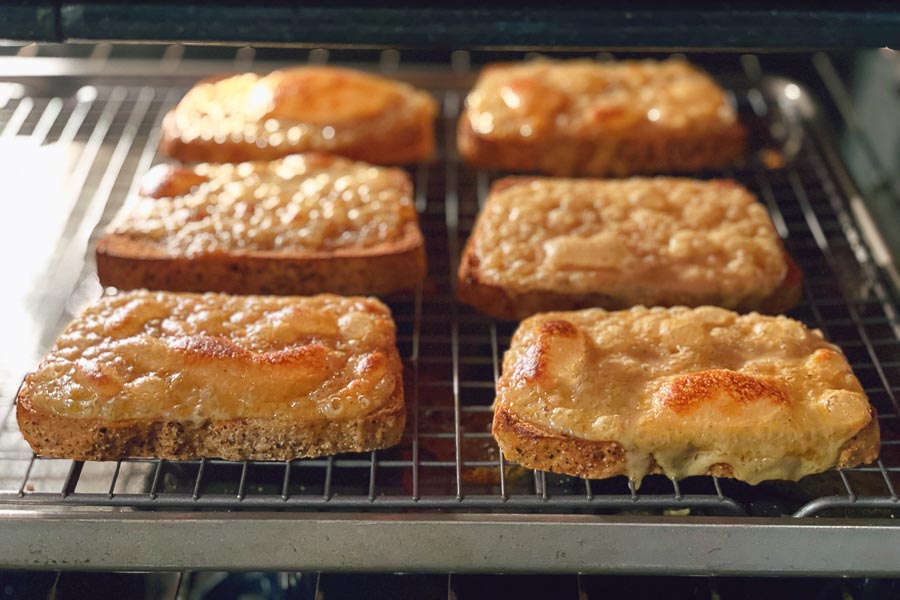 Hot out of the oven, add a crack of Smoked Black Pepper and a sprinkle of green parsley for the finish.  Serve while hot and keep the rounds coming for a parade of flavor. Happy St.  Paddy's Day!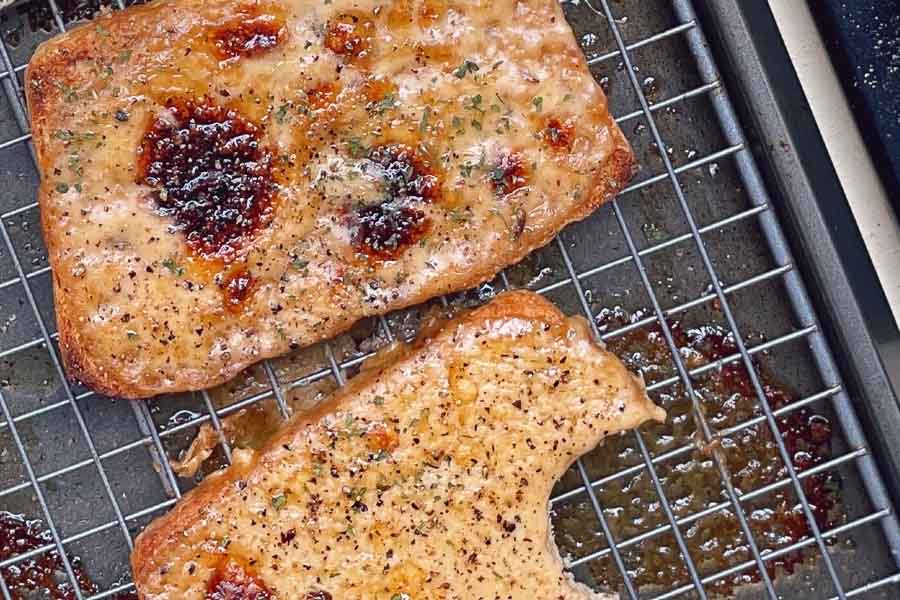 Instructions
Arrange the toast on a rack over a sheet pan and set aside.
In a medium saucepan over low heat, melt the butter and whisk in the flour. Whisk continually for about 2 minutes, until the flour butter mixture is golden, but not browned. Add the mustard, Worcestershire powder and salt and quickly whisk to incorporate the powders. Add the stout, cream and hot sauce and whisk until well combined and smooth. Bring the sauce to a light simmer and cook until thickened about 2-3 minutes, so that it easily coats the back of a spoon. Pull the sauce off of the heat and gradually add shredded cheese, stirring constantly, until the cheese melts and the sauce is smooth again.
Pour the cheese sauce over the toast and broil in the oven on high for 3-5 minutes or until the cheese is blistered. Serve immediately with a crack of smoked Tellicherry pepper and sprinkle of parsley.
© 2023 World Spice Merchants https://www.worldspice.com

The rarebit sauce can showcase all kinds of bold flavors and makes a great party toast for all kinds of occasions. Try it with Svaneti Salt if you like caraway and coriander or Voodoo for a taste of the Big Easy.
A simple sprinkle of Paprika or Smoked Paprika. is another tasty way to go.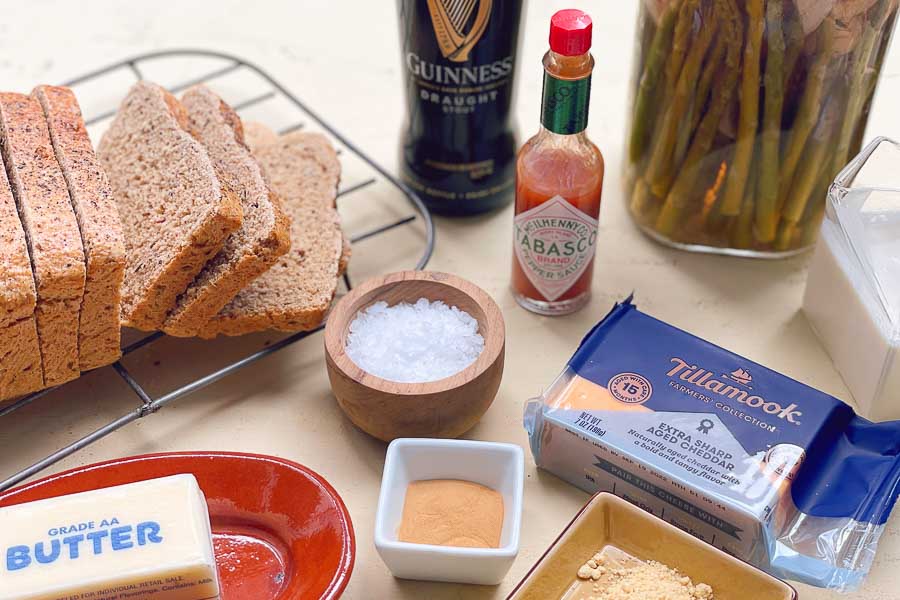 The base ingredients are simple and you may already have them in your pantry. Our local Tilllamook Extra Sharp Cheddar was a winner with the Guiness!