Everything Bagel Spiced Cauliflower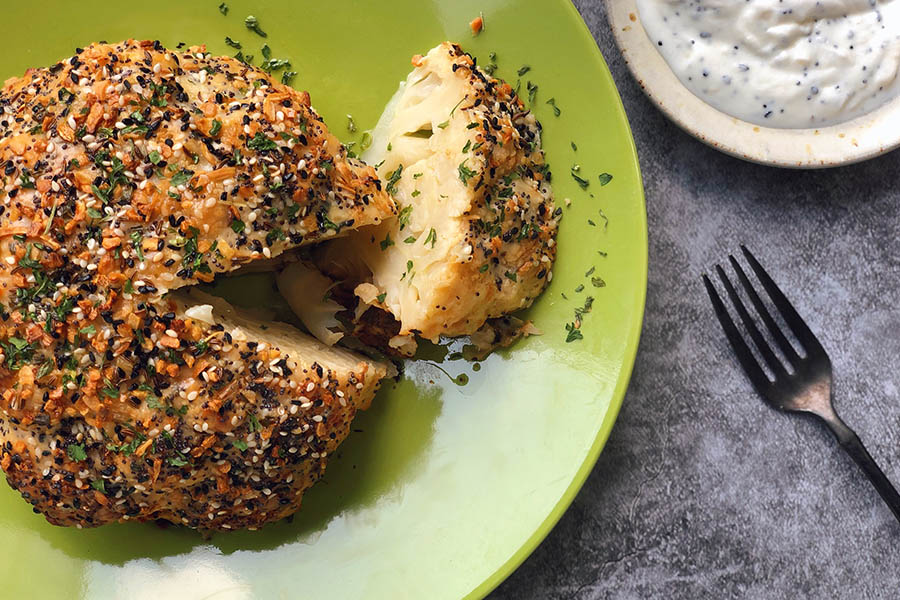 Everything Bagel Spice has….everything! The beloved calico crunch is a favorite for bagels and crackers but we've tapped it as a crust for cauliflower that doesn't disappoint. The flavor nuggets nestle into the nooks and crannies on the whole cauliflower head like peas in a pod. Our Everything Bagel Spice boasts all the usual suspects- onion and garlic, poppy and sesame but we've taken it up a notch with nigella and caraway too. The crust adheres to a layer of Greek yogurt that caramelizes as it bakes, lending a chewy tang to the vegetarian dish. Serve this beauty with a side of dipping sauce for a stunning presentation at the table.
Ingredients
1 large head of cauliflower, stem and leaves trimmed
2 tablespoons Everything Bagel Spice
1/2 cup plain Greek yogurt
1 tablespoon olive oil
1 teaspoon parsley
Instructions
Preheat the oven to 375°
Wrap the cauliflower in aluminum foil and bake for 40 minutes or wrap cauliflower in plastic wrap and microwave on high for 6 minutes. The goal is to par bake the cauliflower about 3/4 of the way through.
While the cauliflower is cooking, combine the Everything Bagel Spice, yogurt and olive oil in a small bowl. Stir to combine.
Once the cauliflower is 3/4 of the way cooked, evenly coat with half of the yogurt sauce. Feel free to sprinkle extra everything bagel seasoning if a thicker layer of spice is desired. Reserve the remaining sauce for serving.
Place the coated cauliflower head on a piece of parchment in a cast-iron skillet. Return to the oven and roast the cauliflower for 30 minutes more, until the crust is golden brown and the cauliflower head is cooked through. Garnish with parsley and cut into wedges. Serve with remaining Everything Bagel Spice yogurt sauce.
© 2023 World Spice Merchants https://www.worldspice.com