Damiana Rose Truffles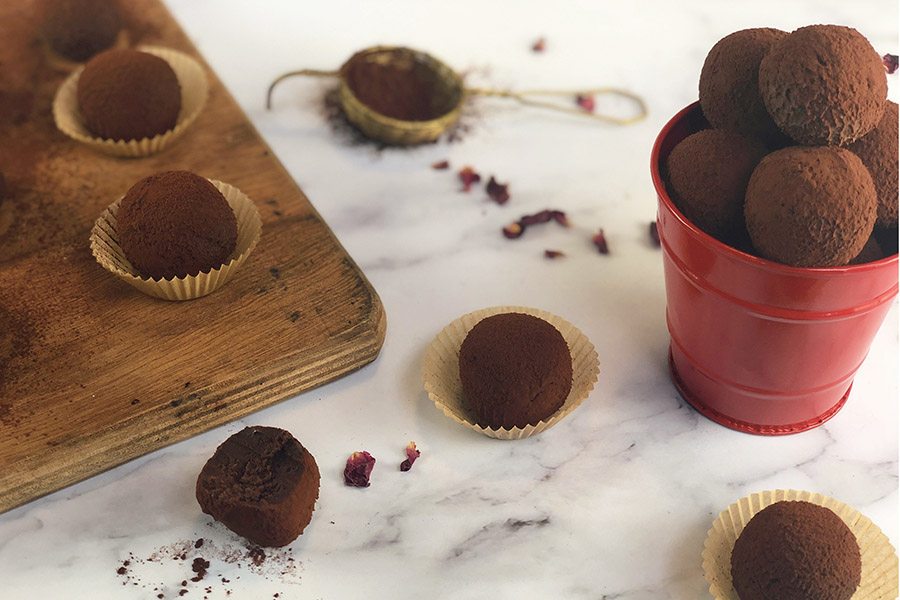 Add a legendary aphrodisiac herb to your next batch of truffles just in time for Valentine's Day! Damiana has been used for centuries as a mild herbal aphrodisiac and adds exotic flavor to perfectly complement dark chocolate and rose. These truffles are a delicious romantic treat. Sweetened with honey and easy to make, they will satisfy any chocolate craving. Perfect for a Valentine's day gift or dessert, serve them alongside a cup of our Pink Chai or Onyx Rose tea and enjoy the moment.
Ingredients
For the Damiana Butter
1/2 cup unsalted butter
1 tablespoon damiana
For the Ganache
Instructions
For the Damiana Butter
In a small saucepan over low heat, gently melt the butter and add the damiana, stirring to coat and combine. Do not overheat or allow the butter to brown! Once the damiana becomes fragrant, remove the pan from heat and set aside. Allow to steep for an hour. Gently re-warm if necessary and strain the damiana out of the butter using a mesh sieve.
For the Ganache
Return the damiana butter to the saucepan and add heavy cream and honey. Bring to a low simmer. Meanwhile place the chocolate chips in a heat-proof bowl large enough for all of the ingredients. Once cream mixture is hot, pour it over the chocolate chips and whisk until the chocolate is melted and all ingredients are combined. Add the rose water and salt once the mixture is smooth, and give it a final stir to combine.
Cover the bowl and refrigerate for 2 hours.
Using a small scoop or tablespoons, roll ganache into bite size balls and refrigerate for 30 minutes. Once truffles are firm enough to handle, dust them with cocoa powder ising a small sifter. Tap the side of the sifter for even and smooth dusting.
Store in airtight container and keep refrigerated for up to 2 weeks.
Notes
If the chocolate mixture needs additional heat to melt, microwave it for 15 seconds at a time and stir, or warm it using a water bath. If using the water bath method be careful not to accidentally get any water in the bowl or the ganache might seize up or break.
If rosewater is not available, try other essences or liqueurs to pair with the damiana. Orange water or tequila would also complement nicely.
© 2022 World Spice Merchants https://www.worldspice.com