Dolmades for Greek Easter
If you thought that the Easter fun was over far too soon, not to fear! Greek Easter is this coming Sunday, awash with delicious traditions all its own. Not to be missed are these tasty little pockets of meat, rice, and nuts, expertly seasoned with our savory and tangy El Greco blend. They're called "dolmas" in the singular, and "dolmades" when referring to the scores of them you'll eat once you've had a taste of their perfect balance of Mediterranean flavors, all wrapped in a convenient little two-bite gnosh.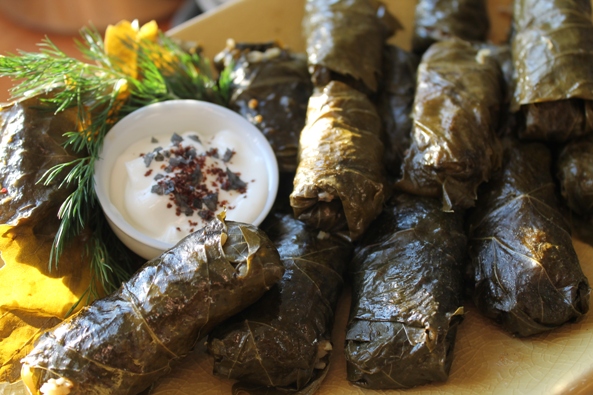 All of the ingredients ought to be readily available in most markets, including grape leaves, which often come in cans or jars. If you've got a grape vine over an arbor, fresh work wonderfully, too; just poach them a bit of salted water with a half a lemon thrown in. Admittedly a little time-consuming, the dolmades can be prepared 2 to 3 days before serving, and refrigerated or frozen until you're ready to use them.  If you do freeze them, they can be thawed overnight in the refrigerator, and gently heated with a little broth or water before serving. You'll find them more than worth the effort! Kalo Pascha!
Ingredients
For the Filling:
1/4 cup olive oil
1 medium onion, finely chopped
1 pound lean ground lamb
1/2 cup short-grain rice
1/4 cup El Greco
1/2 cup dill weed
1/3 cup pine nuts
1/4 cup water
2 tablespoons tomato paste
Freshly ground Tellicherry black pepper
1 quart jar grape leaves in brine, well rinsed
3/4 cup chicken broth
3 tablespoons fresh lemon juice
1 lemon, thinly sliced for garnish
Instructions
For the Filling:
Heat the oil in a large skillet. Add onion and saute until translucent, then add meat, stirring to break up pieces.
Add rice, dill, El Greco, pine nuts, water and tomato paste and cook over medium heat until water is absorbed, about 10 minutes. Season to taste with salt and pepper.
To Stuff The Grape Leaves:
Cover the bottom of a Dutch oven with a layer of grape leaves.
Stuff remaining leaves by placing leaf (shiny side down) on the palm of your hand, with the base of leaf the toward your wrist and tip pointing to your middle finger.
Put a spoonful of meat mixture in center. Fold the base of the leaf over the filling, then fold sides of leaf over like an envelope, tucking the edges in snugly. Arrange, tip side down to prevent unrolling, in the Dutch oven.
To Cook The Stuffed Grape Leaves:
Add broth to Dutch oven within 1 inch of top layer of stuffed grape leaves. Use any left over leaves to cover top layer. Place a heat-proof plate upside down over the top layer of dolmas, and press firmly.
Cover and cook over medium heat until rice is tender, about 30 minutes. Sprinkle with lemon juice and cook 5 minutes longer.
Let cool to room temperature, or chill thoroughly. Serve garnished with lemon slices and a little greek yoghurt for dipping.
© 2023 World Spice Merchants https://www.worldspice.com