Crowd Pleasing Party Dips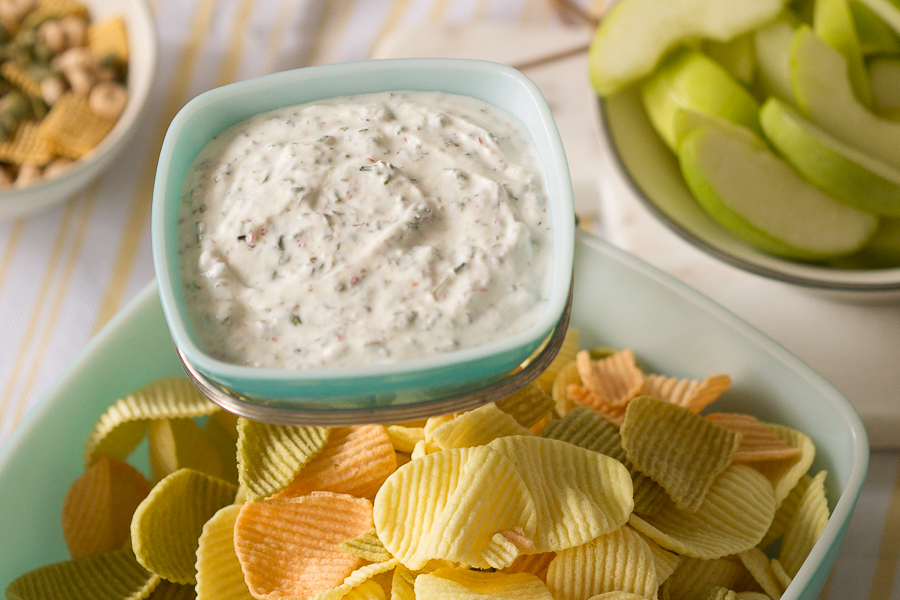 Perfect for snacking or for parties, spiced yogurt dips are easy to make and keep well in the fridge for up to a week. One container of plain Greek yogurt and 2-3 tablespoons of spice are all you need. Our seasoning blends offer a fresh flavor profile you won't find in the average packet . Our favorites include Cascade Mushroom Mix because it has a strong dose of onion and garlic along with some powdered Worcestershire for a deep umami flavor. For a lighter choice, the Emerald City Seasoning is bright with herbs and pink pepper. With these two on the party platter, there is something for every palate.
Instructions
Add yogurt to a medium bowl. Add 2 tablespoons of your spice blend of choice and mix well. Taste the dip - if needed, add the remaining 1 tablespoon of the blend, mixing well. Their flavors develop nicely overnight, so it's worth it to make them ahead of time.
Right before serving, garnish with chopped chives. Serve with chips and cut vegetables. The dips will keep in the refrigerator for up to a week.
© 2023 World Spice Merchants https://www.worldspice.com
Play with your Dips!
We used Emerald City Seasoning and Cascade Mushroom Mix above, but we also love:
El Greco  combines Mediterranean herbs with citrus and a hint of garlic and sumac for a take on a Greek seasoning blend.
Our Ranch Seasoning gets its savory flavor from garlic, onion, dill, parsley, chives and a touch of pepper. It's like the ranch seasoning we all know, but better as it's salt free!
Israeli Za'atar  is a simple mix of herbs, toasted sesame seeds and sumac. Fantastic with vegetables, this yogurt dip would also be great as an accoutrement on a pita plate.