El Greco Grill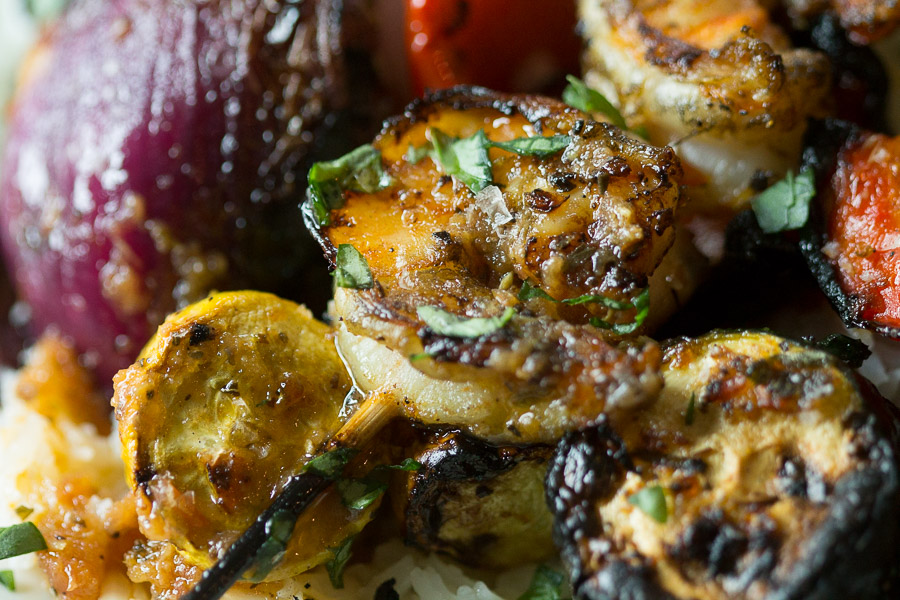 If this El Greco Grill sets the tone for this year's summer grilling, it's gonna be a GOOD year! This Greek feast features chunky vegetable skewers and shrimp in a delightful marinade of ouzo, basil and tomato along with our El Greco seasoning. Make the marinade ahead of time for maximum flavor development and you won't be disappointed. Serve family style on a big platter of rice!
Ingredients
For the Marinade
1 large tomato, seeded and chopped
1 cup olive oil
1 tablespoon El Greco
2 tablespoons chopped fresh basil
2 tablespoons ouzo
2 tablespoons red wine vinegar
2 cloves minced garlic
Zest from 1 lemon
1/2 teaspoon kosher salt
freshly ground black pepper
For the Skewers
2 small purple onions, quartered
1 zucchini, cut onto fat discs
1 yellow squash, cut into fat discs
1 red bell pepper, cut into pieces
2 portabello mushrooms, quartered
2 pounds medium shrimp, peeled and deveined
For Serving
Cooked rice, or grain of choice
freshly chopped basil
lemon wedges
Instructions
Combine the tomato and olive oil in a deep bowl. Pulse with an immersion blender until the mixture is well blended, about the consistency of applesauce. Stir in the remaining ingredients. If time allows, let the flavors to develop at room temperature for about an hour, or in the refrigerator overnight.
Open up two 1 gallon plastic bags and put the vegetables in one and the shrimp in the other. Stir the marinade and pour some into each bag, generously coating the food. Any leftover marinade can go into the vegetable bag, or be reserved separately. Allow to marinate 1-2 hours.
Skewer the vegetables and shrimp on separate skewers. Reserve both marinades separately.
Preheat the grill to high heat.
Cook the vegetables about 10 minutes total, turning occasionally, and basting with the reserved vegetable marinade. Remove the skewers from the grill onto a sheet pan when the vegetables are charred and tender. Keep warm in a low heat oven.
Cook the shrimp 3-5 minutes, basting with the reserved shrimp marinade. Remove the skewers from the grill when the shrimp are curled and pink.
Remove the shrimp and vegetables from their skewers onto a platter of rice. Drizzle with any remaining vegetable marinade and garnish with fresh basil and lemon wedges around the side. Serve family style and enjoy!
Notes
Adapted from Diane Kochilas Ouzo Marinated Grilled Shrimp
You can use bowls for marinating the shrimp and vegetables, but the plastic bags make for easy transport back and forth from the grill.

© 2023 World Spice Merchants https://www.worldspice.com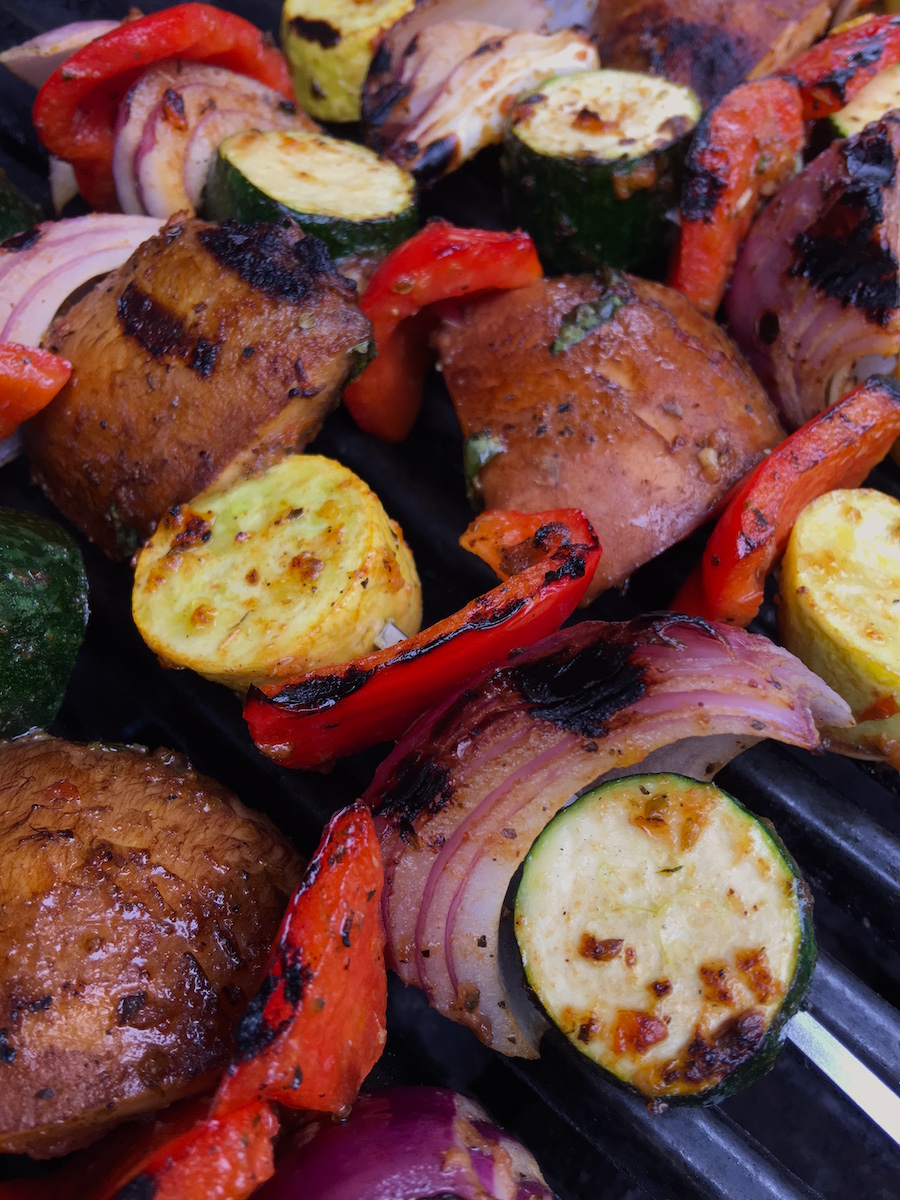 Need some more grill recipes in your life? We've got you covered. Check out our recipes for Tarheel Sliders and Chimichurri.