Hopi Beef Stew with Cornmeal Dumplings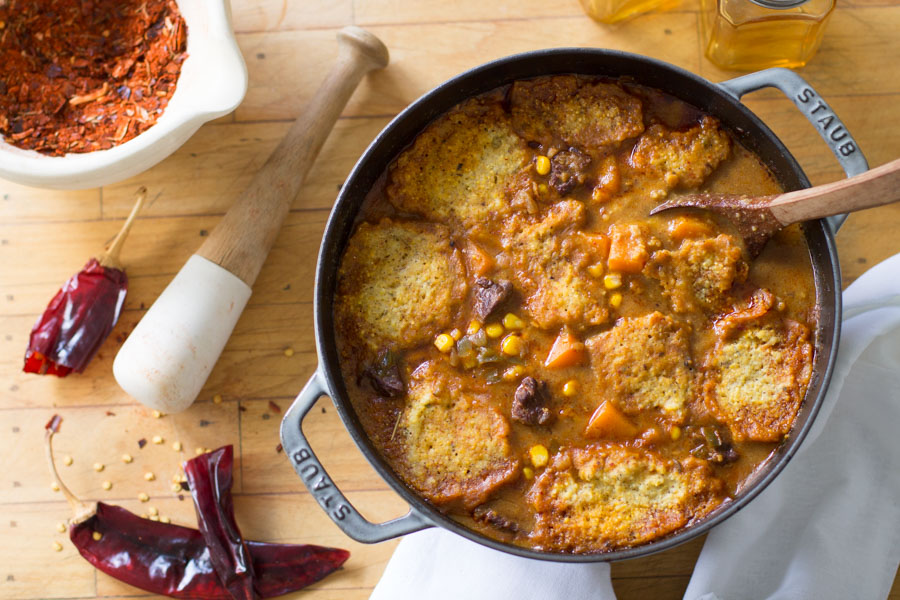 When the weather starts to cool off, there's nothing quite so comforting as a hot bowl of chunky, homemade stew. This Southwestern style Hopi Beef Stew with Cornmeal Dumplings brings together some of the crops which originated in the Americas – squash, pumpkin, chile peppers and, most importantly, corn. Corn is considered sacred amongst the Pueblo and Navajo people, and plays an important role in their legends, ceremonies and daily lives. Most of us are used to only seeing yellow corn, but it also comes in a variety of colors, including red, blue and multi-colored. Here, we've combined yellow cornmeal along with other traditional ingredients and our own New Mexico Chili Powder, a mild, earthy blend of New Mexico chile, guajillo chile, paprika, cumin, garlic and onion. We've also included our own alderwood smoked salt and, in the dumplings, some ground sage to bring a dash of Southwestern flavor.
Ingredients
Stew:
2 lb. beef chuck roast, trimmed and cubed 1-1/2"
1 onion, diced medium
1 green bell pepper, diced medium
2-3 cloves garlic, minced
2 tablespoons flour
1/4 cup ground New Mexico Chili Powder
2 - 14.5 oz. cans low sodium chicken broth
4 cups frozen corn (1 - 1# bag)
1 small butternut squash or pumpkin, peeled and cubed 1"
1/2 teaspoon alderwood smoked salt
vegetable oil
Dumplings:
1/2 cup cornmeal
1/2 cup flour
1/2 tablespoon baking powder
1/2 teaspoon alderwood smoked salt
1/2 teaspoon ground sage
1/4 teaspoon black pepper
1/2 cup milk
1-1/2 tablespoons vegetable oil
Instructions
Preheat oven to 300 F.
Working in two batches, sear meat over medium-high heat in a large, oiled stockpot or Dutch oven for 2 minutes, then flip meat over and cook for one more minute. Remove meat to a bowl and set aside.
Reduce heat to low, add more oil to the pot and saute onions and green pepper till softened, about 5 minutes. Add garlic and cook another 30 seconds, stirring to prevent burning. Add flour and ground New Mexico Chili Powder and stir till vegetables are well coated.
Return meat to the pot, along with the chicken broth. Stir to combine, scraping any browned bits off the bottom of the pot. Cover and bring to a simmer, then place covered pot in the oven for 1-1/2 hours.
After 1-1/2 hours, remove the stew from the oven and add corn, squash and alderwood smoked salt. Taste, and add more ground New Mexico Chili Powder if desired. Return covered pot to the oven for 1 hour. After 1 hour, remove stew from oven and check to see if meat is fork-tender and squash is soft. If it is, then place the pot on the stovetop at medium heat.
Next, mix up the dumpling batter. In a medium bowl, combine cornmeal, flour, baking powder, alderwood smoked salt, ground sage and black pepper. Gently stir in milk and oil. When stew reaches a simmer, use either a small cookie scoop or two spoons to scoop 1 tablespoon sized balls of dumpling batter directly into the pot, leaving a space between each dumpling for expansion. You should get 7-8 dumplings. Recover the pot and continue to simmer on low heat for 15 minutes. Check to make sure dumplings are cooked through, and stir bottom of pot to make sure nothing is sticking. Remove from heat and serve 1-2 dumplings with each bowl of stew.
© 2021 World Spice Merchants https://www.worldspice.com
Recipe adapted from Marcia Keegan, "Pueblo and Navajo Cookery", Earth Books, 1977
Note: This stew also makes a fantastic breakfast dish when topped with a runny yolked egg and warmed tortillas, either corn or flour, on the side.