Israeli Zaatar Khachapuri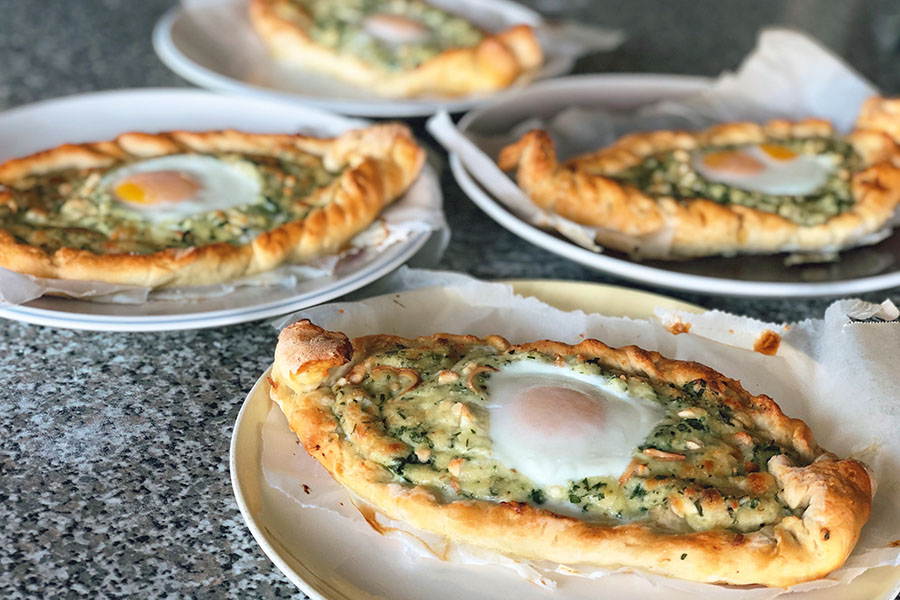 This popular Georgian pastry will soon become one of your favorite comfort foods! Khachapuri is a boat-shaped bread filled with cheese, egg, and other ingredients. After baking, the crust can then be ripped off and dipped into the filling. It's a perfect dish for brunch time cravings or a happy hour snack. This recipe combines a three cheese blend with Israeli Za'atar, a mix of toasted sesame seeds, thyme, sumac, dill and oregano. The grassy, nutty notes of the Za'atar neatly compliment the cheese and egg.
Why stop there, though? One of the best qualities of Khackapuri is the endless flavor variations you can try. Try making this recipe with Syrian Za'atar or Svaneti Salt instead. This was our first Khachapuri attempt, but it certainly won't be our last.
Ingredients
Dough
3 tablespoons unsalted butter
1 cup milk
1 1/2 teaspoons white sugar
1 teaspoon Indian coriander, ground
2 teaspoons kosher salt
2 teaspoons active dry yeast
2-3/4 all-purpose Flour
Filling
2 cups fresh mozzarella cheese, shredded
1/2 cup ricotta cheese
1/2 cup feta cheese, crumbled
1 large egg
2 tablespoons all-purpose Flour
1/2 teaspoon kosher salt
1 teaspoon Tellicherry black pepper, ground
1/2 cup coarsely chopped parsley
2 tablespoons chopped green onion
2 teaspoons Israeli Za'atar
Egg wash
1 large egg, beaten with 1 teaspoon water
Garnish
4 large eggs
4 teaspoons extra virgin olive oil
Instructions
Dough
Heat the butter and milk together in a small bowl in the microwave until the butter is melted. Place the sugar, Indian coriander, and salt in a large bowl or mixer with hook attachment. Add the hot milk and stir to dissolve the sugar. Let the temperature come down to warm.
Stir in the yeast and 2-3/4 cups of the flour until a loose ball forms. Cover and let the dough rest for 15 minutes.
After resting knead the dough until smooth. By hand it will take 10 minutes and 7 minutes with a mixer on medium speed.
Place the dough in a greased bowl, cover and let rise for 1-1/2 hours, until it grows in size by a third.
Filling
Place all the ingredients in a large mixing bowl and mix to combine. Line two baking sheets with parchment.
For assembly
Preheat the oven to 375 degrees.
Add the dough out onto a lightly floured surface and split it into four equal pieces.
Roll each piece into an oval shape about 10 inches long and 6 inches wide.
Spoon one quarter of the cheese mixture into the center of each and spread to within 1 inch of the edges. Pull the dough's edges up around the cheese, folding and pinching the ends to form a boat shape. If you're good at crimping, now is the time to show off your skills.
Cover and let rise for 20 minutes, or until puffed.
Brush the edges with the egg wash and bake for 20 minutes.
Remove boats from the oven and use a spoon to make an indentation in the cheese, large enough for the egg. Crack an egg into each hole, place a teaspoon of olive oil on top, and bake for 10 to 12 minutes more, until the egg is set to your liking.
Remove from the oven and serve hot.
Notes
Feel free to sprinkle Marash chile flakes to the Khachapuri for some extra heat. 
© 2023 World Spice Merchants https://www.worldspice.com