Orange Tarragon Compound Butter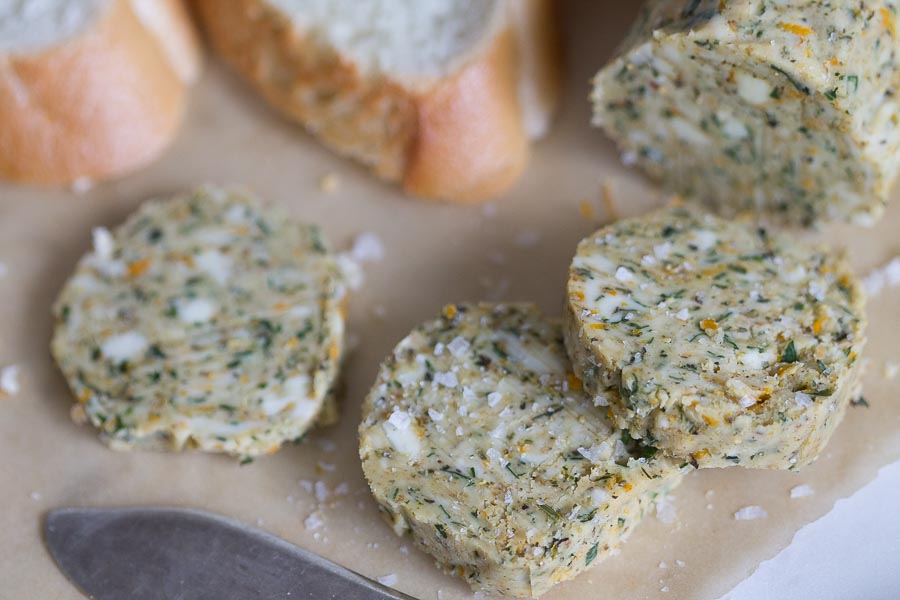 We've all been there. You want to add a little pizzazz to your finished dish but just don't have the time or inclination to go that final step and make a sauce. Enter the Compound Butter. Like a knight in shining (glistening?) armor, these handy little life savers can come straight from the fridge or freezer to the rescue, adding a distinctive depth and pop of flavor. A compound butter is simply a combination of softened butter and any mix of herbs and spices you can think of. Bolder flavors, like chilis, cumin or masalas can be paired with heavier proteins like beef, chicken, lamb or pork, while lighter fare, such as seafood or vegetables are better topped with a blend utilizing lighter herbs like dill, parsley or cilantro. Here, we combine the slightly sweet Orange Tarragon with fresh parsley, tarragon and orange zest for a delicate topping that will take your dish to a whole new level. It pairs well with roasted or grilled vegetables, fish and seafood or pasta. If you can, make the butter a day ahead of time, to let the flavors meld to their utmost. Then, if you want to freeze the butter, chill first, then cut into individual slices before rewrapping and freezing. You can also use a small scoop to make butter balls, or press the butter into decorative silicone molds.
Ingredients
1 cup (2 sticks) unsalted butter, softened
2 tablespoons Orange Tarragon
1 tablespoon fresh parsley, minced
1 tablespoon fresh tarragon, minced
1 tablespoon fresh orange zest
1/4 teaspoon Maldon flake salt
1 teaspoon freshly ground Indian Coriander
Instructions
In a medium bowl, use a fork or pestle to mash the butter till smooth and slightly fluffy. Add the rest of the ingredients and mix thoroughly. Adjust seasonings to taste.
Cut two pieces of plastic wrap about 12" long. Drop the butter by spoonfuls along the centers to form a log on each piece. Fold plastic over, and press butter into a smooth, even log about 1-1/2" in diameter. Wrap tightly, and twist the ends to compress the log further. Refrigerate for up to 1 week, or freeze for up to 1 month.
© 2022 World Spice Merchants https://www.worldspice.com