Brunch For Mom
Eggs Benedict is a classic, there's no denying that, but "classic" is perhaps not the word I'd use to celebrate my funny, youthful, and adventurous mother! For Mother's Day, her poached eggs will sit atop crisp potato pancakes, under a blanket of creamy Orange-Tarragon hollandaise sauce. The sweetness of the orange peel plays against the anise notes of the tarragon in this classic French combination, made whole with shallots and Tellicherry black pepper. The sauce is so sumptuous, and the crunchy fried potatoes make a perfect vehicle for it. Not to mention the eggs- nothing says "love" like a perfectly poached yolk, don't you know!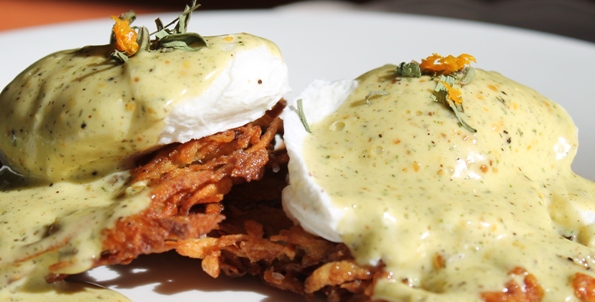 Mother's Day is May 12th, so make Mom breakfast, and let her know how sorry you are for your teenage years.
Ingredients
For the Pancakes:
1/2 pound Russet potatoes
1/4 cup finely chopped onion
2 large eggs, lightly beaten
1/4 cup all purpose flour
Pinch salt
1/4 to 1/2 cup olive oil
For the Hollandaise:
Instructions
Preheat oven to 250 degrees F.
For the Potato Pancakes
Peel potatoes and coarsely grate using a box grater. Transfer grated potatoes to a large bowl of cold water and soak for 1-2 minutes. Drain well in a colander.
Spread grated and drained potatoes with onions on a kitchen towel and roll up jelly-roll style. Twist towel tightly to wring out as much liquid as possible. Transfer to a bowl and add eggs, salt and flour. Mix well to combine.
Heat 1/4 cup of oil in a large skillet over medium high heat until very hot, but not smoking. For each pancake, spoon 2 tablespoons of the potato mixture into the skillet, spreading into 3-inch diameter rounds with a fork. Reduce heat to medium and cook until the undersides of the pancakes are browned, about 5 minutes. Flip pancakes and cook again until browned, about 5 minutes
Transfer to paper towels to drain and season with salt. Add more oil to skillet and repeat with remaining batter. Keep the pancakes warm on a wire rack set in a shallow baking pan in oven.
For the Hollandaise
Vigorously whisk the egg yolks and lemon juice together in a stainless steel bowl until the mixture is thickened and has doubled in volume.
Boil approximately 1 cup of water in a saucepan. Place the bowl with the egg yolks mixture over the saucepan making sure the water does not touch the bottom of the bowl. Whisk the mixture rapidly being careful not to let the eggs get too hot - or they will scramble.
Slowly drizzle in the melted butter and continue to whisk until the sauce easily coats the back of a wooden spoon. Remove from heat and whisk in Orange Tarragon. Cover and place in a warm spot until ready to use. If the sauce gets too thick, whisk in a few drops of warm water before serving.
To Poach the Eggs
Fill a deep skillet half full of water. Add remaining lemon juice to water and bring to a slow boil - not rolling!
Gently crack 1 of the eggs into the water, taking care not to puncture the yolk. Repeat with remaining eggs. Reduce the heat to a very gentle simmer and cook until the egg white is set and the yolk remains soft, about 3 1/2 minutes.
Top a warm pancake with a poached egg and drizzle generously with hollandaise.
© 2022 World Spice Merchants https://www.worldspice.com