Hot and Sour Soup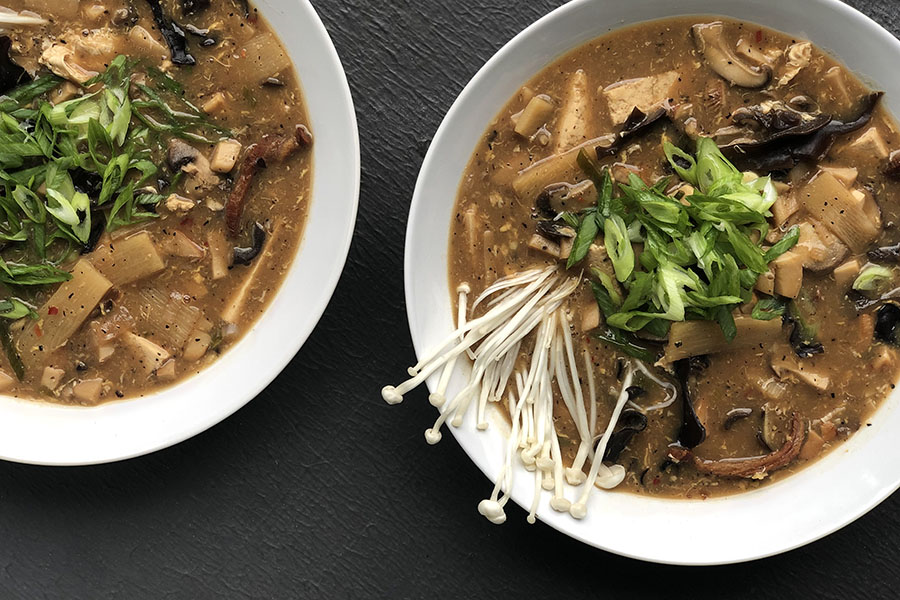 A perennial favorite, you'll always find a version of this soup on the menu in Chinese-American restaurants. You'll be glad to know how to make this takeout favorite, it's easier than you might expect!. Much of he heat comes from the white peppercorns and the sour comes from rice wine vinegar. The lion's share of prep time comes in getting the array ingredients ready, then it comes together in no time. Perfect for a chilly day or Chinese New Year's feast. White peppercorn is spicy, musky and earthy. These qualities play well with the variety of woodsy mushrooms and pork loin.
Ingredients
For the Pork
1 teaspoon cornstarch
2 teaspoons soy sauce
1 teaspoon white sugar
1/2 cup pork tenderloin, julienned
1 teaspoon sesame oil
For the Soup
3 tablespoons soy sauce
1 teaspoon ground white peppercorns
1/2 teaspoon India red chile flakes
2 tablespoons rice wine vinegar
1 teaspoon sugar
3 cups chicken stock
3 large dried black mushrooms, soaked in hot water and rinsed, then julienned
2 cups oyster mushrooms, julienned
1/2 cup canned bamboo shoots, cut into 2" pieces
1 1/2 tablespoons cornstarch
2 tablespoons water
1 cup extra firm tofu cut into 2" strips
1 egg beaten
For the Garnish
sliced scallions
Enoki mushrooms
Instructions
For the Pork
In a small bowl combine the cornstarch, soy sauce and white sugar. Add the strips of pork loin and stir to coat. Set aside.
In a 6 quart pot over medium heat, add the sesame oil, and then the pork. Stir to separate the pieces of meat and cook until browned on all sides, 3-5 minutes.
For the Soup
Next add the 3 tablespoons soy sauce, white pepper, rice wine vinegar and sugar. Stir to combine, then add the chicken stock.
Bring to a boil, then add the black and oyster mushrooms and the bamboo shoots. Stir to separate the ingredients and reduce the heat to simmer for 3-5 minutes, allowing the flavors to meld.
While the soup is simmering, combine the cornstarch and water in a small bowl and whisk into a slurry. Increase the heat to medium-low and slowly add the slurry, stirring as you go. Continue stirring and cooking over medium-low heat until the soup is thickened and then add the tofu. Adjust seasonings if needed with salt to taste or more rice wine vinegar if you'd like more sour.
Return soup to a boil and slowly pour in the beaten egg. Immediately remove from heat and serve. Garnish with sliced scallions and Enoki mushrooms
© 2023 World Spice Merchants https://www.worldspice.com