Arabic Chicken Kabsa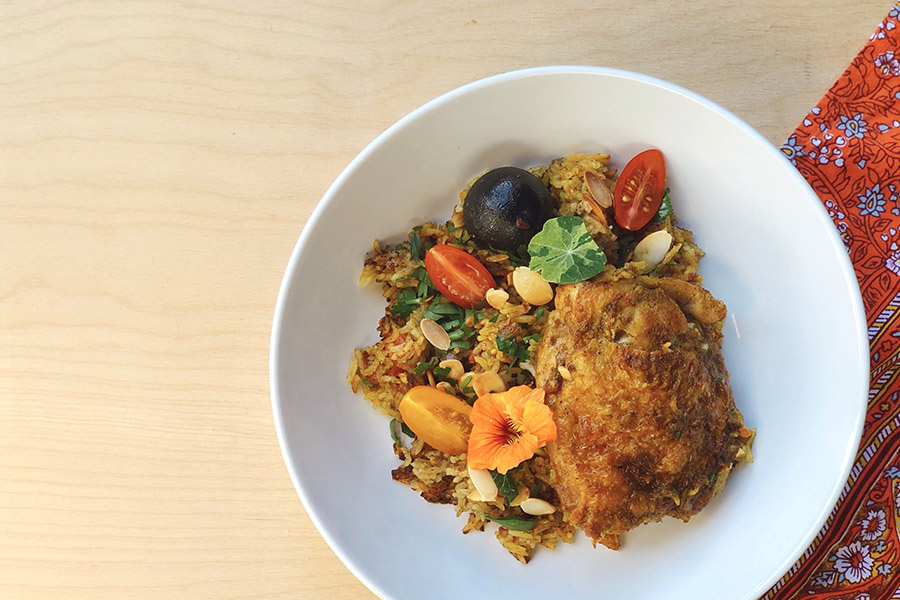 Kabsa is thought of as the national dish of many Arab states. Consisting of rice, meat, spices and often vegetables, all the ingredients in Kabsa are traditionally cooked in a single pot. The protein often varies by region, and can include beef, goat, or even camel. Chicken is among the most common, though, and it's what we've stuck to here. We'll save the camel for next time.
The spices are the star of the show in these Middle Eastern dishes, which use varied seasonings to create wide arrays of amazing flavor. Black lemon, or loomi, makes this simple chicken and rice version a standout. We toast the spices and pan seared chicken thighs to enrich the broth for the rice. The resulting Kabsa has many layers of flavor and makes an amazing one-pot dinner for a large group or family!
Ingredients
1 large onion, thinly sliced
2 tablespoons ghee, or unsalted butter
1-1/2 lbs. chicken thighs
1-1/2 teaspoons turmeric
1-1/2 teaspoons cumin seeds, ground
2 tablespoons Indian Garam Masala, ground
1-1/2 teaspoons Indian coriander seed, ground
1-1/2 teaspoons fennel seed, ground
1-1/2 teaspoons ginger powder
2 medium tomatoes, seeded and chopped
1 cube chicken boullion and 3 cups water, or 3 cups chicken stock
6 small, or 3 large, whole black lemons with a hole poked in each one
1-1/2 cups long-grain white rice
Coarse sea salt, to taste
Garnish
Sliced grape tomatoes
Toasted slivered almonds
Chopped cilantro and parsley
Edible flower of choice
Instructions
Melt ghee, or butter, in a large, heavy pot over medium-high heat. Add onion and saute until caramelized. Add chicken and brown on all sides. Add ground spices to chicken, and stir to coat.
Add tomatoes, boullion cube and water (or chicken stock) and black lemons.
Reduce heat, cover, and simmer for 30 minutes.Add rice, cover, and cook until rice is tender and all liquid absorbed, about 20 minutes. Salt to taste.
Serve hot and garnish with toasted slivered almonds, grape tomatoes, cilantro and parsley for an assortment of texture. Discard of black lemons.
© 2023 World Spice Merchants https://www.worldspice.com