Rooibos Banana Bread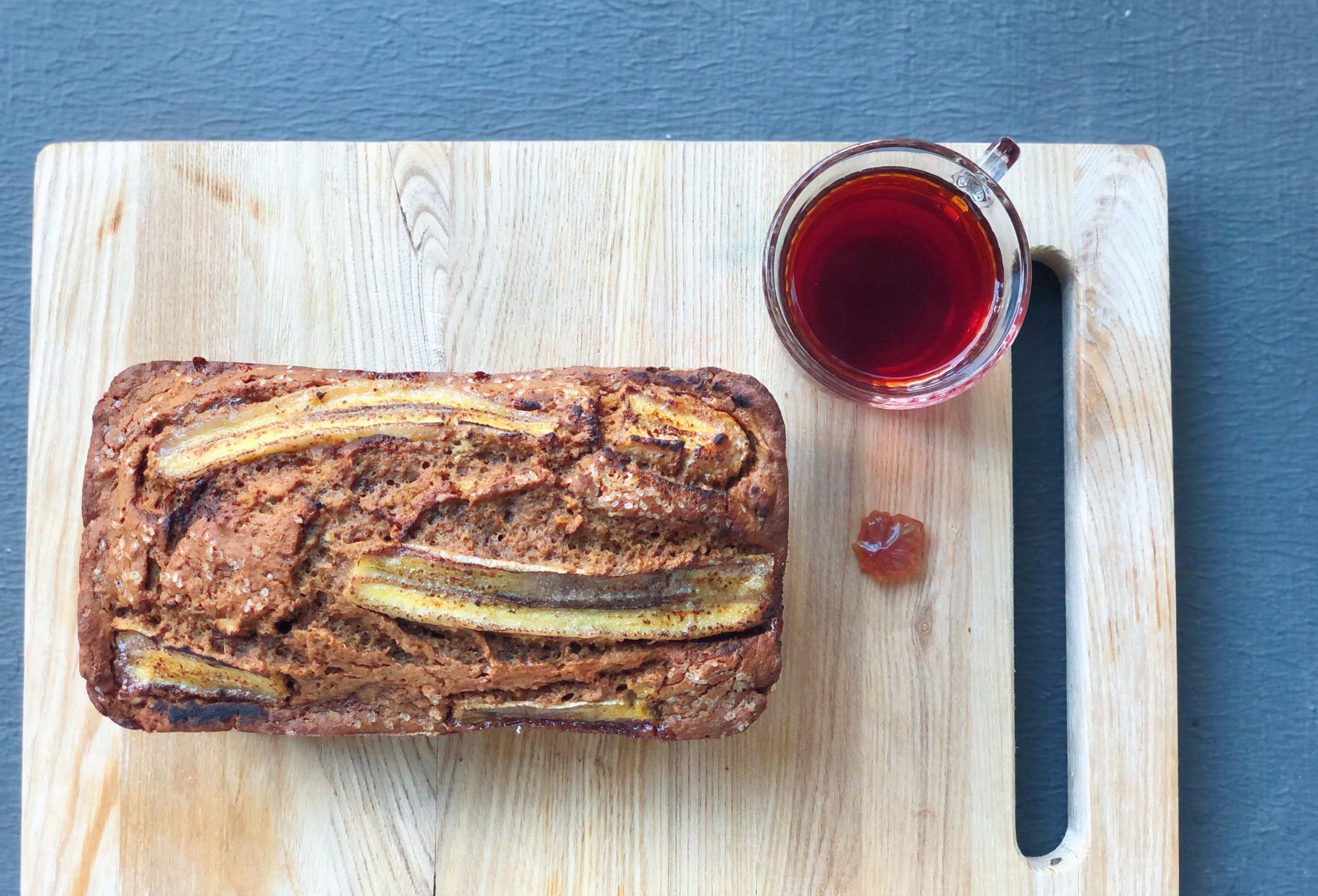 Pairing the right drink with your food can make all the difference in the world. Have you ever had a meal where the wine shined and the food tasted better with every sip? That's what will happen when you pair warm banana bread with a cup of rooibos tea.
These two are such a good combination, we decided to put some rooibos in the banana bread, too! The tea gives the bread a warm, nutty flavor and an aftertaste of honeysuckle. The hot cup of rooibos will taste even more rooibos-y next to this delicious treat. It's a perfect snack that won't get you wired on caffeine. Now, you get to drink your rooibos and eat it too.
Ingredients
½ cup unsalted melted butter
3 tablespoons Rooibos
2 cups all purpose flour
1 teaspoon baking soda
½ teaspoon baking powder
½ teaspoon salt
½ teaspoon ground fenugreek seed
½ teaspoon ground Indian coriander seed
½ cup Greek yogurt
1 teaspoon vanilla extract
1 cup brown sugar
2 eggs
2 cups mashed overly ripened bananas
¾ cup chopped walnuts
Instructions
Preheat oven to 350. Grease a loaf pan with non stick spray and set aside.
In a large bowl add the melted butter and rooibos tea and combine. Set aside 30 minutes. The butter will wake up the tea and start extracting flavor.
In a medium bowl size bowl add the flour, spices, baking soda and baking powder.
With a whisk stir until incorporated.
In the bowl with the butter and Rooibos whisk in the yogurt, vanilla and brown sugar. Whisk until fluffy. Next whisk in the eggs one at a time. Stir in mashed bananas. Fold in the walnuts.
Slowly mix in the dry ingredients. Please don't over stir or it will result in a dense banana bread.
Add the batter to the greased load pan, bake for 50- 55 minutes. or until the center reaches 200. If the top is browning too fast feel free to loosely cover it with aluminum foil for the last 30 minutes of baking.
Let it cool before digging in. Cover loaf at room temp for 2 days or store in the fridge up to a week.
Notes
If there is an extra perfectly ripened banana to spare cut it into thin strips horizontally and lay it on the batter before baking as decoration. Once the bread is baked the banana garnish will add sweetness and a chewy texture to the crust.  
© 2023 World Spice Merchants https://www.worldspice.com