Whipped Dirty Chai
In the heat of summer, everything's better on ice. For a cold afternoon pick-me-up, we decided to try out the trendy whipped Dalgona-style coffee… with a couple spicy additions, of course!
We added vietnamese cassia to the coffee powder, and swapped in coconut milk in place of the usual dairy. For the finishing touch, we made some sweetened ice cubes with our classic chai. The spiced ice adds another level of flavor as it melts, so your drink will never get watered down!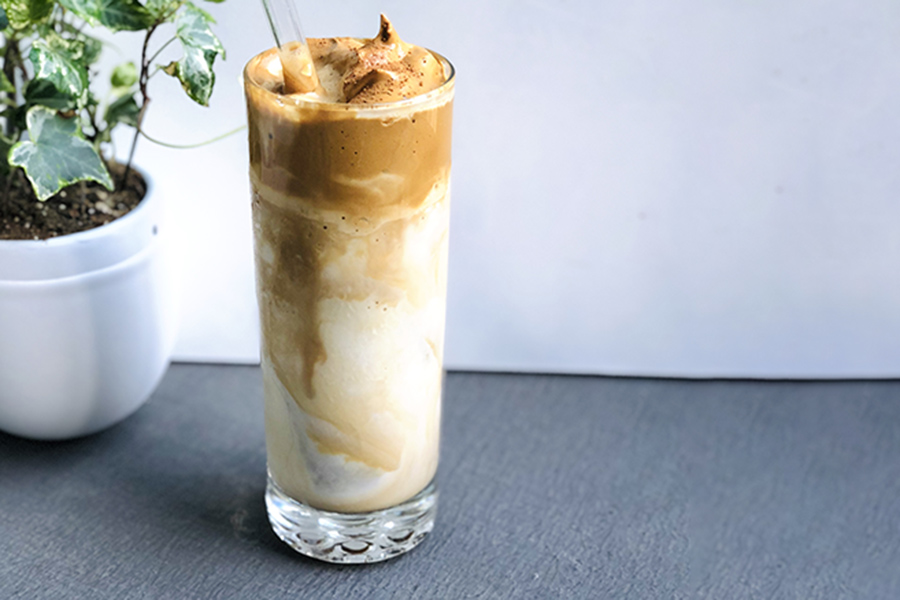 Ingredients
Chai Ice Cubes:
Dalgona:
3 tablespoons hot water
2 tablespoons instant coffee
1 tablespoon brown sugar
1 cup coconut milk
Pinch Vietnamese Cinnamon
Instructions
Chai Ice Cubes:
Add the Classic Chai Masala, water and honey to a small pan, bring to a boil and simmer for 5 minutes.
Turn off the heat and let it sit for 3 minutes before adding the Assam Jorhat tea.
Let the tea steep for 2 minutes.
With a fine mesh strainer, strain out the chai pieces and tea leaves. Pour chai liquid into an ice cube tray and freeze.
Dirty Chai:
Add the instant coffee, sugar and water to a medium sized bowl.
Whisk up to 5 minutes by hand or with an electric mixer until nice and fluffy.
Add the chai ice cubes to a tall 8 oz glass and pour in coconut milk. Garnish with about 2 inches worth of whipped coffee. Sprinkle with with a dash of cinnamon.
Give it a quick stir before drinking. This Dirty Chai will only get better as the chai ice cubes melt.
Notes
Blend the iced chai cubes with the whipped coffee and milk in a blender for a milkshake-type treat. 
© 2022 World Spice Merchants https://www.worldspice.com