Lemon Coriander Cake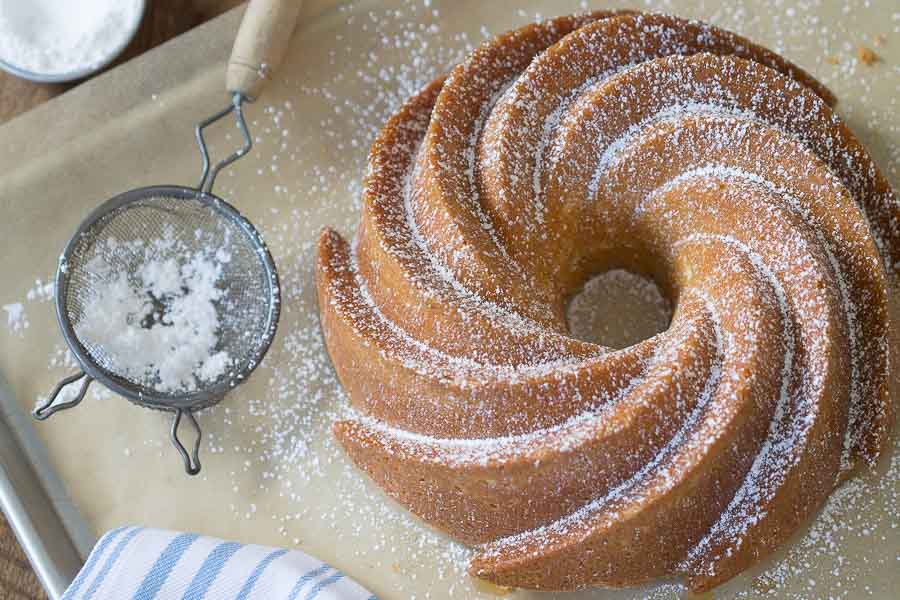 This Lemon Coriander Cake is light and delicious with bright flavors of lemon and Indian coriander. We loved it plain and simple with a sprinkle of powdered sugar and a glass of Timber City Ginger Beer on a spring afternoon, but you could also elevate it over the top with Rhubarb Compote and Coriander Creme to finish off the finest gourmet dinner. Either way it is a wonderful cake with texture light as angels wings and sophisticated flavor.
Ingredients
For the Cake
3 cups cake flour
1 1/2 cups sugar
Juice and zest of 2 lemons
1 teaspoon salt
1 teaspoon baking powder
1 tablespoon ground Indian coriander
1 cup whole milk
3 eggs, separated
1/2 cup sugar
1/4 cup coconut oil, melted
4 tablespoons butter, melted
1 tablespoon vanilla extract
pinch cream of tartar
powdered sugar, for finishing
For the Coriander Syrup
Instructions
Grease and flour an 8 cup bundt pan and preheat the oven to 350 degrees.
In a large bowl, combine the cake flour, 1 1/2 cups sugar, lemon zest, salt, baking powder and ground coriander.
In another bowl, mix together the milk, egg yolks, coconut oil,, butter and lemon juice.
Place the egg whites in the bowl of a stand mixer fitted with a whisk attachment and whisk until they become foamy. Add the cream of tartar and continue whisking until soft peaks appear. Add the 1/2 cup sugar slowly and continue whisking until the meringue becomes stiff and shiny.
Add the milk mixture to the dry ingredients and gently combine by hand.
Fold the meringue into the batter 1/3 at a time.
Transfer the batter into the prepared bundt pan and bake for 45 minutes, rotating the pan half way through the baking time.
While the cake is baking, prepare the Coriander Syrup
The cake is done when the surface is golden and a toothpick inserted into the cake comes out with a few moist crumbs attached.
Cool 10 minutes and then remove the cake from the pan. Trim the bottom of the cake, allowing it to sit flat.
Using a long toothpick or thin skewer, poke holes into the finished cake to allow the syrup to penetrate. Then slowly pour the syrup over the warm cake.
When cool, dust with powdered sugar.
© 2023 World Spice Merchants https://www.worldspice.com