Jerk Scallop & Mango Ceviche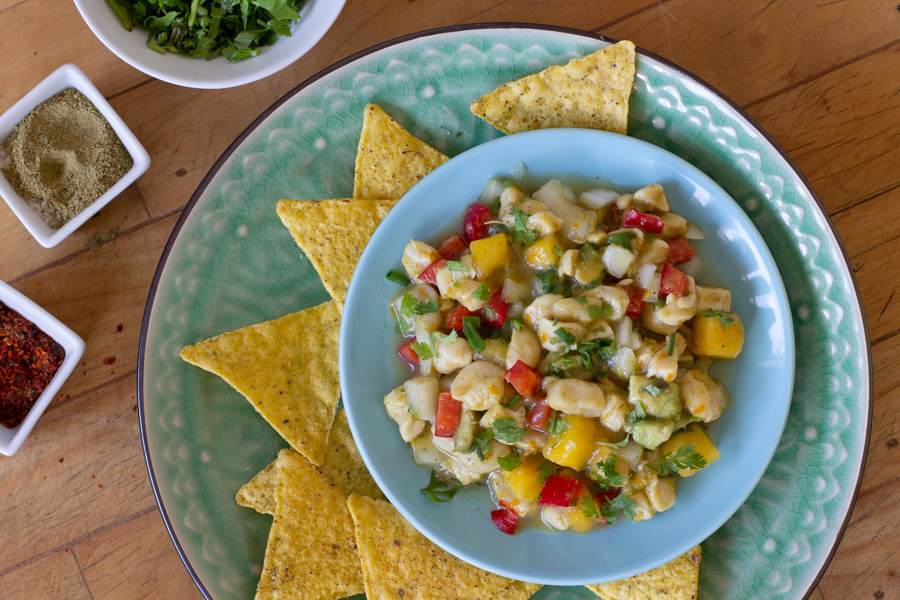 The fresh flavors are incredible in this Jerk Scallop & Mango Ceviche. It is easy to make, and this party-sized batch will be a welcome addition to your next gathering as an appetizer or side dish. Citrus and mango are the perfect complement to the scallops, and our Jerk Seasoning brings Caribbean spicing to the mix. It has allspice, thyme, ginger and a friendly amount of habanero. The sweet mango and creamy avocado meld with the scallops, contrasted with a crunch of onion and bell pepper for the perfect bite. Cilantro and chive give additional pops of flavor in this sunny dish.
Ingredients
3 pounds bay scallops, de-bearded
1 orange, zested and juiced
2 limes, zested and juiced
1 lemon, zested and juiced
1 tablespoon Jerk Seasoning
1 teaspoon salt
3 mangoes, diced
1 medium sweet yellow onion, diced
1 medium avocado, diced
1 medium red bell pepper, diced
2 tablespoons chopped chives
1/4 cup chopped cilantro, divided
Instructions
Take half the scallops, and slice them in quarters. Slice the remaining scallops in half.
Place the scallops in a large bowl and add the citrus juice and zest, Jerk Seasoning and salt. Stir gently to combine.
Pureé 1/4 cup of the diced mango and add it to the scallop mixture. Stir gently to combine.
Add the remaining mango, onion, avocado, bell pepper, chives and 3 tablespoons of cilantro to the mixture. Stir gently to combine and garnish with the remaining cilantro.
Serve on toasted corn tortilla rounds or with chips.
© 2021 World Spice Merchants https://www.worldspice.com