Pink Chai Nog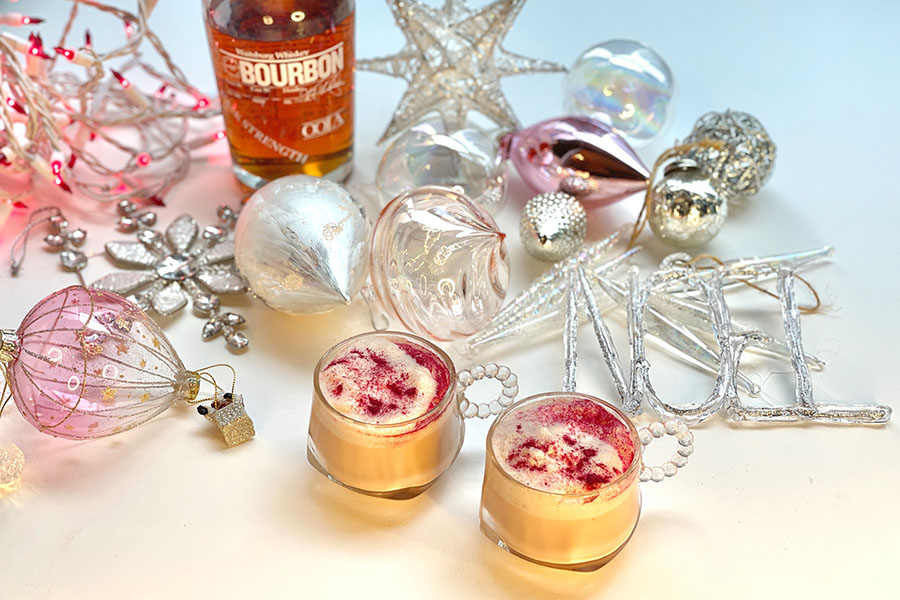 Happy Nog Season! Eggnog is traditional this time of year, and spicing the custard with our Pink Chai came naturally. Full of holiday favorites like cinnamon, ginger and cardamom, it's a fresh and welcome twist for this favorite drink. The rose, rooibos and pink peppercorns add a floral sweet finish and the festive pop of color on top completes the drink. One sip of this frothy delight will put anyone in a holiday spirit.

Thick and creamy, our Pink Chai Nog is made with cooked custard so it has a longer shelf life than the raw version and that also makes it booze-optional.  A cooked custard makes for a thicker nog and you can adjust the consistency to suit your taste with an extra splash milk or preferred alcohol. We added a splash of local bourbon from our friends at Oola Distillery. Give it a quick stir with a cassia stick and holiday garnishing will be a breeze. The warm spices of chai lend themselves to all sorts of holiday applications. Once made, think outside the nog and experiment. Use it to sweeten up your coffee or try drizzling it over bread pudding. This velvety sweet cream deserves to be poured all over festive favorites.
Ingredients
2 cups whole milk
1 cup heavy cream
6 tablespoons Pink Chai
6 large eggs
1 cup granulated sugar
Optional Garnishes
Instructions
Warm the milk, cream and Pink Chai in a heavy bottomed saucepan over medium heat until the milk starts to lightly simmer and gets steamy. Meanwhile, whisk the eggs together in a separate bowl with the sugar until frothy. Add about a quarter cup of warm milk into the eggs at a time, whisking until fully incorporated between each addition. Then return the mixture to medium heat and continue to cook, stirring continuously with a whisk, until thickened. It will take about 5 minutes. The mixture should reach the consistency of melted ice cream. Immediately pull the Pink Chai Nog off of the heat. Be sure not to leave it on too long because over cooking the eggnog could result in a broken scrambled egg-like sauce. As the Chai Nog cools, it will thicken up a bit more.
Have a fine mesh strainer handy over another container to strain out the chai spices.
Serve immediately or chill in the fridge for up to 4 days. If drinking cold, and you like the froth, add some Pink Chai Nog into a cocktail shaker with ice and shake aggressively for 20 seconds. Pour into a rocks glass or a punch cup. Feel free to garnish with added whipped cream, a sprinkle of beet powder for color, some freshly grated nutmeg for traditional look, and/or a cinnamon stick. Add 1 ounce of bourbon for every 3 ounces of Pink Chai Nog for a tipsy drink.
Notes
Don't have the time to make chai nog from scratch? Steep 4 tablespoons of pink chai in 1 cup of boiling water. Let it sit for 5-7 minutes and strain. Stir the chai in 1 quart of store bought eggnog. The result will be a slightly lighter and spicy eggnog that will be instantly elevated. 
© 2023 World Spice Merchants https://www.worldspice.com