Sassy Bourbon-Honey Salmon Fillets
We love salmon here in the northwest, and never tire of finding new ways to enjoy it. Lemon & dill? BORING. Our newest creation, Sassy Steak Spice, is bold and exotic, and it hits all the flavor highlights- a little bit smoky, a little bit sweet with just a bit of herbs and heat- which perfectly compliments our favorite fish. We used grilling planks for an alder wood accent to finish it off.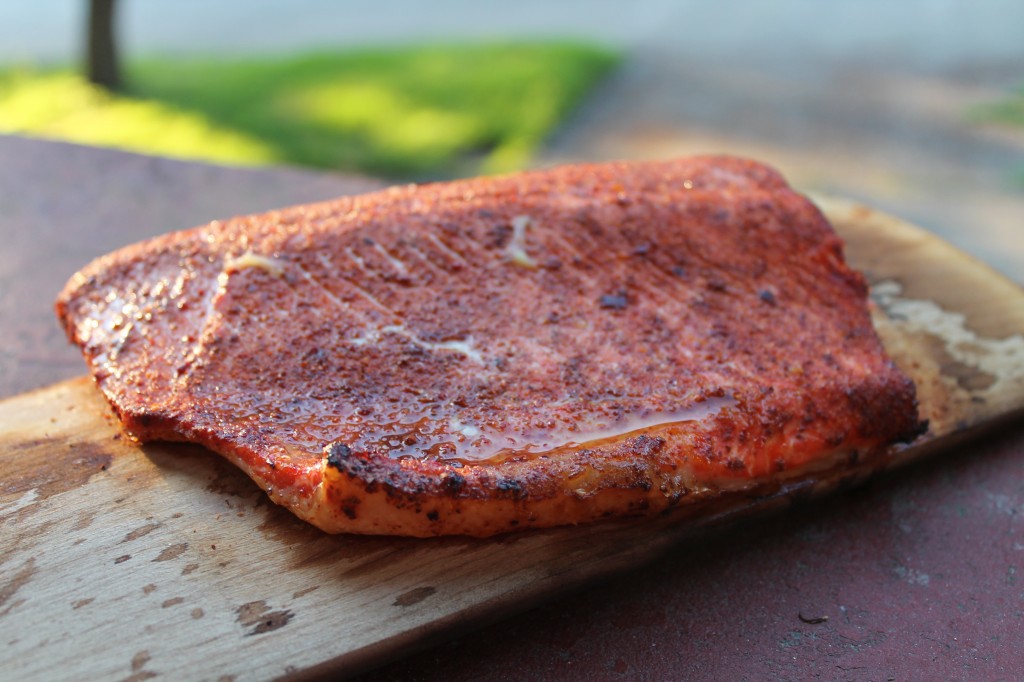 Ingredients
2 salmon fillets, about 1 pound each
¾ cup bourbon whiskey
¼ cup packed brown sugar
¼ cup honey
¼ cup orange juice
1-2 tablespoons Sassy Steak Spice
Instructions
Prepare two grilling planks by soaking in water, or create a foil tray to hold the fish on the grill.
Rinse the salmon and pat dry. Place in a zip loc bag.
In a small bowl, whisk together the bourbon, brown sugar, honey, orange juice and Sassy Steak Spice. Use 1 tablespoon for regular sassy, and 2 for EXTRA sassy. Pour the mixture over the salmon in the bag and seal it. Put the bag in a shallow dish and marinate in the refrigerator for 1 hour, turning once after half an hour to make sure that the marinade has reached every little bit.
Prepare your grill for indirect high heat.
Remove the salmon from the marinade and place on planks or foil tray on the grill and close the lid. After 5 minutes, baste with additional marinade from the bag. Cook until done, another 5-7 minutes.
© 2023 World Spice Merchants https://www.worldspice.com
Enjoy!