Sassy Short Ribs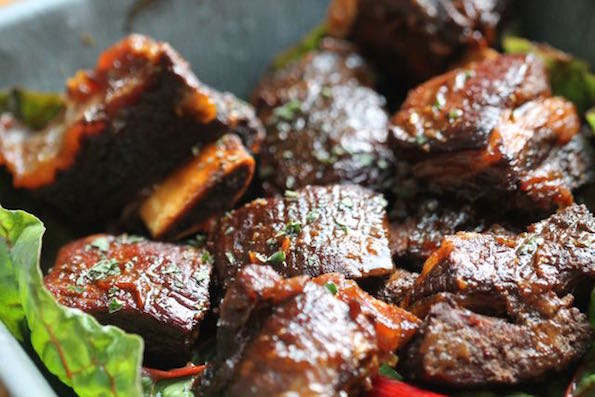 We love all things sassy, and these short ribs are no exception. The bold flavor of our Sassy Steak Spice is infused into every bite along with orange marmalade and fresh oregano for an impeccable flavor combination. The great charm in this dish is the layers of flavor developed by adding spices in stages along the way, and finishing with fresh herbs… who says you can't have it all? The melt-in-your-mouth beef is pretty good too.
Ingredients
1 tablespoon avocado oil
3 pounds small bone-in beef short ribs
1 medium yellow onion, chopped
2 teaspoons Sassy Steak Spice, divided
3/4 cup orange marmalade
3/4 cup low-sodium chicken broth
1/2 cup red wine
2 tablespoons soy sauce
2 teaspoons finely chopped fresh oregano, divided
Instructions
Add the oil to a heavy, medium skillet, over medium heat. Working in batches- brown the short ribs, about 2 minutes each side. Transfer the seared ribs to a platter or bowl.
Add the chopped onion to the skillet and sauté until soft, about 3 minutes. Sprinkle 1 teaspoon of Sassy Steak Spice over the onion and cook one minute more. Lower the heat and add the marmalade, cooking just long enough to melt it with the onion. Transfer the mixture to the insert of a 5-6 quart slow cooker, scraping out every tasty bit!
Add the chicken broth, red wine and soy sauce to the cooker and stir to combine. Now nestle the ribs into the sauce and cook on high for 5-6 hours or low for 9 hours, until the meat is fork tender. Don't peek while it is cooking! You want all those luscious flavors to circulate for the whole cooking time.
At the end of the cooking time, transfer the ribs to a serving platter and then strain the sauce into a fat-separator. Remove the strained bits of meat and onion to top the ribs on the serving platter and, after the fat has separated, pour the de-fatted sauce into a medium saucepan.
Add the remaining teaspoon of Sassy Steak Spice and simmer the sauce 4-6 minutes to reduce and concentrate the flavors. Add 1 teaspoon of the oregano and cook 1 minute more.
Pour the sauce over the ribs and garnish with the remaining teaspoon of oregano.
Serve with brown or white rice, and lightly sautéed chard and/or bok choy.
© 2021 World Spice Merchants https://www.worldspice.com
Tip: For those of you with slow cooker inserts that are stovetop safe, go ahead and use it in place of the skillet to start the sauce and save a dish!