Sassy Bacon Draped Meatloaf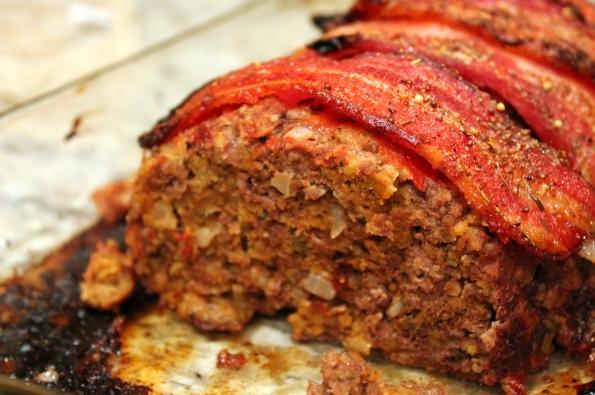 I've finally nailed a simple and satisfying meatloaf recipe! A generous loaf draped in bacon is always a universal hit, but with classic comfort food, the brilliance is in the details. What set this loaf apart from all the rest was quick saute on the onions before mixing them in. Their natural sweetness develops, complementing the Vietnamese cassia cinnamon in our bewitching Sassy Steak Spice. It's completely worth the extra step. Tip number two is to leave the loaf pan for banana bread- sculpt this masterpiece free-form in a shallow Pyrex baking dish to allow the bacon to properly crisp, moistening your loaf as it cooks, smoky juices mingling with the beef and spice… Delicious!
Instructions
Preheat oven to 350 degrees
In a small skillet, saute minced onion with olive oil and pepper over medium heat until soft and translucent. Set aside, and allow to cool slightly.
In a large bowl, whisk eggs, and then stir in bread crumbs, sauteed onions, 1/2 cup of the ketchup, worcestershire, salt and Sassy Steak Spice.
Add the ground beef, and mix until just incorporated.
In a greased 9x13 baking dish, form a tight loaf. Spread remaining ketchup on top and drape with bacon.
Cook 1 hour, or until meat thermometer registers 170 degrees in the center.
© 2023 World Spice Merchants https://www.worldspice.com