Szechuan Lemon Curd
We are always game to try an adventurous spice pairing, and this one came out a winner! Lemon curd is a delightful decadence, sweet-tart and intense, and made even more exceptional with a fresh zing of Szechuan pepper. In this Sichuan lemon curd, the tingle lingers on the palate after the burst of citrus flavor fades and the combination is intensely satisfying. Try it on shortbread or scones at tea time or over ice cream.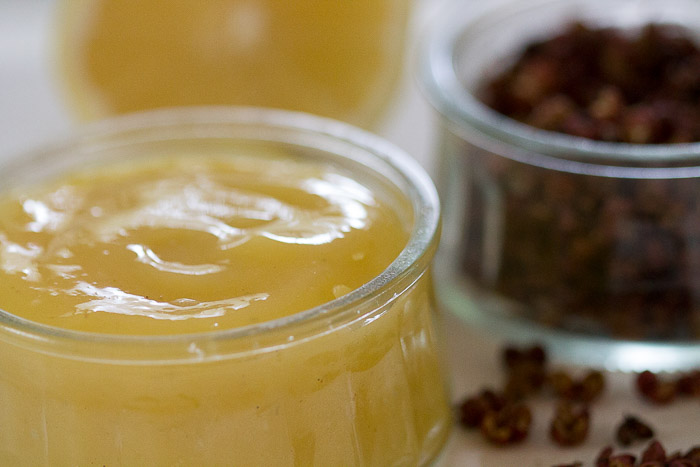 There are loads of different methods for making lemon curd, but we chose this simple recipe from One Hungry Mama and barely adapted it by changing the spice. We were thrilled with the results, and you will be, too. An easy, no-fuss technique, the curd came out perfect with each round of testing. Of course we had to make it several times……..
Ingredients
4 tablespoons unsalted butter
3/4 cup granulated sugar
Juice and zest of 2 large lemons
1 tablespoon Sichuan pepper, ground
2 large eggs
Instructions
In a small heavy bottomed saucepan, combine the butter, sugar, lemon juice and zest and ground Sichuan pepper.
Cook over low heat, whisking to combine as the butter melts.
Add the eggs and continue cooking over low heat for about 10 minutes, whisking constantly. DO NOT BOIL. When the mixture heats to 170 degrees, it will thicken to coat the back of a spoon and is done.
While the curd is still warm, pass it through a strainer to remove the zest and pepper husks.
Transfer the curd to a small jar with an airtight lid. Serve with cheesecake, scones or shortbread for a tangy and tingly treat.
© 2022 World Spice Merchants https://www.worldspice.com
For best results, grind the Szechuan pepper right before use, this spice loses flavor quickly when ground. And let us know if you try any other spice combinations!