Tellicherry Buttermilk Biscuits
February 19, 2017
/
8 biscuits
/
/
Print
/
I drew inspiration for these Tellicherry buttermilk biscuits from our September cookbook club selection, My Two Souths by Asha Gomez. This enchanting cookbook is a delightful collection of recipes blending culinary traditions from Southern India and the Southern United States. A match made in heaven! We're featuring My Two Souths at our next cookbook club, but I couldn't wait to cook from it. Biscuits are one of my most loved foods from down-home cooking, and adding pepper shows how easy it is to make something simple even more sensational with just one spice.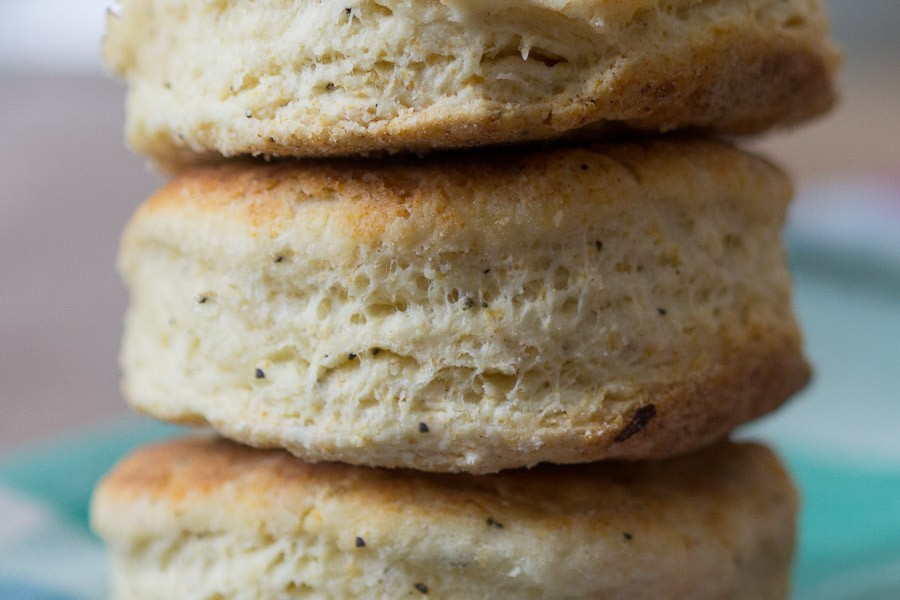 I barely adapted this recipe from the original. I used shortening instead of butter for sentimental reasons. My childhood mornings were often spent watching older generations crumble it into flour while I waited for that first hot biscuit out of the oven.
Ingredients
2 cups flour, plus more for rolling out biscuits
1 tablespoon baking powder
1/2 teaspoon salt
2 teaspoons coarsely ground Tellicherry black pepper
1/4 cup vegetable shortening, plus 1 teaspoon to grease the pan
3/4 cup buttermilk
Instructions
Preheat the oven to 450 degrees.
In a large bowl, mix together the flour, baking powder and salt.
Cut in the shortening using a pastry blender or your fingers, until the bits of shortening are grainy and well incorporated.
Add 1 teaspoon vegetable shortening to a 9 inch cast iron skillet and put it into the oven to preheat.
Sprinkle the pepper over the top of the dough, and then add the buttermilk.
Mix gently with a fork until a shaggy dough forms.
Turn the dough out onto a floured surface, knead briefly and pat into 1/2" thick disc.
Cut out the biscuits into eight 3" discs.
Remove the hot skillet from the oven and swirl the shortening in the bottom of the pan. One at a time, carefully rub the top of each biscuit in the hot shortening and flip it over in the pan, arranging them so that they are nestled in and barely touching. The light coating of shortening on the top of each biscuit will help them brown up nicely.
Return the pan to the oven and bake about 12 minutes, until the biscuits are golden brown.
© 2022 World Spice Merchants https://www.worldspice.com