Tostadas de Higado de Pollo
What's that? Chicken Liver Toasts with Caramelized Onions, Mango and Watercress! That's right, the World Spice Coobook Club is going to Puerto Rico — at least our tastebuds are. This is one of the delicious bites being prepared for the July 1st Meet & Eat featuring "Cocina Tropical: The Classic & Contemporary Flavors of Puerto Rico" by Jose Santaella. We're excited about this recipe because it looks delicious, and it uses annatto seed — a spice with which many people are unfamiliar. Annatto is frequently used in Latin American and Caribbean countries to impart a natural color and mild, earthy flavor to foods. If you think you've never had it, it's also what makes some butters yellow and cheddar cheese orange.
From the authors: Chopped chicken liver is one of those delicious recipes that is a bit of a throwback to the days of elegant cocktail hours and dinner parties with passed hors d'oeuvres. Pate and terrine are back in fashion, and this dish falls right into step with them. The richness of the velvety liver and the sweetness of the caramelized onions get a tangy tropical hit from the mango with a bit of peppery bite from the watercress garnish. Serve as is for a small plate appetizer or spread the liver on smaller crostini for a perfect party bite.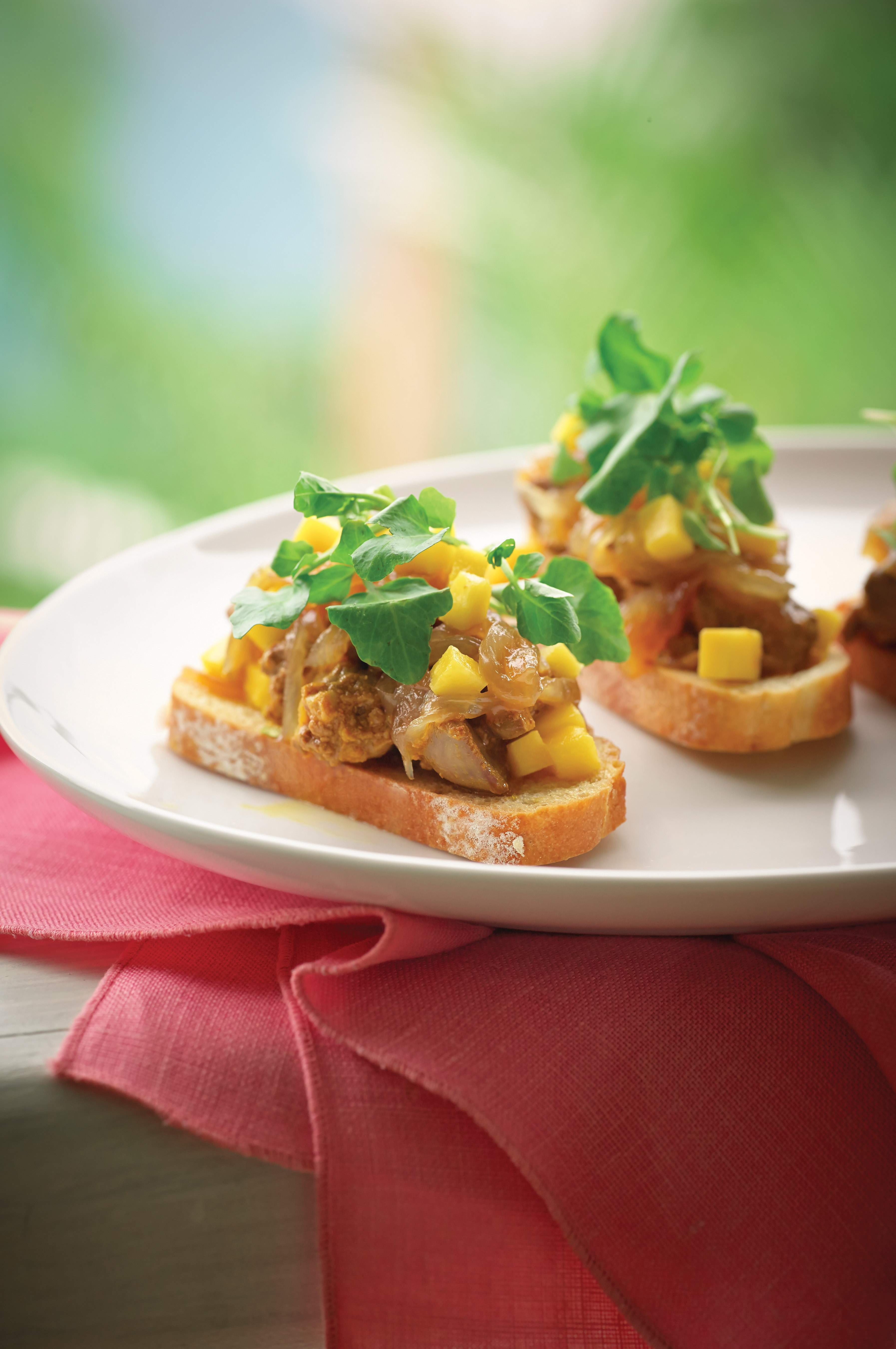 Tostadas de Higado de Pollo con Cebollas Caramelizadas, Mango & Berros
Ingredients
For the Annatto Oil:

1/4 cup annatto (achiote) seeds
1 cup vegetable or olive oil

For the Tostadas:

3 cups fresh chicken livers
1 cup heavy cream
1/2 cup light rum or brandy
2 tablesppoons annatto oil
1/2 tablespoon dried oregano
1 clove garlic, mashed to a paste in a mortar
2 tablespoons butter
1 large yellow onion, finely diced
6 slices crusty bread
3 tablespoons olive oil
Kosher salt] and freshly ground black pepper
1 ripe mango, peeled and diced
1 bunch watercress
Instructions
For the Annatto Oil:

In a small saucepan combine the annatto seeds and the oil and place over low heat. Bring the oil to a simmer, stirring the seeds around occasionally, for about 10 minutes. Remove from the heat and allow them to cool for about 15 minutes before straining the oil through a sieve into a clean bowl or jar, discarding the seeds. Once cooked, the oil can be sealed and refrigerated for up to 3 months.

For the Tostadas:

In a large bowl, combine the livers, cream, rum, annatto,oil, oregano, and garlic. Cover and refrigerate for 2 hours to marinate.
Meanwhile, heat the butter and onion in a saucepan over low heat and saute until caramelized, about 4 5 minutes. Remove from the heat and set aside. Toast the bread slices until golden brown and set aside.
Drain the chicken livers, reserving the marinade,. In a large saucepan, heat the olive oil over medium-high heat. Add the chicken livers and saute until cooked through, 8 to 10 minutes. In a separate saucepan, bring the reserved marinade to a boil over medium-high heat, then reduce the heat to maintain a simmer and cook until the liquid has thickened, about 2 minutes. Remove from the heat and let cool. Roughly chop the livers. Put the cream mixture in a blender and blend until creamy. Taste and adjust the seasoning with salt and pepper. Fold the cream mixture into the chopped livers.
Place some of the chopped liver mixture on each piece of toast and top with a spoonful of the caramelized onions. Place a few pieces of the mango on top of the caramelized onions and garnish with some watercress leaves. Serve immediately.
https://www.silkroaddiary.com/tostadas-de-higado-de-pollo-con-cebollas-caramelizadas-mango-berros/
World Spice Merchants https://www.worldspice.com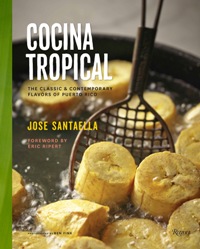 Cocina Tropical: The Classic & Contemporary Flavors of Puerto Rico is the July selection for the World Spice Cookbook Club. Cocina Tropical: The Classic & Contemporary Flavors of Puerto Rico is currently available for purchase at our retail store.
Reprinted with permission from © COCINA TROPICAL: The Classic and Contemporary Flavors of Puerto Rico by Jose Santaella, Rizzoli New York, 2014. Photography © 2014 Ben Fink. All rights reserved